We're now in the dead of the 2010 offseason and there's not much going on aside from Ben Roethlisberger drama that I am completely sick of hearing about. It's been months since the Steelers have played an actual football game and that makes it hard to believe that we've seen the last of Santonio Holmes in the black and gold or that Larry Foote and Antwaan Randle-El will once again be running out of the home tunnel at Heinz Field. All the changes are still very surreal to me. I think it is a perfect time to take a position-by-position look at the roster and the myriad of changes that have happened this offseason. First up is the running backs.
The Steelers running backs figure to play an extremely important role during the 2010 season — even more so than usual. Roethlisberger's suspension and ownerships call for a return to a power running game means that there will likely be lots of carries to be handed out.
The running back situation looks a lot more solidified at the top that it has since 2007. Rashard Mendenhall was drafted to be Willie Parker's replacement and he has done just that. An 1,100 yard, seven TD season made Mendy the starter and contributed to Willie Parker heading south to Washington via free agency. Aside from his ocassional problems with fumbling the football, Mendenhall should have a great 2010 season and provide the Steelers with a feature back for a long time to come.
But so many teams — including the Steelers in 2005 — have rode a two back system to success and depth is extremely important at running back. Parker's departure left the Steelers with a definite need at running back. Backup Mewelede Moore returns for a third year, but he was underwhelming carrying the ball last season and is more of a receiving threat than anything. Moore's a nice player to have around for spot duty and as a 3rd down running back (though Mendy had more catches last year). But if Mendenhall goes down with a serious injury, I wouldn't feel too comfortable with Moore getting 20+ carries a game. He's just a good enough runner to carry the load.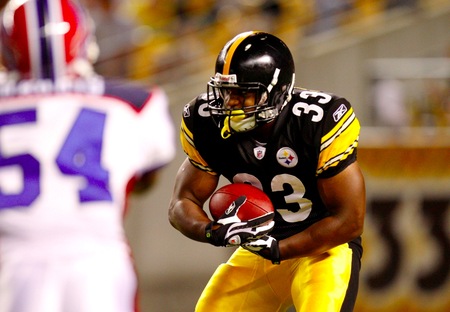 Enter Isaac Redman and rookie Jonathan Dwyer. Both have a shot to receive a fair amount of carries this year and both have flashed potential to be quality running backs in the NFL. Redman was a preseason superstar last year and was a name many fans were calling to start as early as week one. I made a lot of people furious last year when I wrote that Redman was too slow to become a star in the NFL and that these kinds of training camp all-stars rarely amount to anything. I still believe that, but Redman is an interesting short-yardage guy to have around and its obvious the Steelers like him.
Dwyer is a 6th round draft pick who is a small, but powerful running back who may have benefited from Georgia Tech's heavy run system in college. Again, Dwyer is slow and had a pretty disastrous combine. He was available in the 6th round for a reason. But there is potential there. And young legs with a motor.
(Aside: I'm dreading all of the Jerome Bettis comparisons that will be directed toward both Redman and Dwyer this fall. Yuck.)
One other area of high interest within this group of running backs is the lack of fullbacks. This has been a sore spot among Steeler fans in recent years, but Bruce Arians doesn't see much value in a blocking back and would rather employ multiple tight ends or receivers. As it stands now, rookie free agent Demetrius Taylor is the only true fullback on the roster and he spent most of his college career playing on the defensive side of the ball. H-Back Sean McHugh is still on the roster, as is RB/FB Frank Summers who was injured last season. One of those three will get most of the time at fullback this season, but it seems like a toss up as to who will get the most reps at this point.
The other running back on the roster is Justin Vincent, a regular on the practice squad for the majority of the past three seasons.
I'm obviously excited to watch Mendenhall this season, but I'm probably most looking forward to seeing what Dwyer/Redman do with some increased carries. Moore will obviously eat up a good portion of the work this season too, but he's a known commodity as far as I'm concerned. If these three can step up by committee or individually, it will go a long way in keeping Mendenhall fresh and in powering would will have to be a ferocious running attack in 2010.