We're not going to act like NFL experts. Maybe we could pass as Steelers experts because we actually follow them, but that's about it. So in order to properly preview games, we interview quality bloggers from sites that we like. For this week, we talked Chargers football with Loren from the finest San Diego blog out there, BoltTalk. We gave our thoughts on a few issues about the Steelers including Stan Humphries, the Heinz Field Curse, and diet supplements on BoltTalk's blog. Be sure to check it out.

Blitzburgh Blog: Almost every NFL analyst and fan expected the Chargers to be an elite team this year. But we're over halfway through the season and the Chargers are at 4-5. How have the fans and players reacted to the slow start?
BoltTalk: I think most fans reacted to the surprising slump, at least early on, with the reminder that the Chargers started 2007 poorly and ended up going all the way to the AFC Championship game. That line of reasoning lasted until about the Buffalo game where the Chargers were beaten in a game where they started their streak of no sacks, no INTs and no pressure. The fans right now are really frustrated and are not sure who to blame (the players vs the coaches) if not blaming both of them. The players, at least on their face, have had no real reaction from the play. In interviews on every conceivable media the players don't act any different from week one to today. And if anything that is more infuriating to the fans then anything else.
Blitzburgh Blog: LT has put up very un-LT numbers this season, yet Philip Rivers is having an exceptional year. Has the Bolts offense shifted to a pass-first strategy or has LT lost a step? Oh, and is Rivers still insane? Win or lose, he's always fun to watch.
BoltTalk: LT's issue is two fold, and neither of them are age related. First he was hampered by turf toe which prevents someone like LT from making good plays because he relies so heavily on his ability to cut. Try making quick moves and change of directions and see the importance of your toe in the process, and you'll see why in part LT is struggling. The other reason is that the offensive line, which was dominating in 2006 & 2007 and thought little of tossing people around with 8-9 in the box, seems to have forgotten how to run block. While their pass blocking is outstanding, they seem to get no push off the line in the run game and as such LT is always surrounded. Some of that might also be the departure of FB Lorenzo Neal but that remains an issue of debate.
In regards to Rivers, Norv likes a more wide open offense and Rivers has also proven his ability to carry the team. Now that he has good weapons on the outside (Chambers, Floyd, Jackson, Gates, even Sproles) he can fling the ball around alot more to be better targets that he trusts. His numbers are also a product that we've had to play catch up in nearly every game this year, which also limits the amount of running plays. But Rivers gets a bad reputation as a talker – 1) he never curses, I don't think I've ever heard him say anything worse then 'gosh darn it', 2) he's very intense and 3) He got a false reputation because of that monday night game last year where he and Cutler got at it. No one seems to note that Cutler was talking all game long but instead Rivers gets the blame for mouthing off. As for the Colts game, the playoffs, yeah he admits he screwed up and hasn't talked much since then. But rivers is still known for being a talker when lesser QBs get away with far worse.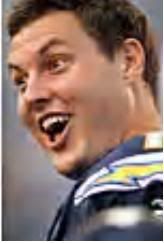 Verdict: Sane after all.
Blitzburgh Blog: Speaking of Rivers, us Steeler fans heard all about the Eli vs. Ben "debate" a few weeks ago when we played the Giants. Since Rivers was taken in the same draft and obviously has been playing at a high level, which of those three QB's from the 2004 draft do you think is the best? Begin the biased views!
BoltTalk: While obviously I'm a bit of a homer and I think Rivers is the best, I think that that QB class might end up like the '83 class. With Marino, Elway, Kelly and others, its difficult to pick the best of the class and usually you can find some area that makes each the best. I think Rothlisberger has had the most success since he was the first to make it to the top of the mountain. Rivers, I think is the best leader, you can't think otherwise if you saw him perform in the AFC Divsion and Championship game. As for Manning, well, he's not horrible. And from a Charger fan that's saying a lot trust me. While I think Rivers is the best, again I'm being somewhat homer, but you can plug any of the QBs with any of the teams and you'd have similar success. That's how good they all are.
BoltTalk agrees – even more of a jagoff than Peyton.
Blitzburgh Blog: Outside of the Giants, the Steelers linebackers have wreaked havoc in the backfield of every team they've faced. James Harrison and LaMarr Woodley have made the likes of Peyton Manning and Jason Campbell pee their pants the past few weeks. Are the Chargers going to be able to stop the Steelers pass rush this week or will Rivers be flipping out and screaming at the fans? Either way, it will be awesome!
BoltTalk: I think it'll be a challenge to stop the Blitzburgh defense, you guys are well known for your hard nosed style of play and your creative blitzes. the Chargers have been very good at pass protection and blitz pick up and we have outstanding blockers in LT, Manumaleuna and Mike Tolbert. You can bring the house but the question is can you cover well enough to make up for it; with our WRs and TEs, that's debatable. And Rivers won't be yelling at your fans unless they misbehave. Just kidding, again Rivers won't be yelling at fans, but your players might be in for a verbal smack down with no curse words attached.
Blitzburgh Blog: Last one. So, admit it…you guys were some of the fans sending all those angry emails to Ed Hochuli after the blown call against the Broncos. Has that call had a big-time effect on the rest of the Bolts season so far? And how stunned were you after that game? We just don't want to let you forget about it.
BoltTalk: To say that Charger fans were (and remain) livid about that play and call is a vast understatement. Charger fans at the time were stunned, we were furious and were calling for Hochuli's head. Heck our show that week was one big curse fest at Hochuli and the Denver Broncos – with good cause, he admits he screwed up and it cost us a game. That could have a major impact if we and the Broncos are tied at the last game of the season where our two teams meet again in San Diego. But as to how much it affected our team, I don't think it did.