Here's an example of parity in the NFL. It really does exist. Despite being the league doormat this season, the Bills have either won or gone to overtime in their last five games. It's a team that's very close to being good. If it weren't for Stevie Johnson's drop in overtime, they'd have an extra win and would put all the pressure on the Steelers for the rest of the season in the AFC.
Fortunately for us, the Bills made one or two key mistakes and Shaun Suisham kicked the game of his life [probably]. The Steelers move to 8-3 and the Bills… well, we don't have to hear about them until the draft. Recap after the jump.
FIRST QUARTER
Three plays into the Steelers' first drive, the Bills make their first tackle. Hines Ward makes one of those Hines Ward catches on third down.
Preseason MVP Isaac Redman slams himself into the Bills' front seven, breaks through and runs over two DBs on his way to the ground. Mendenhall scores his 60th 1-yard TD of the season. The Bills offered absolutely no resistance on that drive. 7-0.
Kraig Urbik plays for Buffalo, by the way. You didn't know that. Fitz took notes on the Steelers' defense and comes out throwing. Unfortunately for him, he isn't very good at throwing footballs and they punt. Randle El actually returns a punt for more than zero yards.
The Bills blitz 8 guys on 3rd & 5. Ben finds Moore. Mike Wallace drops a rare pass. Ben "Rottlissberger" gets swarmed on 3rd & 10 and with arms all over him he hits Moore in the flat. He runs for a first down.
Ben throws a pass about 4 feet over Heath Miller's head. He catches it anyway. Antonio Gates sucks.
JUNK

Ashton Kutcher is annoying.
SECOND QUARTER
Ben keep a play alive for about 20 minutes but finally misses a pass on 3rd & 15. Suisham comes out for his first field goal as a Steeler. He drills it from 45 yards. 10-0.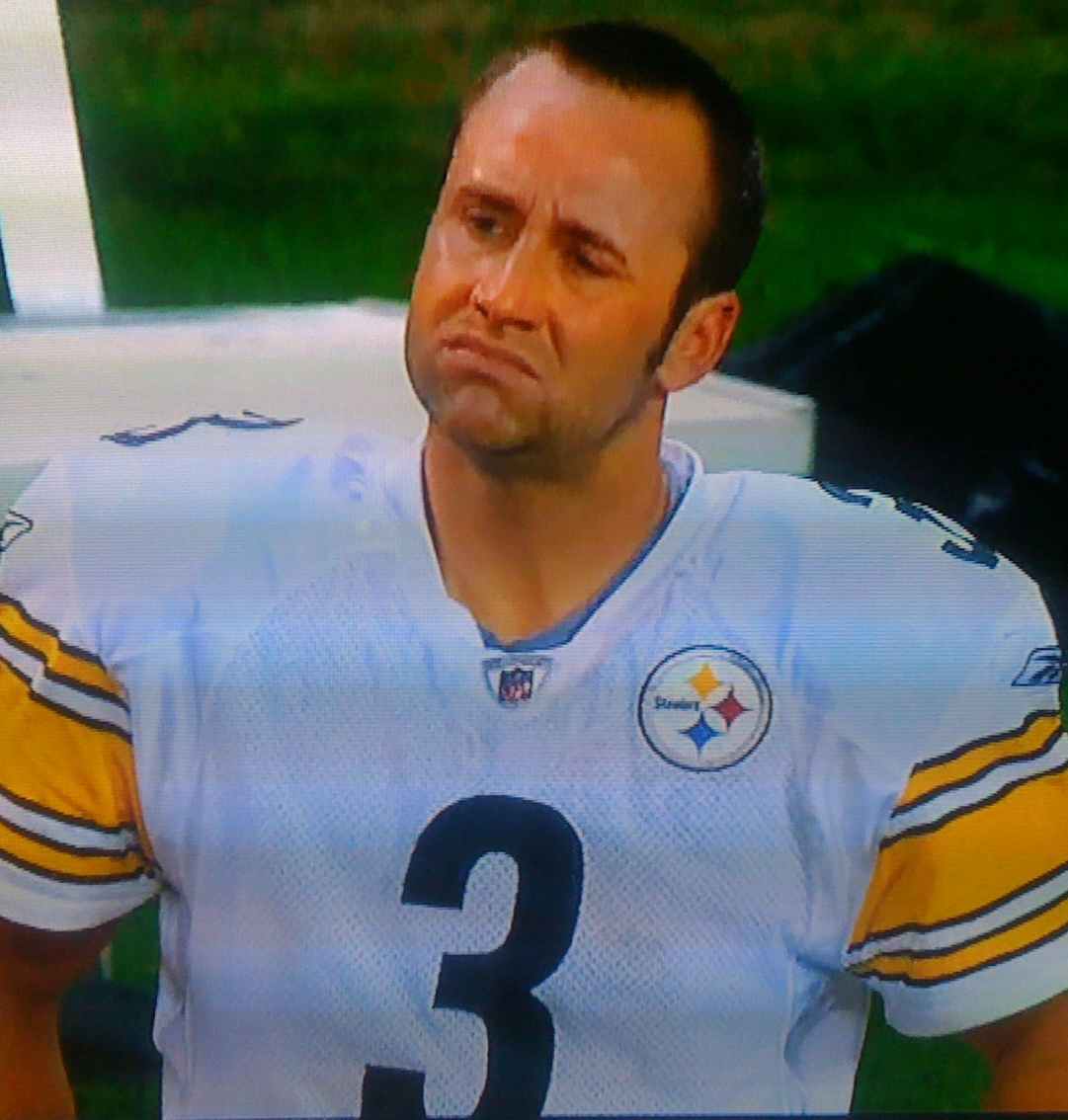 Sucks.
The Steelers almost give up a huge return on the kickoff. And by "huge" I mean "past the 40" because that's how far they got anyway.
Bills offense still hasn't shown up. They go three-and-out, line up for a punt, and the Steelers line up a real defense for some reason. Whatever, Steelers' ball.
Mike Wallace converts a third down. Ben gets sacked for the first time. Ward fumbles a ball and Buffalo recovers. Oh, wait, illegal contact on the Bills. Steelers retain the football, automatic first down. Ouch.
Buffalo gets a steady diet of Rashard Mendenhall. Solomon Wilcots still can't pronounce Ben's name. Embarassing.

Rott-liss-berger.
Rott-liss-berger.
Rott-liss-berger.
Kyle Williams destroys Rottlissberger on third down. Sepulveda takes the field for his first punt of the day.
Fred Jackson alertly reads a blitz and blocks a charging Timmons. If he doesn't make that read, Fitzpatrick is still on the field as you read this.
Bryant McFadden is probably the best cornerback in the league at tackling receivers after a nine yard gain. The Bills do that Steeler-beating move where your quarterback has a short drop and four receivers running quick slants and comebacks. The defense just can't cover that.
The Bills finally stall on offense and punt. 1:43 left with the ball at the 20 and three timeouts. The Steelers come out for another shot at the end zone.
Wilcots raves about Mike Williams and his blazing speed's effect on the defense. Someone on the crew alertly switches the view on TV to Mike Wallace's back, where the name WALLACE is plastered on his jersey.

Not a Steeler.
Suisham gets iced as he sneaks the ball through the left upright. On the second try he hits it dead center. Thanks for the warm-up, Chan. 13-0.
HALFTIME

Has the Rock ever been in a movie that wasn't bad? Not even a forgettable middle-of-the-road movie, but a movie that just was a chore to watch. What a joke of an actor.
THIRD QUARTER
Anthony Madison is getting regular shifts at cornerback. What happened to Keenan Lewis and Joe Burnett?
Taylor and Harrison sandwich Fitzpatrick. Harrison just holds Fitz' arms to his side until a whistle blows since he isn't allowed to tackle people. Steve Johnson catches a pass near the first down line while Polamalu is speeding towards him, ready for the big hit. Troy slows down and lets him get the first down. First instance we've seen of a player hesitating to make a play for fear of getting penalized.
He makes up for it a few plays later when James Harrison throws his back into a ball-carrier and forces a fumble. Polamalu recovers. His back is the only part of him that hasn't been fined for making a tackle, so hey, why not try it, right?
Mendenhall is making a habit of starting drives with 10 yard runs. Ben, now with a pronounced limp, finds Ward in the deep middle for plenty of yards. They line up to go for it on 4th & 4. Ben moves back, apparently changing the play. Ten yards behind the line, he takes the snap. He promptly punts it with his left foot. Touchback. That is an awesome play.
James Harrison drills Fitzpatrick and his pass hits the turf. That's a penalty on Pittsburgh, regardless of any rules or anything. $100,000 too.
The Bills score on a 65-yard screen pass. 13-7.
The Steelers offense doesn't do anything. The Bills have all the momentum in the world and the Steelers have to punt the ball away. Nick Eason and Anthony Madison have to combine for a tackle. That tells you the state of the injuries on this team.
Keenan Lewis does make an appearance with an injury to McFadden, and he takes a penalty. Ike Taylor bats a pass down on third down. Bills kick a field goal. 13-10.
Ben Roethlisberger limps back out, suddenly with an actual need to score.
Mendenhall fumbles.
Major props to Byrd for that defensive effort. He absolutely earned that turnover.
Bills kick a field goal. Tied at 13.
Mendenhall runs for about 200 yards on the first play of the next drive, brought back on a holding call that never actually happened. Ben gets sacked. Some linebacker jumps on him after he's down. But Ben Rottlissberger is, as we all know, unroughable.
Ben has now had enough of these Shenanigans. Kelsay gets him around the ankles, Stroud gets him up top on the next play. He squirms out of it and runs on his bad leg for a first down. Mendenhall follows suit and tears off a 21-yard run.
Ben hits Sanders in the hands. Dropped. On third down.

Amanda Sanders needs to make that play. I am famous somehow.
Suisham comes out of an absolute must-have 48 yard field goal. Could have made that one from 70.

What a kick. 16-13.
Keyaron Fox attacks someone after the play on the kickoff. 15 extra yards after an already nice return. CBS cuts to a straight-up fight that broke out between Andre Johnson and Cortland Finnegan. Wow. Certainly took the edge off the Fox penalty. Cortland Finnegan is a joke.
The Bills have to go for it on 4th & 1. Steve Johnson is wide open. Gay runs downfield like they're going to throw a bomb. The Bills drive right down and throw a pass into the end zone. It bounces off the receiver into the air.

Not on my watch.
The Steelers take over at their own 5. Moore catches an important pass on 3rd & 2. Two minute warning.
Buffalo spends all their timeouts working Pittsburgh into a 3rd & 7. Ben finds Sanders and Kemoeatu gets called for holding to bring it back. Jonathan Scott gets in on the action with a false start after that. Moore runs a draw and Sepulveda punts.
With 46 seconds left and no timeouts, the Bills get ready to roll.
Troy hits someone. It's okay, I looked for a flag too. Then they spend ten minutes reviewing a play.
Rian Lindell comes out for a game-tying 49 yard field goal with 7 seconds left. Drills it. 16-16.
OVERTIME
Buffalo wins the toss. Leodis McKelvin just about scores on the kick return until he trips over his own guy. Bills start in Steeler territory. The defense holds. The punt is downed at the Steelers' 4.
As usual, it's Mendenhall up the middle on first down. And on second down. Ben gets sacked on third. What awful play calling. Sepulveda booms the punt. McKelvin fumbles but the Bills recover, meanwhile the ball rolls all the way back to the 34 for a 65 yard punt.
The Steelers still can't defend quick passes. Fitzpatrick airs it out. Steve Johnson is streaking into the end zone behind the defense. It hits him in the hands.

You had it dude. No one to blame but yourself.

Or not. Wow.
The Bills end up punting. Touchback.
The Steelers actually do something other than run Mendy up the middle on first down. So they do it on second down. 3rd & 8. Mike Wallace catches it for a first down and just kind of flops to the ground. Redman plunges through on a 2nd & 2. And again on 2nd & 1. Mendenhall runs the Steelers into field goal range. Redman runs them even farther.
Ball at the 22, Arians is obviously content to kick the field goal but refuses to do so on first or seconds down. Mendenhall effectively takes a knee. Enter Shaun Suisham.

19-16. Not pictured: Alcoholics.
Bills had a time out. Did Gailey take it?

No icing!
Game.
-Suisham was great today.
-Nice to hear Polamalu's name for the first time since October.
-Can't wait to hear what comes of the Johnson/Finnegan fight this week.
-Commence Ravens week.