The Steelers officially clinched a playoff berth today. Or at least, I can't finagle a scenario that keeps them out.
Never mind, still got a week to go before we clinch anything.

It's finals week so just jump for the recap.
FIRST QUARTER
Ryan Clark hits T.O. as a ball sails over his head. The only penalty called is an offsides. Chad Eightfive buys a DPI call against Ike in the end zone. An offensive tackle catches a touchdown pass. 7-0.
There have been better starts.
The Steelers try a flea flicker and it… doesn't work? Ben gets swarmed by 3 defenders and with two linebackers draped around his waist, he floats in ill-advised pass to Mendenhall, who spins away from two more tacklers and nearly gets a first down. Mewelde Moore takes over the drive from there, until the Jeremy Kapinos punts his first ball as a Steeler.
Carson Palmer gets destroyed after he throws a pass. No flag. NFL probably stops watching 2-10 teams.
The Steelers are bad at tackling so far. Ike Taylor gets shaken up and Chad is the first one over to talk to him. You wonder if they hang out the offseason, considering how much they're together in their matchups twice a year.
JUNK
Is there anyone who LIKES Christmas commercials?
SECOND QUARTER
The Steelers still haven't been able to cover or tackle yet to this point. Cincinnati keeps churning out first downs. Palmer finally feels pressure in the pocket and goes down. Timmons reads a play and makes a tackle. Then a pass gets deflected. Punts are exchanged.
Polamalu realizes the offense isn't going to get a touchdown so he does it himself.


7-7.
He limps to the sidelines after the play. You hold your breath.
He limps back onto the field for the next series. You exhale. Gay and Timmons team up on a sack. Dick LeBeau shows off a solid fist-pump. Cincy's punter booms it to the friggin' moon.
Ben keeps getting hit in the head and the referees still don't think it's a problem. Randle El shows up with a beastly over-the-head catch. A snap goes over Roethlisberger's head and he tips it back to himself. Turns it into a 6-yard gain on the ground. A pass gets tipped and almost intercepted by a lineman. Roy Williams hits Ben well after he releases a ball. That's Big Ben Roethlisberger though, so it couldn't have been a penalty.
That's getting really old.
Suisham kicks a field goal. 10-7.
HALFTIME
Favre says he isn't starting Monday Night. It'll suck if his streak is snapped at 297 games. Couldn't last three more, eh?
THIRD QUARTER
Ben comes out without a visor on his helmet. Just doesn't seem like Ben's thing. Hines Ward keeps victimizing the Bengals' safeties.Ben twisted his ankle on his broken foot when a pass rusher lands on it.
Randle El gets sacked after a commercial. Mike Wallace got a mid-air shove out of bounds in the back of the end zone. The Steelers settle for another field goal. 13-7.
The Bengals get a free offsides call. Walt Coleman gives it back with a hold. Cincy punts. Hines Ward is pushing 100 yards receiveing. The Steelers hold for like 3 straight plays. Hines Ward make 1st & 30 into a 3rd & 1. Rather than two successful plays in a row, Flozell Adams holds some dude. 1st & 20. Somehow.
Mike Wallace gets the first down on a screen pass.
FOURTH QUARTER
The Steelers come out guns blazing with a wildcat option play. Randle El flips the ball to Wallace who picks up the first. Kemoeatu pancakes Keith Richards.

Or something.
Ben gets sacked twice. Put Randle El back in. Punt. Carson Palmer throws probably the worst pass ever and friggin LaMarr Woodley runs it in for 6. 20-7.

Chad's face. Carson Palmer scored both the Steelers' touchdowns so far.
Timmons bats a pass away and for some reason Palmer wants a penalty. Whatever, they punt. Antonio Brown muffs a bouncing punt (note to rookies: don't do that) and special teams superstar Anthony Madison recovers it. He gets hurt and Will Allen gets a random penalty.
Mike Wallace makes an awesome catch on a back-shoulder throw. Hines Ward gets a yard on some weird inside-screen play. Suisham hits another field goal. He's still perfect. 23-7.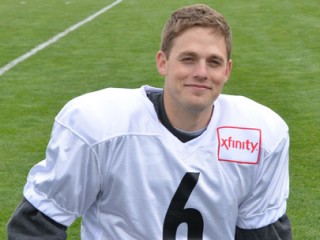 Where did this dude even come from?
Cincy converts a 4th & 3 on their next drive. Owens doesn't bother catching a pass because he doesn't want to get hit. It's fun watching him quit on his team every year.
Polamalu picks off Palmer in the end zone. He slows up on his return just to pitch it back to B-Mac. He drops it. Whatever. The announcers spend an hour talking about what an awful decision he made to try and return the ball only to fumble it. Jokes don't know about hook-and-ladder plays.
Cincinnati burns all its timeouts and Pittsburgh runs the clock down to five seconds and they punt it away. Time runs out and the Bengals start fighting people. The Bengals are a punchline in the NFL. And they always will be. Game over, jokes.
T.O. may have been the intended receiver on each of the Steelers' interceptions.
New England may not lose another game until the 2011 season. Time to base who you root for based on who has the best chance of knocking them out of the playoffs.
The Steelers are starting to get a little too beat up. They need to clinch the 2nd seed, pronto. Give some superstars a game or two off.
Jets coming up. They've been exposed. Mark Sanchez sucks.