23-22 is an ugly score. But it's still a win. That Miami team is better than their record, and the Steelers had some lucky breaks. Wouldn't have been surprising to see the Dolphins with a minor upset, but our boys got out of South Beach with an all-important W. As usual, whenever the Steelers win, someone is going to cry foul. Especially when a referee makes a totally correct call based on the video evidence he is given. Do your best to ignore those people. In a weird week around the NFL, we still got to enjoy a one-point ball game. So take the jump and re-live the memories.
FIRST QUARTER
Emmanuel Sanders fumbles the opening kickoff. Miami recovers.
The Dolphins immediately go three and out. Field goal. 3-0.
Sanders gets another chance and takes the touchback. Better than a fumble! Ben Roethlisberger promptly fumbles.
Three and out again for Miami. Field goal. 6-0.
One more try. Sanders takes the kick to the 19. Heath Miller picks up the first first down of the game, but the Dolphins hold after that. First punt of the game.
On 3rd & 12, LaMarr Woodley gets knocked down, kicked, cross-checked, and facewashed. No calls. Punt.
Randle El sucks at returning punts. Gene Steratore spends two hours explaining a penalty nobody saw and even less people understand it. Whatever. Steratore is legit.
The next drive is a ton of runs that appear to slow down around midfield when Ward drops a backward pass and has to recover the live ball, but Ben makes a Ben play, eludes pressure, and lofts a beautiful pass downfield to a wide open Hines Ward. I write run-on sentences, and Hines Ward doesn't drop a pass twice. We just do what we do.
JUNK
"Look at how fragile we've made our computers! It could snap in half if a mosquito lands on it!"
SECOND QUARTER
The offense runs out of gas in the red zone and the Steelers settle for a field goal. 6-3.
Just as the Dolphins offense gets going, Brian Hartline fumbles a ball straight into the waiting arms of James Farrior. The Steelers take over in Miami territory. Ben takes a shot at Spaeth in the end zone, but he can't jump high enough. Flozell Adams gets hurt. Hines Ward will not be denied a touchdown on 3rd & 10. He fights and spins all the way into the end zone. 10-6.
The Dolphins offense starts hitting its stride. Brandon Marshall spends the drive loosening up the pass defense. Dan Dierdorf falls in love with a ho-hum stiff-arm by Ronnie Brown. 'Phins get down inside the 10. Marshall starts his route about 9 seconds before the snap, but Henne still ends up throwing it away. His next pass sails wide of Marshall. 4th down and a field goal. 10-9.
Sanders reels off a great return on the kickoff to around the 45 or so. Ben takes advantage of the defense on first down to hit hit Mike Wallace deep. That DB trying to cover him obviously doesn't know how fast Wallace is. Touchdown. 17-9.
In what is becoming a weekly tradition, some white dude catches a morale boosting pass on third down against Pittsburgh. Drive, drive, drive. Dan Dierdorf doesn't think Lawrence Timmons can cover a receiver. Lawrence Timmons thinks Dan Dierdorf never won anything.
Davone Bess acts like he's Hines Ward, in that he catches a ball, eludes defenders, and spins his way into the end zone. 17-16. He earned it.
The Steelers come out in the hurry-up offense. Ward makes a sick catch early in the drive, but his effort is all for naught when a trick play gets blown up in the backfield and then Ben takes a sack.
HALFTIME
Can the NFL please stop advertising flagrant jersey fouls? This has never been cool and will never be cool. And for that one commercial that's centered around the Ravens, why do they show an obvious female wearing a shirt that says "Raven King"? Who directed that?
THIRD QUARTER
Miami doesn't do anything on offense. Emmanuel Sanders just does what he does and snags a pass for a first down. Ward is everywhere. All he does is catch passes. Until he loses track of a ball in the end zone. Whatever, Ward gets a pass.
Ben wanders ahead of the line of scrimmage and an illegal forward pass goes over everybody. Usually Ben is so good about staying behind the line, but they take a field goal anyway. 20-16.
Aaron Smith heads to the locker room with his arm wrapped up.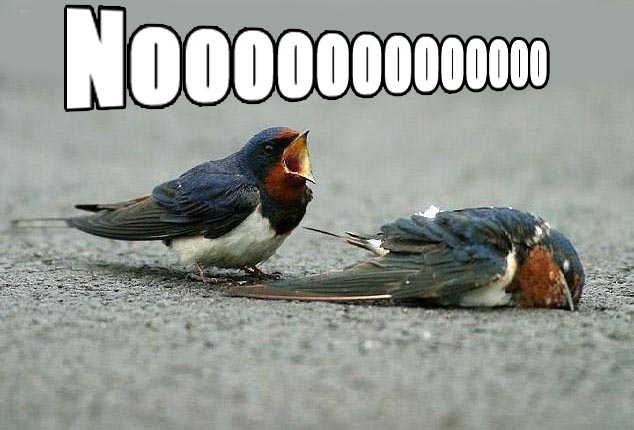 BALLS.
Keisel's out. Smith is in the locker room. It's the Chad Henne show. Their offense finally staals stalls in the red zone. Field goal. 20-19.
This quarter sucked.
FOURTH QUARTER
No one does anything special for a while. Heath shows up again for a catch on 3rd & 9. Ben fumbles a ball, it pops into Maurkice Pouncey's hands, and he runs with it back to the line of scrimmage. Nice hands, but the Steelers have to punt anyway.
That Hartline kid makes another big catch. Then Fasano. The Dolphins work their way into field goal range. Carpenter squeaks it through from 40 yards out. 22-20.
Five minutes left, down two points. Time to see if the offense can do what it did in 2008: Win a game in the fourth quarter.
Sanders does his part with a return past the 50. On 3rd & 5, the entire Miami defense either rushes or defends the goal line. Mewelde Moore picks up 29 yards on an underneath catch. Some idiot picks up Miller and throws him to the ground after the next play. Bonehead. Half the distance. Dierdorf doesn't like the call because he hadn't been annoying in like 6 whole plays.
A few pounding runs later, Ben runs a quarterback draw. He fumbles at the goal line. It's ruled a touchdown. Sparano challenges the play. Gene Steratore does a fantastic job of explaining his exact call: Roethlisberger fumbled the ball prior to crossing the goal line. Bodies piled over the ball as whistles blew. There was no determinable evidence that a Miami player recovered the ball, and therefore they could not rule that possession had changed. Anyone who boos an explanation like that is drunk and has never actually seen a football game.
In any case, the touchdown doesn't count so the Steelers kick a field goal to take the lead. 23-22.
Two-minute warning. It's on Henne's shoulders now. Two minutes and no timeouts. Henne gets hit as he throws on 4th down and James Harrison picks off the pass. And that's game.
While people everywhere inevitably complain about the Steelers being the beneficiaries of a bad call, consider the following:
Even if the Dolphins had recovered that fumble and gotten a touchback, that still doesn't guarantee the win. They couldn't have just sat on the ball to run out the clock, and Henne was intercepted on his next possession anyway.
Oh yeah, the Dolphins had a possession with two minutes worth of time to get into field goal range and overcome their one-point defecit. No reason to think they couldn't have won the game anyway.
People who blame officials are making excuses, roughly 150% of the time. Maybe they should have capitalized on their two early-game turnovers instead of unimpressively kicking two field goals.
Some thoughts:
Everyone in the NFL had a weird score today, it seemed. 23-22, 39-32, 37-34, etc.
The Raiders scored 59 points today. The Chiefs scored 42. What is up with the AFC West
Aaron Smith is likely done for the season. We may have to start assuming he can only last like 5 games every year.
This is such a weird season. There really aren't any teams that you can say are head and shoulders above their competition. Should be exciting as the season wears on.
Big Ben is such a cutie pie when he scores touchdowns: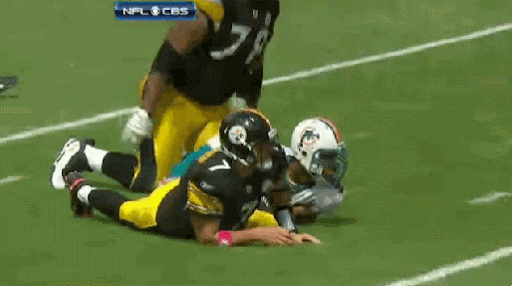 New Orleans got trounced by Cleveland this week. Big game against the Saints on Sunday night. Buckle up.