Well, let's be honest here. That game was well-officiated. The play-calling was acceptable if you ask me (execution is another story). The Saints played very well. There really just isn't much to complain about after that. The Steelers are 5-2; still among the top of the AFC (and NFL since the NFC is pathetic this year). No need to panic; the Steelers just lost to a team that outplayed them. Jump.
FIRST QUARTER
The Steelers start the game with the ball but the first drive doesn't go anywhere. Nor does the Saints'. Colston drops a pass when Polamalu slams into his hip on third down. An unusual display of physicality from Polamalu would become a motif throughout the game. Punts are traded and the Steelers take a time out on 3rd & 11. The Saints blitz 11 or 12 guys and Ben gets swarmed. Punt. Stevenson Sylvester eats the returner. Some penalties offset, they re-punt, and Tomlin loses a challenge when he claims the returner fumbled the ball. That'll be the last challenge we see from Tomlin until 2018 probably.
The Saints get themselves into a 2nd & 1. The Steelers make a series of stonewall stops but give up a conversion on 4th down. Polamalu hits Julius Jones low well after he drops a pass, some jawing goes back and forth, and Jones gets a 15 yard penalty. Terrible call. If anything, Troy should have been flagged for an unecessary hit.
Randle El continues to show nothing as a punt returner. Punts are traded again, and this time Emmanuel Sanders is back deep. He reels off a huge gain on the return.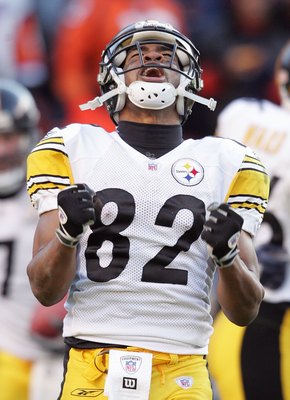 Why is he still back there every week? It's like have Carey Davis and Gary Russell returning kickoffs again.
SECOND QUARTER
He may not be much of a punt returner, but El can still play the slot. He gets knocked over right at the snap, gets up, and weasels his way to the goal line for a catch. The Saints defense holds. Unable to get into the end zone, Jeff Reed comes out for a field goal. 3-0.
Cris Collinsworth calls James Farrior "a speed guy."
"I'm not even sure who the president is. Did the Bengals win?"
Linebackers wreak havoc and the Saints punt.
Mike Wallace takes a hit over the middle and hangs on to the ball. He's pumped. You think Hines Ward doesn't still have a major impact on the rest of this team? Will Smith has to literally climb on Ben's back to get him on the ground. The Saints take a timeout pending a punt. Lance Moore calls for a fair catch with about 20 yards to finagle a return. Probably hasn't forgotten Sylvester eliminating him on the first return.
Ike Taylor makes his second interception of the season! Good ol' Spatula-hands Ike! Ben imediately goes for the jugular (love that call) but can't find Randle El in the end zone. Hines Ward gets a weak offensive pass interference call. Sometimes calls need to go against the Steelers, if just to keep the conspiracy theorists at bay. They just can't get anything going and Jeff Reed has to come back onto the field. He misses it wide, but hey, it's a 51-yard kick. Not one you can really hold against him, as much as I enjoy jobbing the guy.
Brees takes over with a minute left in the half. The Saints go marching down the field. Willie Gay tries to break on a ball he doesn't have a chance at and Marques Colston burns him for it. Ladell Betts drops a pass that, if caught, would have run the clock out on the half.
The Saints pull some crazy stuff on the field goal try. The kicker spilts out wide and some dude lines up at QB to run a trick play. Larry Foote is not affected by your jedi mind tricks and simply calls a timeout. Foiled, they settle for a regular field goal to tie it. 3-3.
HALFTIME
Have you ever wanted to punch someone in their mouth more than this guy?
No coincidence he looks like Cris Collinsworth.
THIRD QUARTER
If the Saints were a hockey team, you'd never want to miss a game. They have a ton of guys that can contribute on offense, but they have a clear-cut captain, leader, and best player in Drew Brees. If you don't respect this offense and what they are capable of, I don't even know.
And if you didn't respect that offense at halftime, you did on the first drive of the second half. They seemingly willed themselves downfield and set themselves up at the goal line. One pass sails over its receiver and then the Saints run the ball twice. Needless to say, they end the drive with a field goal. 6-3. Don't even run on the Steelers. Why bother.
Manny Sanders builds up a pretty impressive kick return, but after eluding a handful of defenders, someone strips the ball from him. Isaac Redman saves the play when he falls on it.
Ben pump fakes like 30 times but still only manages a short pass to Randle El. Literally had nine years in the pocket. Awesome blocking. They work themselves into 4th & 4. Too long for a field goal and too short for a punt. They go for it. Sanders can't hold on to the pass. Saints ball.
All they do is convert third downs in New Orleans. Drive drive drive.
FOURTH QUARTER
Colston scores. 13-3. It was coming.
Down a touchdown with over 12 minutes to play, Ben goes to work. He spreads the ball around to Spaeth, Ward, and Wallace, but it's Mendenhall who seals the deal with a 38 yard run.
McFadden comes in on a late blitz. Woodley takes the football. Steelers take over.
Ben escapes pressure and finds Heath Miller wide open. He breaks one tackle but fumbles on the next hit. Darren Sharper has had GameShark codes on his entire career.
James Harrison gets 15 yards for hitting Brees late. For once it might have actually been the right call. NBC keeps showing Miller sitting quietly on the sideline. The man does not emote. Stop showing his series of blank stares.
LaMarr Woodley is the new James Harrison in that lineman can do whatever they want to him and it's totally okay. Moore catches a touchdown pass. 20-10.
2:37 left, down 10 points.
Game.