Note: this post would have more pictures of hot girls in it, but I'm at work and can't just Google "ASU cheerleader"
Former University of Pittsburgh head football coach Todd Graham has jumped ship for the gig at Porn Star Arizona State University. Graham, in one season with the Pitt Panthers, went 6-6 while dealing with players he didn't recruit trying to run an offense he wanted to run, plus a bunch of injuries at key positions.
Well, that isn't good enough for Graham, and he has officially jumped ship for all the hotties in the desert. Citing the "best interests of his family," Graham broke up with his team via a mass email. Breaking up over text, yeah, that's classy.
The current state of Pitt football is unknown. Is Tino Sunseri really a terrible quarterback? He made strides under Dave Wannstedt (who was probably right all along) and not just hit a wall, but completely combusted under Graham. Who was at fault for that? Sunseri obviously wasn't Graham's ideal QB (hence Graham's open dislike of him) but you can't totally absolve the coach of that kind of drop-off either. When you comebine Tino's decline with the season-ending injury to Ray Graham, plus the generally banged up offensive line, there was really no way Pitt was going to succeed this year anyway.
And rather than recruit some players and try to rebuild a team in a city that would rabidly support one, Graham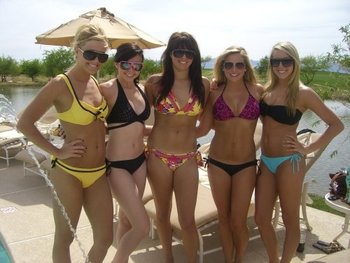 left his 6-6 mess for another 6-6 mess in Arizona. And he was already en route to Tempe when he broke the news. At least Rich Rodriguez called a meeting and told his staff face-to-face.
I can only fault Graham so much, though. After all, the weather is really nice in Arizona in the winter. They probably aren't as scrutinized as a team as football in western Pennsylvania is. There are usually some nice… sights to see in the area. (Pictured: A google image search for ASU)
In recent seasons with Dave Wannstedt at the helm, the Panthers were mired in mediocrity. Wannstedt is a solid coach and an excellent human being. He respected his players and the Pittsburgh native and Baldwin High School alum brought a mentality to the game that Pittsburgh fans could identify with. Unfortunately, a Power-I standard formation can't compete with today's high speed college football landscape. What was successful in the NFL in the 70s doesn't work in college today. That ended up costing Wannstedt his job.
When Graham came to Pitt, it was on the heels of the Mike Haywood scandal. Panther fans everywhere were desperate for anyone who would come in and bring some stability to the program. And Graham looked like the man for the job. He came to Pitt talking a big game, saying he was going to run his trademark "high octane" offense. Lots of spread formations, quick passes, lots of scoring. We were excited. We were ready for change.
It didn't work out. Graham didn't get the level of quarterback play he needed, and he wasn't shy about pointing it out to the media. RB Ray Graham was the beacon of hope for the Panthers all season until he tore up his knee during a game on some weeknight. Without a fearsome running game, defenses could focus on shutting down Tino Suneri, and with the state of Pitt's offensive line as the season wore on, that was really no challenge. Tino took a beating on the field and in the media. As fans looked forward to the arrivals of Chad Voytik and Rushel Shell, Graham was secretly looking forward to getting out of Pittsburgh.
Now with Graham gone, Pitt will look to hire their 4th coach in 3 seasons. What candidates are out there? A ton. We aren't college football experts here, so I'm casting my vote for Thomas Jefferson High School head coach Bill Cherpak, because I can. For actual serious analysis on Graham and his potential replacements, check out our Bloguin friends, Pitt Script Blog.