This had all the makings of a trap game. Or it would have, if we all didn't remember a stunning loss to the Browns on Thursday Night Football in 2009. After both teams scored on their opening drives, you settled in for a back-and-forth struggle for a win in the standings. Little did you know it would be the last scoring you'd see until Antonio Brown changed the headlines from "William Gay preserves the win" to "Steelers' offense shuts down the Browns." Jump for the recap.
FIRST QUARTER
Peyton Hillis starts the game and resumes his contract holdout after one play. Colt McCoy completes a pass in the face of a rush. Lawrence Timmons totally doesn't cover some TE and it goes for a huge completion. Then Josh Cribbs gets open at the 5. McCoy takes it himself after that for a touchdown.
Just kidding, it gets called back short of the goal line. Hillis loses two yards. 4th down. Phil Dawson kicks a field goal. 3-0.
As a note to teams in the NFL, if you line up against the Steelers and say "We are going to hand the ball off and run up the middle," you are not going to have success.
Ben comes out and fires downfield to Mike Wallace. Early statement from Bruce Arians.
Antonio Brown makes some moves on a screen pass and gets a first down. Then Wallace comes around on a reverse. David Johnson is paving a way through the secondary for him. Ben steps up in the pocket. A defender gets to him from behind but he still gets the ball away. Cotchery turns into the end zone. 7-3.


The Browns chip away on offense. Then Mohammed Massaquoi jumps over Ike Taylor for a catch. The Secret World of Alex Mack takes a penalty for illegal man downfield after that.

Yup, making this reference every time we play the Browns.
Ed Hochuli overturns a catch to keep things interesting or something. Bad call.
AB busts through the coverage and catches a deeper ball on the next play. Hochuli makes up for overturning that catch by flagging someone for roughing Ben for the extra 15.
Ben Roethlisberger career roughing-the-passer calls: Four.
SECOND QUARTER
Surprise, Blood Type gets another first down. How was he a 5th round pick? (note: fact check that)
Hines Ward gets one more catch towards 1000. Too bad he fumbles it. Browns take over.

Not a great way to stay in the game and get that 1000th catch.
Polamalu jumps in front of an awful pass. Yoink.
Then Heath Miller fumbles. Probably just to make Ward feel better. What a team player.

Meanwhile, there's an actual offense playing on Root Sports. This picture is surprisingly gay.
Browns start at the 10. Ryan Clark gets a big hit on the sideline. Correctly not flagged. Probably going to be a $3 million fine. Ben Watson takes a stupid roughing penalty.
Some a-hole gets 28 yards on a halfback draw. Just nobody there to make the tackle. Embarrassing. The Steelers get the stop after that but the Browns punt from much better field position. It's downed at the 2.
Marcus Gilbert takes a rare 1-yard false start penalty. Mendenhall makes up for it with a beastly run. He plunges ahead for a first down and some breathing room.
Ben rolls out to his right with all the space in the world. But he waits too long. Scott Paxson catches Ben in the hip from behind. He goes down and rolls on his ankle. He's helped off the field and into the locker room. Yeah, Ben held the ball too long. That's what Ben does. He has two more Superbowl rings than you do.

"Gunfighters get shot sometimes." -Mike Tomlin
Charlie Batch makes his second appearance in five days. Punt.
Ryan Clark hits a guy as he goes to make a catch. It hits the ground. Clark would normally get flagged for that. Refs might actually not be stupid tonight.
Pouncey gets dinged up after some play. The Steelers call a timeout. Batch gets eaten. Punt. McCoy misses three straight passes and loses his mind looking for a penalty. Whatever.
HALFTIME

There is some building sentiment comparing Ben playing through injuries to Sidney Crosby not playing through injuries. If you think less of Crosby because of this, go drink all the antifreeze in your car. Sidney Crosby has a concussion. Ben Roethlisberger usually gets a bruise on his thumb or a twisted ankle or a case of the sniffles. Those things are not life-altering if they get worse. Remember when Ben played through a concussion or two in 2006? (He doesn't) He was awful and the Steelers went 8-8 to miss the playoffs. If you're hating on Sidney Crosby at this point, you have just already decided you don't like the Penguins. In which case, shut up.
THIRD QUARTER
Ben swaggers out of the locker room like the owns the place. Once he's back under center, he pretty much does.
Mendenhall and Redman are driving the offense. If there's one thing I admit to being bad at, it's showing Rashard Mendenhall love. He's a workhorse and a tough runner. He may not always pick up 100 yards a game, but he offers a great complement to Ben's passing game.
In the meantime, the offense slows down and Kapinos has to punt it away.

Kapinos has a huge nose. Probably counter-balances his beastly kicking leg.
The Steelers have a rough time getting off the field on third down. McCoy rolls out and runs out of bounds and Farrior taps him. McCoy sells it with a full flip, fumble, and roll. He finally gets the penalty he's been waiting for all night. What a freakin' dive.
They punt anyway. Brad Maynard is rocking the coffin corner. Why did that ever leave the NFL?
Rashard Mendenhall gets some more tough yards. David Johnson makes a catch. The Browns take a penalty on the play and Ed Hochuli awkwardly explains that the play is "a better result" than the penalty. Weird. Rashard Mendenhall keeps getting first downs.

"Remember when you all thought I was a terrorist? Yeah, didn't think so."
FOURTH QUARTER
Hey, is that a 3rd & twenty-something?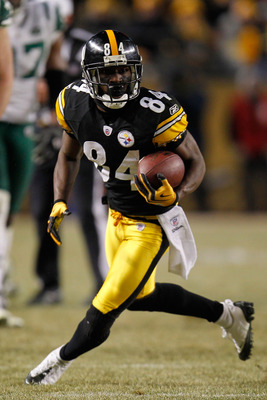 NFLNet has a glamor shot of Mendenhall looking like he's calling plays. He's looking at the defense and reading a blitz. He calls it out and blocks a rushing linebacker. Ben uses the extra second to hit Mike Wallace on a crossing route. He takes it to the 2. Assist: Mendy.
The Browns finally seem to solve Mendenhall at the goal line. He gets stuffed three times. Ben tells the field goal team to stay on the goddamn bench. They send Mendenhall up the middle one final time. No dice.
The Browns are in the unenviable position of playing from their own goal line against the Steelers' defense, down by 4 with 99 yards to go.
They grind all the way out to the 5. Heinz Field comes alive. McCoy spends a timeout. His receiver ends up dropping a pass when he takes a big hit. Punt.

Three and out. You have to go through like nine pages of Google Images before you get to McCoy in a Browns jersey.
Polamalu dislocates his shoulder or something and has Ryan Clark yank on it until it's fixed. Wtf, get a trainer to do that. Ben's deep throw is picked off by Craig Adams.
McCoy starts running with the ball and he flips the ball to some RB at the last second. Harrison hits him and McCoy goes down flat on his back. 15 yards. And it should be, that was an obvious headbutt-to-the-face.
McCoy comes back from the dead to complete a pass. Then Harrison catches him by the ankles and he goes down. McCoy takes a shot to the end zone.

No one escapes Gay Island.
You settle in, ready to watch Redman or Mendenhall grind out some yards and hopefully some first downs to seal a boring win. Bruce Arians has other ideas.

Antonio Brown catches some pass and beats every defender for a 79 yard touchdown. What an effort. That's how you capitalize on a turnover.
The Browns' final drive is littered with penalties and incompletions and overturned interceptions. No one cares.
Never really felt threatened in the 4th quarter there.
Antonio Brown was a 5th round draft pick. He schooled Joe Haden, a first-rounder, on that touchdown.
He and Ben have some ridiculous chemistry. Ben extends plays, Brown gets open. It's basically guaranteed.
If Brown had really precise route running in the end zone, he's a Pro Bowler.
The Browns' offense is terrible. Don't read too much into the defensive performance.
Long week to get rested and repaired. Next game is next Monday in San Francisco.