All right, there have been prettier wins. Fortunately, this is Pittsburgh and I don't think anyone cares about being pretty as long as they get it done in the end. Last week, the defense didn't make the plays it had to at the end of the game to win. This week, they did. The defense looked old a couple of times during the game, but they got the late turnover to put the game back in the offense's hands. Speaking of that, the offense struggled at times against a surpisingly apt Cincinnati defense but ground out the first downs to seal the win in the end. Great teams make the plays they need to. The Steelers did exactly that. Jump, bros.
FIRST QUARTER
The amount of Steeler fans in attendance push Cincy to their first sellout of the year.

Not really a football city.
The Bengals win the coin toss and punt before you even set the volume on your TV.
The Steelers get the ball at about midfield. Mike Wallace puts together a few first downs. Someone doesn't get flagged for a crackback block because no one has ever heard of what that is.
Ben rolls out in the pocket right past two blitzing DBs. He gets to the line and throws a pass just about as late as you can throw it. Cotchery is wide-open. 7-0.
The Bengals punt. Like 10 seconds of possession so far.
Ben stares down three mostly-unblocked blitzers, reminds them they play for the Bengals, and lofts a pass to Mendenhall for 26 yards. Wallace shreds the defense for another first down. Then Hines Ward converts on a screen pass.
Ben barely overthrows a wide-open Jerricho Cotchery. It's the worst play the offense has had so far. Ben gets it done on 3rd & 10 when he finds Heath Miller at the 2. Some Bengal cannonballs himself into Miller's face. If Ryan Clark makes that hit, Goodell crucifies him at midfield during halftime. No penalty. Heath jumps back up and yells some kind of war-cry. Rashard Mendenhall finishes the drive. 14-0.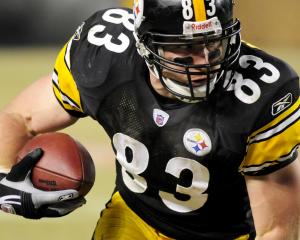 Tenacious.
The Bengals finally get a couple first downs. Dalton hurls a prayer into the end zone. Ike Taylor, Ryan Clark, and Troy friggin' Polamalu are all covering AJ Green. He makes the catch anyway. 14-7.
Polamalu was right on top of him and actively pulls up to not make a play on the ball. No clue what he was thinking.
SECOND QUARTER
Heath Miller juggles a pass and Leon Hall takes it out of his arms. Interception. Rough game for Heath so far.
Suddenly the Bengals are doing whatever they want on offense. They move the chains a few times but they eventually settle for a field goal. 14-10.

Obvious joke.
The Steelers are the ones punting now. Polamalu submarines some guy. The Bengals punt it back. Ben makes a terrible throw that almost gets picked off.
Heath Miller catches a pass short of the sticks. He always falls forward. First down. Ben's shoe flies off and he randomly gets sacked. What. Then the Bengals get a legitimate sack. Ian Eagle is really excited.
It's third and a country mile and Antonio Brown bats a pass up to himself. First down. Some linebacker piledrives Ben as he throws a pass.
Blood Type AB just keep coverting first downs. He has like 200 catches in the last 4 games.
Ben steps up in the pocket and delivers a ball to Jerricho Cotchery for the TD. Just kidding! Heath Miller gets called for interference he absolutely did not commit. Antonio Brown gets a first down anyway because that is what he does.
Leon Hall heads into the locker room early. Ben gets sacked on 3rd down. Ian Eagle loses his mind again. He probably gets a $1000 bonus in his contract every time the Bengals get a sack. Bizarre.
Suisham boots a field goal. 17-10.
The ball tries to go to the locker room early.
HALFTIME
Droid commercials are always so amazing and then I'm mad they aren't movie trailers.
THIRD QUARTER
Suddenly, pressure! Ben underthrows Wallace on third down. Punt.
The Bengals start moving the ball downfield. Big third down conversion in there. First and goal.
Lawrence Timmons gets flagged for a "late hit." The kind of play that wouldn't be flagged in a Steelers/Ravens game. Bengals get 1st and goal at the 1. Dalton throws a fade to Gresham. 17-17.
Ben hits Cotchery for a first down. Then Wallace. First down. Ben starts going no huddle and hits Brown for a first down. After the pass, Ben fell over backwards and may have hit Max Starks in the neck. Starks stays down.


Don't leave us, Max. We need you.
Some defender jumps the snap count early. 1st & 5. Max Starks is back on the field. Mendenhall grinds out the first down. Ben gets sacked again. Ian Eagle almost throws a party.
Mike Wallace gets a first down. Mendenhall breaks 50 tackles on his way into the end zone. 24-17. Needed that drive, big time.
Someone actually gets flagged for holding James Harrison. Some Hawkins kid makes his billionth catch of the afternoon.
FOURTH QUARTER
James Farrior get a free rush up the middle. Dalton still completes a pass to Cedric Benson. Story of the game.
The Bengals finally punt and the Steelers come onto the field at the 10.
Isaac Redman does exactly nothing. Wallace beats his coverage on 3rd & 12 but Ben overthrows him. Punt. Bengals get the ball at the Pittsburgh 47.
William Gay swats down a ball. Lawrence Timmons gets under it. Picked off.
The Steelers go three and out. In essence, that interception just extends the previous punt. Bengals start their drive from the 8.
Dalton goes deep and the pass bounces off Ike Taylor's spatulas. Everyone blitzes on 3rd & 4. Someone has to take some penalty for the Bengals. 3rd & 14 and Cortez Allen makes a solid tackle on Stephen Hawking. They have to punt.
The Steelers don't do anything. Another three-and-out, another punt. Some Bengal runs into Kapinos but they just replay the down. The Bengals end up with the ball just inside Pittsburgh territory. Four and a half minutes to go.
Ryan Clark gets hurt. Mark Madden touches himself. Cedric Benson runs down to the 25.
Dalton drops back and throws a quick slant.

Big Play Willie Gay with the pick.
Weslye Saunders catches a pass out of the backfield and makes an awesome move to get the first down. Cincy starts spending timeouts.
Wallace comes out of the two-minute warning with a clinching first down. Ben sits on the ball 3 times.
Andy Dalton isn't lighting the league on fire. He's playing like a veteran, not a rookie, but guys Brad Johnson and Aaron Brooks were technically veterans and they didn't really do a whole lot.
Andy Dalton will still probably be the rookie of the year.
The Bengals haven't beaten anyone important, but they certainly looked more competent than we're used to.
What a game for William Gay.
Still have no idea what Polamalu was doing on that TD to AJ Green.
The Ravens somehow managed to lose to Seattle. That means the Steelers are back in first place in the North.
Bye week time. Hopefully Woodley gets healthy. Jason Worilds just isn't the same player.