When Ben Roethlisberger is laughing on the sidelines, Troy Polamalu is on the bench with his feet up, and Charlie Batch is kneeling on the ball*, you know things are good. This is the time of the year when real contenders come through and the flashy flukey teams start to fall apart. Yesterday, the Steelers welcomed the Bengals into Heinz Field and showed them what championship football looks like. The Bengals are not for real. The Steelers are.
*Yes, I know Troy Polamalu is on the field for the Victory Formation. Just get in here and read the recap, will you?

FIRST QUARTER
The Steelers do nothing and punt. The Bengals get the ball near the 40. Dalton fools everyone with play action and AJ Green gets wide open at the Pittsburgh 19. That didn't take long. Jerome Simpson and Ike Taylor get some offsetting penalties.
Cedric Benson plunges ahead inside the 10. Dalton tries a fade to Green but he doesn't even make a move at the line or anything. Then Dalton completes a screen pass for a touchdo-JUST KIDDING. False start on the play. 3rd & goal from the 10. Dalton slings the ball out the back of the end zone.
Cincy attempts the field goal. They somehow take a Delay of Game penalty. Ryan Nugent-Hopkins' kick is blocked. Steelers take over. Enormous turn of events. Touchdown to turnover in like 2 plays. Playoff teams don't do that.
Pacman Jones lays a big hit on Mike Wallace. Incomplete. Ben throws a ball about 4 yards ahead of Blood Type. Probably their first non-third-down-completion of the season.
Cedric Benson runs through everyone for a first down. Dalton makes another nice play action fake but he misses his receiver downfield. Woodley checks out of the game. Dalton overthrows someone else and Ike Taylor doesn't reel in the interception.
Bengals punt. Steelers take over at the 12. Isaac Redman churns out a first down with an unreal second effort. Ben finds Weslye Saunders downfield. Then he hits Antonio Brown on a quick route. The playmaker takes it 45 yards and into the red zone.

SECOND QUARTER
The Heinz Field frisbee dogs get some rare TV time.
Isaac Redman grinds ahead for some real tough yards. Big drive for the Mysterious Stranger. Mendenhall comes back in the game and scores Redman's TD. 7-0.
Jason Worilds is back in at outside linebacker opposite James Harrison. Woodley's big comeback ends after like 6 plays.
Ike Taylor bats a pass out of AJ Green's hands and Green almost bats it up for a Steeler to pick off. No dice. Dalton scrambles on 3rd & 10 but Ziggy Hood rides him down from behind. Punt.
Mike Wallace draws a 200-yard pass interference call. Mendenhall runs for another first down. The run-up-the-middle is working so far. Then he sweeps out wide and patiently lets his blockers set him up. Touchdown. 14-0.

Some idiot fumbles the kickoff for Cincinnati. Emmanuel Sanders gets out of the pile with the football.
Blood Type takes a reverse for a first down. Ben rolls out and slings it Mike Wallace in the end zone. 21-0. That's three touchdowns in about 4 minutes.

The Bengals get a couple of first downs. Ike Taylor makes a nice play to puch Green out of bounds in midair. Dalton comes back to Green and he hauls in another pass. Polamalu makes his second appearance of the game and tackles Benson from behind.
AJ Green catches a touchdown pass. Wide open again. 21-7.
If you thought to yourself, "Well the offense is done so we need to hold Cincy to 20 points," you are not alone.
Sanders gets a first down on a nice quick pass. Then suddenly it's 3rd & 23.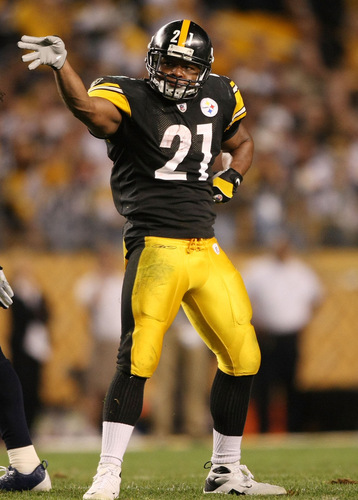 "3rd & 23? This looks like a job for a halfback draw!"
-Every offensive coordinator in the universe
Punt downed at the 13. The home crowd comes to life and the Bengals false start. Brett Keisel wants a safety. He almost gets one but Dalton gets a legitimate throwaway.
The Bengals are comfortable punting. There isn't much time left and they get the ball to start the 2nd half anyway. They punt it away.

28-7. Brown was in Dante Hall Mode all game.
The defense clamps down and we go in for halftime.
HALFTIME
I usually save this space to complain about Tim Tebow. But I'm starting to become a believer. He just wins football games. If I'm down 4 points late in the 4th quarter, I might want St. Timothy under center (and by that I mean in the shotgun) for my team. Hoping their game against the Patriots gets flexed to Sunday Night Football in two weeks.
THIRD QUARTER
Casey Hampton whiffs on Dalton after a free rush. Ryan Clark drops an interception. The Bengals punt it away.
Ben gets a pass deflected away and Ramon Foster gets hurt on the play. Ben sneaks into another dimension to avoid pressure but he overthrows Hines Ward. Kapinos punts it away.
Dalton really enjoys rolling out to the left. Not sure why; it's such a disadvantage for right-handed QBs. The Bengals punt.
Mendenhall cuts back and runs for a first down. A long drive to score here would basically end the game. Isaac Redman is the Heath Miller of running backs. Heath Miller is the Heath Miller of tight ends.
Mike Wallace gets the next first down. Redman runs for like 30 yards. Hines Ward gets one catch closer to 1000. Then he makes a classic Hines Ward play when he gets wrestled out of bounds on a catch and draws a personal foul.
The Bengals blitz against a 5-WR formation. Ben reads it and dumps a screen pass to Mike Wallace. He weaves through defenders like he's Sidney Crosby. All the way to the goal line. 35-7.
James Harrison and Brett Keisel are unblocked and they swallow Andy Dalton. He gets up gimpy.

The Bengals punt. Andy Dalton's day comes to an end.
FOURTH QUARTER
Both teams agree to run the ball and trade punts for the rest of the game.
Bruce Gradkowski played his 8,000,00th game against the Steelers.
Somehow refreshing to see both teams switch to their backup QBs once the game was decided. No need to drag it out.
Total complete performance by the Steelers. Everyone made a play somewhere.
Well, Shaun Suisham missed a 50 yard field goal. Whatever.
Heads up, Thursday game. The Browns get Baltimore and Pittsburgh within 5 days of each other. I'm getting bruises thinking about that.