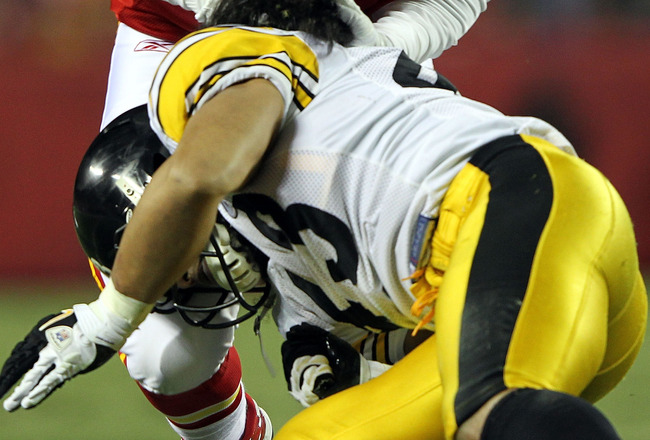 -B- Ed Bouchette penned a great piece today on the mysterious nature of Troy Polamalu's latest injury — did he or did he not sustain a concussion? Mike Tomlin hasn't said yes or no. Neither has Polamalu or anybody employed by the team.
Polamalu has a LONG history of concussions, going back to when he was in high school. He has 7 documented concussions since the early 2000s. That's scary.
The Steelers have referred to Polamalu's injury as "concussion-like symptoms," a phrase they've used a lot in the past, including earlier this year with Hines Ward. The Steelers have gotten caught in the past hiding concussions. In November of 2010, Hines Ward got knocked out cold in a game against New England and it was clear to anybody watching the game that he sustained a concussion. The Steelers said he was "questionable" to return with a "neck injury." Had they called his injury a concussion, he wouldn't have been eligible to return in the game. (It was found out over the next few days that Ward did suffer a concussion on the play.)
I understand and greatly respect the Steelers for the tough-guy mentality they employ on the football field, but the mysterious and reckless way they have dealt with some of these head injuries is mind boggling. It's hard to take them seriously.
If Polamalu or Ward or James Harrison has a concussion, I don't want them to come back into the game. They shouldn't even be entertaining the thought. Yet it looks like the Steelers training staff has at least thought about caving in to the players wishes. They way they've handled Polamalu's most recent head injury certainly raises some eyebrows.
-B- I read a lot of people critisizing Troy Polamalu for his head-first tackling style. While it isn't the surest or safest way to tackle somebody, it's how the vast majority of NFL players do it. The reason Polamalu gets hurt so often has more to do with his stature and playing style than his tackling form. If you want to rip him for not wrapping up guys with his arms, you have beef with most NFL defenders.
-B- As an aside, I don't want the NFL to go down the road the NHL has taken when it comes to disclousure of injuries. In hockey, "day-to-day" with an upper body injury can mean a player is out with a concussion for 6 months. Or that he has a torn ACL. It's frustrating as a fan and as a journalist trying to report and cover the game.
-B- Antonio Brown has continued to outplay all other Steelers' receivers, including Mike Wallace. Much has been written about Brown's great season on here and in many other places. I looked back on what we wrote after Brown was drafted a couple of years ago to fully realize how much he has exceeded expectations by:
Antonio Brown will pad the practice squad and be released, I assume. Though I have little to no confidence in the Antonio Brown pick, he was a late pick and at that point in the draft, you just take whatever player has the most potential.
I don't think any of his expecting much more from Brown than maybe some help in the return game. He's a tremendously hard worker and has transformed himself from an undersized late-round pick into one of the best receivers in the NFL. It's been very fun to watch.
-B- Steelers QB coach Randy Fichtner, who has been an assistant with the team since 2007, is a leading candidate for the head coaching position at Memphis. He was a former assistant there and lots of people at the school are openly lobbying for him to be hired.
-B- The Steelers teamed up with American Eagle to take a bunch of at-risk youth Christmas shopping. Always good to read this kind of stuff.