Expectations are high for David DeCastro. That's not an uncommon feat for a first round NFL draft pick, but it's especially true in DeCastro's case. He's already penciled in as a starter at right guard for the Steelers in 2012. The term "plug and play" was used over and over again by draft experts when discussing DeCastro's role in his rookie year and beyond (Yes, I'm talking about you Mike Mayock). Without ever playing a down in the league, he's expected to at the very least be a solid starter on a championship contender this fall.
Is this unprecedented? I decided to take a look at two recent "plug and play" guards who also stepped in to major roles on contending teams.
DeCastro is just the 4th guard taken in the first round of the NFL Draft in the last three years — and one of those four was taken three picks after DeCastro was selected in April (Kevin Zeitler from Wisconsin).
In 2011, the Philadelphia Eagles selected guard Danny Watkins from Baylor with the 24th overall pick. San Francisco picked Mike Iupati with the 17th selection in the 2010 draft.
Let's start with Watkins, the most recent example. "Plug and play" was practically his middle name. Watkins took an unconventional route to the NFL and was 26 years old when he was drafted. He was mature, grizzled and the Eagles drafted him with the hope that he'd start at right guard immediately. That didn't happen.
Watkins struggled during preseason, so much so that the Eagles sought outside help and signed Kyle DeVan off of waivers to start in his place during Week One. Watkins didn't even dress during the first two weeks and called the NFL "overwhelming." Fortunately for him, DeVan struggled and the rookie made the most of his second chance, earning the starting job at right guard for the remaining 12 games of the season. He's expected to start again at right guard this year for Philadelphia.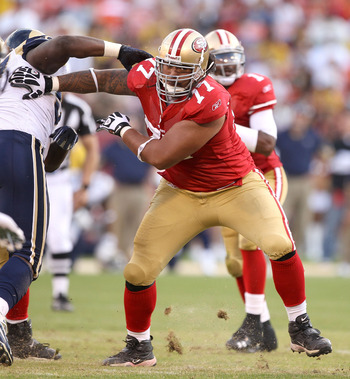 Mike Iupati was a guy who was definitely on the Steelers radar for the 2010 draft. He was picked right before the Steelers selected Maurkice Pouncey or else he may very well be playing in Pittsburgh. Iupati marveled scouts at the combine and during his last year at Idaho, drawing comparisions to Steve Hutchinson.
Iupati wowed 49ers coaches immediately during his first training camp and was named the team's starting left guard, starting every game for the 49ers in 2010. He repeated that feat in 2011 and was a vital cog in an elite offensive line in San Francisco (The Steelers found this out, as they were unable to pressure – let alone sack – Alex Smith during the team's tilt this past year).
Both Watkins and Iupati were named to the Pro Football Writers All-Rookie Team during their first seasons in the league.
While Watkins career got off to a bumpy start, both he and Iupati are among the best young guards in the league and Iupati looks like he could indeed by the next Steve Hutchinson.
The "plug and play" guard does seem to be a real phenomenon. Hopefully DeCastro can continue the trend this fall. (Zeitler…not so much 😀 )