While this has felt like a quiet offseason for the Steelers (an early playoff exit never helps), the team has undergone some significant changes. Todd Haley will replace Bruce Arians as offensive coordinator. The offense's heart and soul, Hines Ward, has elected to call it a career. It's not like the team will be lost in the woods this fall, but there are still a few pressing matters that we'll all be wondering about.
1. Will this year's offensive line get it together?

The lifeblood of any offense is its line, and after neglecting theirs for a few years, the Steelers have finally added some high-profile talent. Gone are the days of nobodies like Sean Mahan, Chris Kemoeatu, and the stapled-together remains of Flozell Adams. This year's line looks to feature two #1 picks in Maurkice Pouncey and David DeCastro on the interior, two #2 picks in Marcus Gilbert and Mike Adams on the outside, and the veteran Willie Colon at guard (finally).
Now, it's far from a sure thing that these guys will fit together seamlessly. Mike Adams is going to have to have a really good camp to start at tackle Week 1. Willie Colon has never played guard, although many people (including some here at Blitzburgh Blog) think his skillset is better suited to the interior of the line. Marcus Gilbert is expected to have improved from his rookie year. Pouncey has been a solid starter for a couple of years now and DeCastro is probably talented enough to have started in the NFL /last/ year.
DeCastro, by the way, requested number 66, since he wasn't going to get his college #52. The second guard selected by Pittsburgh in the first round since the legendary Alan Faneca in 1998 (Kendall Simmons was picked in 2002), DeCastro was already implied to have big shoes to fill. Now he's seen to it that he has a big jersey to fill as well. Faneca might should be a Hall of Famer when all's said and done, and if all goes as planned, David DeCastro's career could mirror that of Faneca's as a cornerstone of the offensive line and as an excellent pulling guard.
Sean Kugler has been an excellent line coach so far, getting the most out of a largely unheralded group. He's been given a significant upgrade in the past
two years. The pieces are in place. Can Kugler turn Gilbert/Pouncey/DeCastro into Marvel/Hartings/Faneca? We can only hope. At this point, we give Kugler the benefit of the doubt when it comes to getting the most out of his players.
2. Will Ben Roethlisberger survive?

Heads up, Steeler Nation. Ben Roethlisberger is already 30. When a running back hits 30, they tend to disappear as a decade of punishment finally breaks their bodies down. So what happens when a QB who has taken more punishment than anyone this side of David Carr hits the 30-barrier? We'll find out this fall. But it's tough to be optimistic, knowing all that Ben's body has been through.
Hopefully the young but talented offensive line can keep the nine-figure man from taking too many big hits. It doesn't hurt the situation that Terrell Suggs tore his Achilles and will likely miss the season, but there are plenty of other defenders who would love to put Big Ben out of the game. And if Ben has to miss time, there aren't really a plethora of viable QBs behind him (spoiler alert: Byron Leftwich will be injured by Week 2). The team has won with less-talented signal callers before, anchored by their defense and a typically strong running game. But speaking of that…
3. Can Isaac Redman shoulder the load in October?

Rashard Mendenhall tore his ACL in Week 17 last year. It's okay if you forgot that happened. He may not be ready to go in training camp or at the start of the reuglar season, so the burden falls on Isaac Redman to provide the majority of the Steelers' ground attack for the first month or two of the season. We have always advocated a larger role for Redman, and now that he has it, we'll see if he can flourish.
It's always questionable to put depth guys into prominent roles, but that's how most players get their start, and it's been a working formula for the Steelers forever. We got a great example of that principle when Antonio Brown came onto the scene last year, breaking the Steelers' all-time record for total yards in a season after one year on the bench. Speaking of…
4. Can Antonio Brown replicate his breakout 2011 season?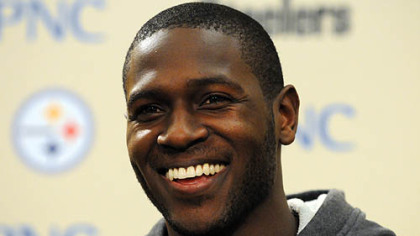 Yes, Brown has given himself some lofty expectations. After a few splash plays his rookie year (that touchdown on the opening kickoff against Tennessee, the helmet-catch down the sidelines against Baltimore in January), Brown set the league on fire in his sophomore season. No third down was too long and no play was too broken for Big Ben to hook up with Brown for a huge completion. He broke the aforementioned single-season yardage record as a Steeler, and his teammates voted him at the team's MVP. Pretty high honors for a player that didn't start for the first month of the season.
He's no secret weapon anymore though, and the pressure will be on him to be as productive as he was a season ago. Mike Wallace will probably still draw double coverage (He's missing OTAs, but his playbook in any terminology is "go deep, wait for football to arrive") but defenses will still key on Brown more often than he's used to.
5. What will Todd Haley do with the offense?

Yes, the quarterback is supposed to be the field general who commands his offense on the field, but the offensive coordinator is typically the brains behind the operation. For the past few years, the Steelers' offensive brain had been Bruce Arians. The Rooneys decided they didn't like his style, so they axed him and brought in Todd Haley, the hotheaded playcaller who most recently coached Kansas City to a pretty "meh" record.
The Rooneys cited Arians' lack of commitment to the running game. Now, we don't really know what that meant, but it doesn't have to mean "he didn't run the ball often enough." Maybe he didn't work on it in practice very much. Maybe the reason the running game struggled in short yardage is because Arians was having more fun drawing up pass plays and letting Ben Roethlisberger throw all through practice. Maybe Todd Haley will put the linemen through awful linemen drills, smashing into barrels to simulate getting a quick jump in short yardage. Maybe they'll practice clearing enough space for Isaac Redman to get some crucial tough yards. And hopefully, Haley will do all that while maintaining Ben's freedom to create offense with his arm. And if Art Rooney decided that Haley gave the team a better chance to win a Superbowl than Arians, then we should all honestly shut up and go with it, because Art Rooney and Kevin Colbert know football a lot better than you.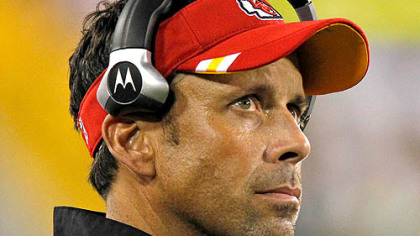 Haley's pedigree is reason for optimism. When he was the OC in Arizona, Kurt Warner was tossing touchdowns to Anquan Boldin and Larry Fitzgerald semmingly every 6 plays. When he got hired away to Kansas City as the head coach, Jamaal Charles had some unreal rushing performances as the Chiefs didn't have explosive playmakers in the passing game. In Pittsburgh, Haley will inherit everything we've mentioned so far: A young and talented offensive line, a franchise quarterback with who's late-game magic Haley is all too familiar, a crop of young but accomplished wide receivers, and a running game that is looking to get back into traditional Steeler form, with ownership's blessing. Haley will have his options, and unlike his previous jobs, he can really take this offense in whatever direction he wants.
We're hoping for a balanced attack. An offense that can take advantage of the vertical playmakers & franchise quarterback, but one that can grind out wins and convert short yardage with a tough running game. The Steelers' offense has a lot of potential this year, and whether or not they realize it will be largely up to Todd Haley.
The offseason is long and boring for a football fan. But OTAs and minicamps will eventually turn into training camp, and then things will really heat up in the preseason. We've got a long way to go, but football news is beginning to trickle back into our lives. That can only be good.