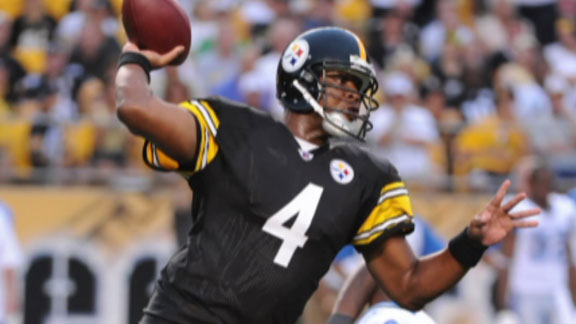 -B- The Steelers wrapped up their mini-camp today with a little bit of fun. The quarterbacks had a longest throw competition and the winner was big Byron Leftwich, who bested Troy Smith in the last round with a throw of over 70 yards. Pretty impressive. No word if Roethlisberger participated or how far he threw.
-B- Speaking of Big Ben, he was ranked the 30th best player in the NFL last night on the NFL Network's goofy Top 100 list that they are apparently doing every offseason. James Harrison was just ahead of him at position 29. This was pretty cool last summer, but I'm already tired of the idea. The list, generally speaking, isn't that accuruate and it's extremely hard to put together a true list of the greatest players. Certain positions are always undervalued and players on great teams are likely to end up higher. I'm also not convinced that the players are the best choice for evaluating themselves either.
-B- The Trib has a nice writeup on Steelers' running backs coach Kirby Wilson, who has been at every offseason practice with the team despite suffering severe burns to 45 percent of his body during a fire at his home in January. Wilson is a favorite coach among the players and seeing him walking down up and down the practice field is an awesome sight.