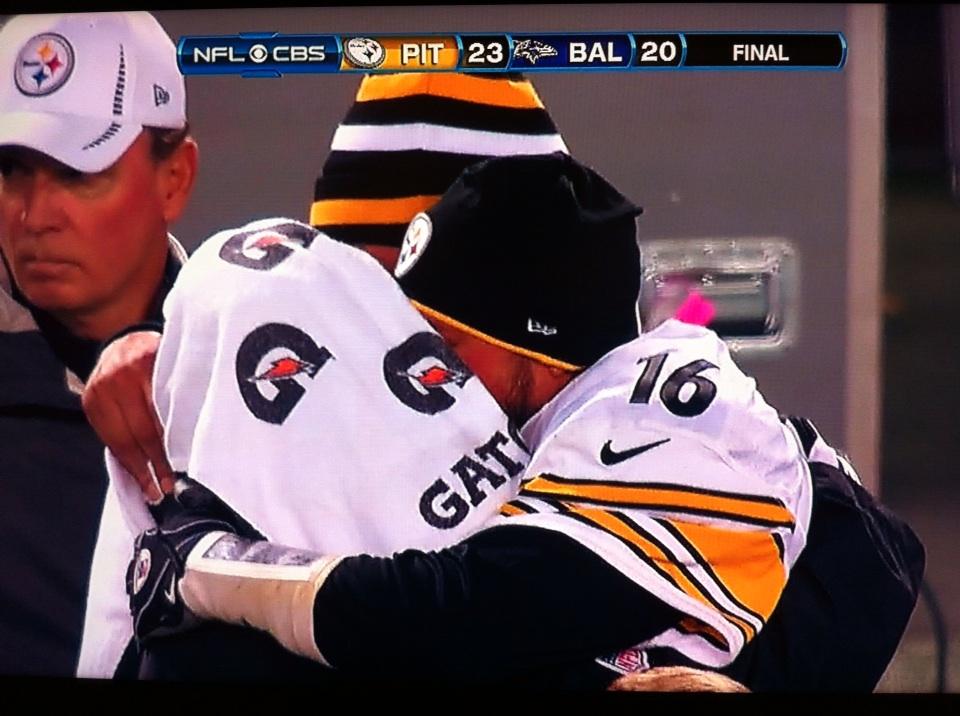 Ben Roethlisberger, by all accounts, is almost ready to go. And when he's back, watch out. But tonight wasn't about Ben Roethlisberger. It wasn't about the running backs. It wasn't about the return of Antonio Brown or Troy Polamalu.
This game became Charlie Batch's finest moment.
With the Steelers' season hanging in the balance, this was as close to a must-win game as you can get. Splitting the season series with Baltimore is always the goal, and after a putrid loss in Cleveland last week, hopes were low. Batch stepped up and fixed a lot of the issues he had in Cleveland. He took better care of the football. He didn't make the backbreaking mistakes that plagued the whole team last week. And when it came down to a back-and-forth struggle towards the end of the game, one quarterback rose to the occasion and drove his team down the field for the winning score.
Spoiler: It was the 37-year-old backup-backup. And his embrace with Ben Roethlisberger after Shaun Suisham's kick drifted through the uprights tells you how important this game was to him. Not just because it keeps the Steelers a step ahead of the other wildcard hopefuls, but because this was very likely his last start ever at QB. Ben should play next week and hopefully finish out the season. After this season, it's hard to imagine the Steelers don't get a young backup they can rely on in the draft somewhere. Batch's time is coming to a close, and in presumably his last season, he has a signature win he can hang his hat on.
There's a lot of football left to be played, but tonight I think we can all just enjoy this win. You can bet Charlie Batch is.