Peyton Manning is back, and it looks like he never left. If you want proof that he's the greatest quarterback of all time, watch his 4th quarter against the Steelers. He saw everything the defense was planning and he knew exactly how to stop it. The defense had no answer for the adjustments Manning was making on the fly. It sucks to lose on opening weekend, but half the teams do. It's easy to extrapolate one loss into doom and gloom for the season, but let's remember who beat us. The Broncos were a playoff team built entirely around running the ball and playing suffocating defense. Then they went out and added the best quarterback in NFL history this offseason. The Broncos are an excellent team- one of the best in football. There is no shame in losing to a great team.
Regardless, losing sucks. Let's hope that the Steelers don't do it very often in 2012. Recap after the jump.


FIRST QUARTER
New Year's Resolution: Do not point out every stupid thing Cris Collinsworth says.

Peyton Manning gets the ball first. He looks pretty much like Peyton Manning. Larry Foote gets a sack in there and the Broncos punt.
Antonio Brown revives his time-honored tradition of falling backwards on punt returns. Heath Miller gets called for holding. Must be the replacement refs. Isaac Redman does a bunch of nothing. Ben jams a ball between two defenders into Mike Wallace, but he's short of the sticks. Punt.
Willis McGahee fumbles. LaMarr Woodley recovers. Ben converts a 3rd & 9 to Sanders. Isaac Redman gets eaten alive. 30-year-old Ben Roethlisberger gets a defender around the ankles and goes down. Newcomer DeMarcus Van Dyke downs a punt inside the one yard line.
Chidi?

Brandon Stokley converts a 3rd & 6 deep in his own end because that's the kind of player he is. Jason Worilds levels Manning on the next play. The Broncos go no-huddle and take a deep shot. Demaryius Thomas wants pass interference (nope) and Peyton Manning starts yelling at the refs because they missed something. Newsflash, Peyton: When you try to run a play to catch everyone off guard, people are going to be off guard.
SECOND QUARTER
End-arounds are a weird thing. They look like a trick play, but you can still feel good about a 3-4 yard rush on one. And the Steelers get exactly that. A Mike Wallace holding penalty negates a big time run by Jon Dwyer. The Steelers dink and dunk into the red zone, aided by a couple Broncos offside penalties. Champ Bailey is Champ Bailey.
Heath Miller is the openest ever in the end zone but Ben's passed gets tipped halfway there. Denver's DBs hold the line and Shaun Suisham makes it 3-0.
Peyton Manning gets in the driver's seat and Demaryyiousafsdfds Thomas burns Ike Taylor a couple times.
Oh get out.

Peyton Manning orchestrates a long, methodical drive that ends with a Knowshon Moreno touchdown. 7-3.
Isaac Redman gets a tough first down with a couple of touches. Ben runs around in the backfield and throws a ball away with a defender on him. John Fox wants an intentional grounding call because he apparently doesn't know the rules for intentional grounding.
Antonio Brown makes a big catch on 3rd & 11. The referee crew for this game calls their fourth Illegal Formation penalty of the game. Makes you think the normal refs let players get away with some little things. Ben dodges some blitzers and throws off his back foot to Brown. The offense takes like 25 seconds to spike the football and they set up inside the 5 with 36 seconds in the half. Ben throws a fade route to Wallace. Nice idea, running a timing play to a guy who hasn't practiced with you all summer. Heath Miller catches a TD at the goal line anyway because he's awesome. 10-7.
HALFTIME
NBC is unaware that a team besides the Broncos is playing tonight.
THIRD QUARTER

Willie Colon's dreadlocks commit a big time false start. Emmanuel Sanders quietly converts another long first down. Ben ends up scrambling forward and dives towards a first down but they questionably rule him short by a few inches. He plunges forward on 4th & 1 and they give it to him.
Some a-hole flies in on a blitz and levels Ben. The play is blown dead on a false start though, and as a pre-snap penalty, it can't be declined. That ends up benefitting the Steelers. John Fox complains about it forever. Ben tries to make a play from under two defensive lineman but he misses Brown in the end zone. Suisham. 13-7.
At this point in the game the Steelers have almost double the possession time of the Broncos. At first glance, it looks like a lot of possession time for not a lot of points, but on the other hand, the best way to beat Peyton Manning is to keep the football out of his hands. Because when you let him have it back, Demaryius Thomas burns the defense for a long-ass touchdown.
I hate you.

Ben misses Brown downfield again. Mike Wallace is on milk cartons. Two Broncos drop interceptions, then Sanders takes a full-speed shot to the helmet in a defenseless position. Not the way you WANT to covert 3rd & 10, but it is indeed a first down. Ben takes a sack to make it 3rd & 18. Guess who gets open?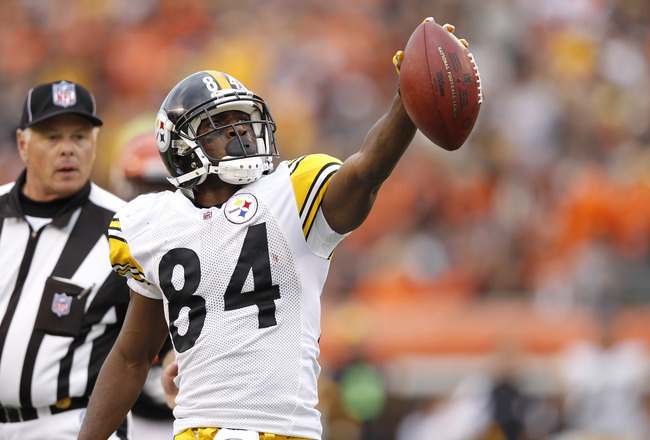 GUESS AGAIN.

Heath chants drown out the Denver faithful.

Jonathan Dwyer never gives up on a run. He is a bull when he gets to the open field. Heath Miller picks up another first down. He is basically running all of Hines Ward's old routes, and he's cashing in. Those of us who are unabashed Heath Miller fanboys saw this coming three years ago. Then Dwyer breaks loose and heads for the end zone. A brief review declares him a yard shy.
FOURTH QUARTER

Redman gets owned at the goal line. Ben Roethlisberger takes things into his own hands. Looks at one guy, throws to another. Touchdown Mike Wallace. The two-point conversion fails. 19-14.
Troy Polamalu pulls some Super Smash Bros. tackle on Demaryius Thomas. Manning starts to get hot and picks apart the suddenly-gassed Steeler defense.
Eric Decker doesn't fumble at the 1-yard line, and then the Broncos try to punch it in with a quick dive play. But then they go back and let Tomlin challenge the non-fumble. Just an awfully sloppy sequence. The Steelers lose a time out.
They score anyway, and go for two. 22-19.
Down by 3, the offense takes the field at the 20. Ben finally takes a deep shot to Mike Wallace and it gets batted away. A couple plays don't work out and Drew Butler punts again.
The Broncos start running all over the Steelers, but make no mistake, it is Peyton Manning's doing. He can read everything the Steelers' defense is doing and is directing his offense around them.
The Steelers look like they shut things down on 3rd & 7 but Keenan Lewis gets called for pass interference. The defense manages to clamp down after that, though, and the Broncos settle for a field goal. 25-19.
It's the Ben Roethlisberger show now. Down 6 with three minutes and two timeouts left.
Game.
No issues with Todd Haley's play calling. The offense kept the ball for most of the game, which is exactly what you need to do if you want to beat Peyton Manning.

The DBs didn't look great, but they never have for the Steelers. The defense is built around the front 7 getting pressure on the QB. That's tough to do against Manning. Hence, Dick LeBeau falls to 1-7 against him.

That said, the Steelers couldn't win in the trenches. If you control the line of scrimmage, you win the game 9 times out of 10.

The Jets hung up 48 points on the Bills yesterday. They won't be pushovers coming into Heinz Field next Sunday.

It is impossible to type "Peyton Manning" without first typing "Peyton MAnning."