REFRESHING DISCLAIMER: This post is not about offensive coordinators.
First thing's first: AHAHAHA NEW ENGLAND SUCKS YOU WILL NEVER WIN A SUPERBOWL WITHOUT ADAM VINATIERI, TOM BRADY IS NOT CLUTCH.
On to business: This offseason is expected to be one full of tough personnel decisions for the front office to make. Longtime stars are getting too old and being replaced by younger talent, the team is well over the salary cap, and the team that takes the field next August may not look very much like the one that has for the better part of the past decade.
First, let's take a look at the players who are free agents this summer:
Charlie Batch, QB: Batch has been the consummate professional during his entire Steelers career. He understands his role as backup, he steps in and plays well enough to let the defense win a game, and being a hometown guy isn't hurting his reputation either. The problem is that he's bordering on ancient. He's not in a position to take a lot of hits during an NFL season, but he's also not really a weapon you can rely on when (not if) Ben Roethlisberger gets hurt. Everyone's ideal situation for Batch is for him to retire and join the team as some kind of offensive assistant coach. That's up to Charlie though. In the meantime, the Steelers need a capable backup QB, and, well, Batch is the best they've got.

Byron Leftwich, QB: Oh yeah, he's still on the team. Leftwich has more talent than Charlie Batch and would normally be my pick to be the full-time backup QB, but his awful tendency to get injured in September is likely going to ruin his chance to stay with the organization. No point in having a backup QB who gets hurt before the starter even does.

Dennis Dixon, QB: Do the Steelers close the door on the Dennis Dixon era this year? He hasn't done very much in his bid to be the Steelers' backup QB. He's played well enough in the few games he's been in, but he's also been developing something of an injury history. There were some rumblings that offseason that Dixon was unhappy in his role with the Steelers and wanted to be a starter. No one in the NFL thinks that is going to happen, besides Dixon and maybe Dixon's mom. If the Steelers draft a QB with a mid-round pick this April (and perhaps they should) it will likely be the end of Dennis Dixon. Also, dude has the chiseled physique of a skeleton with an eating disorder.

Jerricho Cotchery, WR: Cotch came to this team with close to no expectations from the fans, but down the stretch he made a big difference to the Steelers. He outplayed Hines Ward on the depth chart and he showed off some incredible hands a few times in the important late-season games. But he is what he is, a veteran depth receiver the team brought in just to shore up the depth chart. No real reason to think he'll be brought back, though I don't think anyone would be against it.

William Gay, CB: Don't look now, Steeler Nation, but that cornerback everyone hated for the longest time could finally be on his way out, just like everyone wants! That would make the team better! Also, Bruce Arians was the worst OC ever, Ben holds the ball too long, and Ken Whisenhunt should have been the head coach all along! Just kidding. Gay turned into a pretty solid defender for the Black and Gold and really had a nice 2011 season. The Steelers would be wise to hang onto him, as recent years have shown us that not justany DB can come play in Pittsburgh and succeed.

Anthony Madison, CB: Will be cut and inexplicably re-signed after the Steelers give up a kick return touchdown in Week 3. This happens literally every year.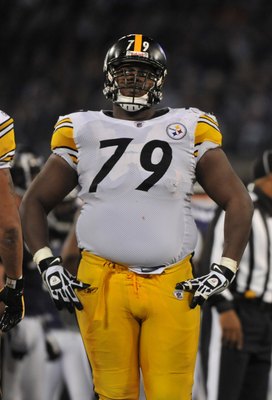 Trai Essex, OL: It's tough to say whether any spare-parts linemen should ever be brought back, but I'll take Essex as a backup since he can play every position on the line. He isn't the most talented guy out there, but honestly, talented offensive linemen aren't a luxury the Steelers really have.

Max Starks, OL: Max Starks, one would think, is a must-have right now. He was let go last offseason, and when the team brought him back for the showdown against the Titans, the offense played maybe their best game all year. Starks made a huge difference in the play of the offensive line, and if he keeps himself in shape this summer, I'm inclined to believe he'll return.

Chris Hoke, DT: Retired. Thanks for a solid career, Chris. Couldn't ask for a more reliable backup lineman.

Mewelde Moore, RB: Moore has been as reliable a third-down back as you could ask for during his tenure here, but the second-year sensation Baron Batch looks like his replacement. The staff loved Batch in training camp, but he never got to see the field after injuring his knee and going on IR. Moore held his job for another season, but if Batch is ready to go, Moore will be the one who's going.

Daniel Sepulveda, P: The Duce Staley of punters had his job taken from him while he stood on the sidelines in sweats. Jeremy Kapinos is the Steelers' new punter. Best of luck in the future, Danny.
Free agency isn't the only thing poised to remove some Steelers from the roster. There are a few notable aging veterans still under contract who may not have a place in the team's future.

Casey Hampton, DT: Big Snack is not exactly a perfect human specimen. He comes into camp at like 415 pounds every year. He had ACL surgery following the Steelers' playoff loss to the Broncos and if his healing knee is just going to have him sitting around all offseason, it won't be a pretty picture when it's time to report to training camp. The saving grace for Hampton, for at least another year, is the retirement of Chris Hoke. With no established performer to replace him, it doesn't look like the Steelers would be willing to part with Hampton just yet. The front office may still decide that the youth and affordability of guys like Steve McLendon or Doug Worthington make them better option than Hampton, and if they do, Hampton should be remembered as a valuable contributor to several great defenses. If they decide to keep him over the summer, his first impression when he returns to St. Vincent will be very impactful.

Hines Ward, WR: Hines Ward doesn't have the benefit Hampton does of being the incumbent starter with no real challengers. In fact, Ward fell all the way to the bottom of the depth chart last year with the emergence of Antonio Brown and the savvy play of fellow veteran Jerricho Cothcery. It's near impossible to imagine 86 suiting up for a different team and it's still not a foregone conclusion that he won't return to Pittsburgh. If he wants to keep a spot on the roster though, it won't be easy. If Ward can still get open on quick underneath routes and if he can still hang on to footballs while taking some punishment, there will be a place for him. But he can't afford to have anything less than a stellar training camp. Hines Ward is a future Hall of Famer and the greatest receiver the Steelers have ever had. Whatever the future holds for him, Blitzburgh Blog will always give him 100% support.

James Farrior, LB: Sleeper candidate for a salary-clearing move. Farrior is the defensive captain, playcaller, and all-time Steeler linebacker. He's been such a huge part of the best defense in football for as long as he's been here. He's so ingrained in this team that it's sometimes easy to forget he wasn't drafted here. But Farrior is the oldest guy on the defense at age 37 and he's had some lapses in the last few seasons that make you think he's losing his edge. Of the three players mentioned here, Farrior is probably the least likely not to return to the Steelers, but the team has drafted a few linebackers in recent years (Lookin' at you, Stevenson Sylvester) who may serve as Farrior's replacement. If Farrior comes into camp and plays well, as we expect him to, his spot on the team will be totally safe. But a youth movement is coming on the defense in the next couple of years, and a youth movement usually includes getting rid of 37-year-old players.
This is just a precursor to what is to come over the next 3-4 years. Guys like Farrior, Aaron Smith, Hines Ward, Brett Keisel, Ike Taylor, even James Harrison, will all see their careers end. Younger players will replace them. We'll have new Steelers at positions where we've grown used to the same core of people. Players we love will get cut or retire. Some of these moves will hurt us as fans. But here at Blitzburgh, we'll put all our chips on Kevin Colbert to keep this team competitive.
Go offseason.
Go Steelers.