Wow, where has this team been all season? The Bengals looked like… well, the Bengals and the Steelers looked like a team that should have dominated the AFC North all season. Of course, there's almost no coming back to make the playoffs anymore, but at least a win like this gets everyone back from the ledges and demanding to fire everyone. Speaking of that, the offense has scored 20 points for more in seven straight games, and 30 or more in three of their last five.
We still need to fire Todd Haley though, right?
Recap after the jump.
FIRST QUARTER
Le'Veon Bell draws a 15-yard facemask penalty on the first play of the game. McBriar punts.
Troy Polamalu breaks on a screen pass and the ball hits the back of his head. Vince Williams makes a stunning stand-up stop on 3rd & inches. They line up punt.
Ben Huber drops the ball.
Will Allen tackles him in the end zone for a safety, but this is the NFL and safeties aren't scored by wide receivers for lots of pretty points, so they make up stuff about forward progress to avoid calling it at all times.
I hate you.
The Steelers line up in a power formation and Le'Veon Bell fights his way into the end zone. 7-0.
Well we got more points anyway. Deal with it.
Andy Dalton slides for a first down, but the Bengals offense gets out of sync after that. Ziggy Hood ends the drive with a sack. Huber actually punts this time.
Ben underthrows Heath Miller but he makes the catch for only a couple yards. Marcus Gilbert doesn't get up after the next play so Guy Whimper checks in. Jerricho Cotchery gets buried on 3rd down and the Steelers line up to go for it on 4th & 4. It's prime Ben-punt time, but he actually runs a play instead. Le'Veon Bell gets away from coverage and Ben finds him in the right flat for the conversion. Antonio Brown caps off the drive.
Is he the msot explosive football player the Steelers have ever had? 14-0.
Al Woods sniffs out a run play. Jarvis Jones gets complete stood up by a running back, which can't happen. But on the next play, Jason Worilds throws a shoulder into Dalton's side as he throws and Ike Taylor times a hti perfectly on AJ Green for a drop. Ben Huber punts.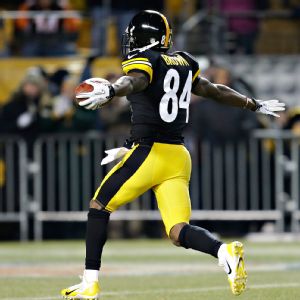 Antonio Brown just does what he does. 21-0.
The real story on that punt is the hit Terrence Garvin put on Ben Huber.
Not Ben Huber's finest hour.
A few things:
1. Punters and kickers are classified as "in a defenseless position" at all times by the NFL.
2. By that rule, Garvin should have been given a 15-yard personal foul and the TD shouldn't have counted.
3. That rule is absolutely stupid and if Ben Huber wants to go try and make a tackle, other players should be allowed to block him.
4. Maybe the ref who didn't call anything agrees and therefore is awesome.
James Harrison goes to locker room for a concussion evaluation.
Not sure how he got one, not even being remotely involved with the NFL this season.
Someone misses blocking Lawrence Timmons on a run play and he shuts it down.
SECOND QUARTER
Cam Heyward chases Dalton out of the pocket and he just gets rid of the ball. William Gay times a solid tackle on AJ Green. Tomlin challenges Green's catch and wins it easily. Mike Nugent punts it away.
You know, their kicker.
Emmanuel Sanders breaks away from the defense and picks up a bunch of yards down the left sideline. Heath Miller picks up nine. Bell converts the first. Brown picks up another. Ben throws his first incompletion to Matt Spaeth in the end zone. Another low throw hangs Sanders out to dry on an otherwise-well-executed screen play. The Steelers string enough failures in a row and Shaun Suisham kicks a short field goal. 24-0.
The Bengals get a big return and the Steelers seem to shift into a prevent defense in the second quarter. The Bengals get chunks of yards at a time, including a 4th & inches conversion in near the goal line. Giovanni Bernard finally scores. 24-7.
Felix Jones reminds you he's on the roster with an uninspiring kick return to the 25 and follows up with an uninspiring run for no gain. Haley stays with him and he rewards his coaches with a shifty run for a first down. Heath falls forward. Jonathan Dwyer converts a well-executed sweep play out to the left.
Suisham does what he does. Nails a 45-yard field goal. 27-7.
The Bengals have a half-hearted two-minute drive that doesn't go anywhere.
HALFTIME
If this girl replaced Flo from Progressive, I might actually take them seriously.
THIRD QUARTER
The Bengals open up with another nice kick return. Ryan Clark absolutely whiffs on a tackle when he bounces off Jermaine Gresham's backside. Troy Polamalu cleans up Clark's mess and forces a fumble while he's at it, a review confirms. A Matt Spaeth hold negates an impressive hurdle from Le'Veon Bell. Ben airs a ball out downfield, but it falls short and [CIN-24] intercepts it.
Mike Nugent punts again. Antonio Brown weirdly tries to start something after the punt.
Go back to catching passes and scoring touchdowns and stuff.
And indeed he does, hauling in a pass and tightroping on the left sideline. Bell stiff-arms a defensive lineman and imposes his will on a few DBs. One of them gets flagged for taunting.
Yeah, nice job not really doing anything on that play.
Suisham extends the lead again. 30-7.
Brandon Tate answers with another good kick return and the Bengals finally join him in showing up for the game. They pick up a few first downs and move into the red zone.
FOURTH QUARTER
Tyler Eifert scores on 4th & inches at the goal line. 30-14.
Antonio Brown makes his fifth catch of the game. Cody Wallace false starts. He's the center.
HOW DO YOU EVEN
Mat McBriar finally punts again. Solid work the last few games.
Down two scores, Andy Dalton gets to work. He hits a few different receivers and peppers in some quick handoffs to Bernard. The Bengals' no-huddle puts the Steelers' defense on their heels. Al Michaels states the obvious, that the Bengals are going for it on 4th down with six minutes left.
Ike Taylor bites on something and leaves Marvin Jones all alone in the end zone. The two-point conversion goes nowhere and the Steelers maintain a two-score lead. 30-20.
Looks like you get off easy this time.
Pretty much everyone has left Heinz Field by now, NBC's aerial camera reveals. Cincinnati spends all their time outs. Jerricho Cotchery looks funny at Dre Kirkpatrick and his knee collapses.
Andy Dalton Andy-Daltons it up. He overthrows AJ Green on 4th down. Green looks like he hears Troy Polamalu coming and doesn't stretch out for the pass. He complains about something, as though he isn't supposed to try if he's going to get hit.
It's okay, Ricky Watters knows how you feel.
Jonathan Dwyer dives ahead on 4th down as the clock runs. There's confusion about whether or not he got a first down, but the clock keeps running through it all. Ed Hochuli finally rules and the Steelers keep the ball as the clock hits zero.
-It's nice to watch the team really put everything together and get a decisive win, even if it pushes the Steelers out of the top ten in the draft.
-Antonio Brown is playing some kinda football lately, huh?