For yet another week, the Steelers came in "with their season on the line." It's been about a month of that now, right? Well, the offense seems to have everything figured out, as they scored four touchdowns. The defense gave up 34 though, and that adds up to a loss. There's a lot more to this game than its wild ending, but after coming half an inch away from tying the game (pending an extra point), the ending is what's going to sting the most.
FIRST QUARTER
There's a light snowfall for the start of the game. The Dolphins are based in Miami, but like half of their roster played in cold weather in college, so let's not even get that narrative started, okay?
The Steelers punt almost immediately. Troy Polamalu breaks on a slant route and drops an easy interception. Cam Heyward shuts down the Dolphins with a sack on third down. He even gets away with a little bit of "slam the QB into the ground" action.
Could you even imagine if he tried that on Roger Goodell's boyfriend?
(Not even a veiled cheap shot. Did you see how that Pats game ended? Yikes)
Le'Veon Bell puts together some nice runs up the middle.
What a great thing to do
. Jonathan Dwyer goes full Bettis-mode and drives a pile straight ahead on 4th & short.
Emmanuel Sanders finishes off the drive with a slick touchdown catch. 7-0.
Ryan Tannehill rolls out and picks up a first down. Then he takes a QB draw through a hole for a huge gain. Ike Taylor chases him down from behind.
So this guy has some wheels.
Heyward gets away with another suplex, but at least this time it's on a running back. Jim Sturgis kicks a field goal. 7-3.
whatever
SECOND QUARTER
Heath Miller drops a pass.
He hasn't had his best season.
Brown follows suit when a football doinks off his hands. The Steelers line up to punt and nobody covers the gunner, Markus Wheaton. Instead of throwing it to him, the Steelers take a delay of game. They come back in the same formation, and rather than throwing to the still-uncovered Wheaton, he actually motions back inside to block.
Ryan Tannehill drops the snap but falls on the football. He follows up by totally misfiring on consecutive passes and the Dolphins punt it away.
Cameron Wake gets to Ben and he drops the football. The Dolphins fall on it. Mike Wallace picks up a first down and gets booed. Heyward makes a tackle by the jersey. Henry Clay gets open in the flat and Tannehill hits him to take the lead. 10-7.
Antonio Brown picks up 5 yards to start the next drive. Ben misses Cotchery low. The Dolphins jump offside to shrink the task at hand on 3rd down and Dwyer converts. Cotchery takes a hit to make a play. Ben overthrows Brown and the Steelers have to punt it away.
Cam Heyward makes another tackle. He's putting together some nice performances. Miami has back-to-back holding penalties to put them at 2nd & 29. Heyward bats a pass in the air but no one gets under it. The Dolphins punt.
The Steelers answer with a whole bunch of nothing. Mat McBriar's punt gets blocked.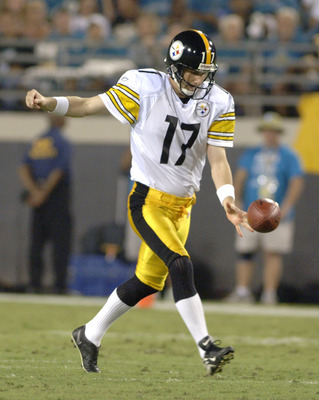 LONG LIVE THE UNBLOCKABLE ONE
Strugis attempts a 52-yard field goal. It falls short and Troy Polamalu tries to return it. He makes some guys miss and laterals the ball to Steve McLendon. McLendon fakes a handoff to somebody and turns around and gives it to Ike Taylor. Taylor turns upfield with a convoy of blockers but the half ends when he gets tripped up anyway.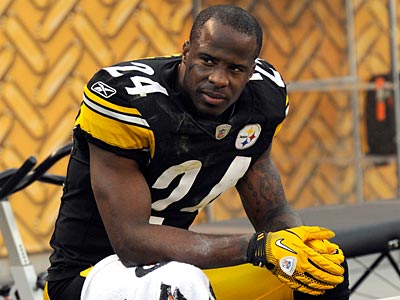 And you'd never have guessed that would be the least disappointing end of a half you'd see that day.
HALFTIME
It bothers me that Ford commercials claim they're the official truck of "Steelers Nation" but they play Fox's NFL music. The Steelers are AFC, they play most of their games on CBS.
THIRD QUARTER
Ryan Clark kills Ike Taylor. The Dolphins do some stuff. Clark torpedos some guy and gets flagged for a helmet-to-helmet hit. It's a good call, even though the runner lowered his head just as much. In that situation, defense is illegal. The Dolphins score on the next play. 17-7.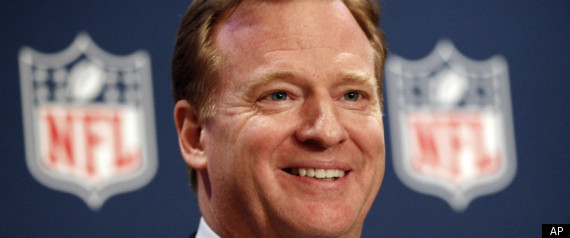 "Perfect."
Ben overthrows Markus Wheaton, who is irate looking for a penalty for some reason. Heath Miller picks up the next big gain. Brown catches a quick pass and cuts across the field. Miller gets in front of him and clears a path to the end zone. 17-14.
What a nice combination of weapons.
Daniel Thomas shows off a new experimental technique by falling to his knees before taking a handoff. Unsurprisingly, the play goes for a loss. Tannehill winds up and throws…
Pick-six. 21-17.
Cam Heyward makes his second tackle by the tail of someone's shirt. Tannehill drives the Dolphins down the field and hits Brian Hartline on his toes at the edge of the end zone. It's called incomplete, but a review overturns it. 14-21.
Ryan Tannehill is as famous for marrying a Barbie doll as he is for being a professional football player.
Jerricho Cotchery picks up another first down and hangs on through a big hit. David DeCastro gets called for a phantom hold. Brent Grimes puts the hit of the season on Antonio Brown and celebrates by not being a showboat about it. Professional attitude by Grimes.
I went to high school with a kid named Brent Grimes, too.
Heath Miller gets out in front of Emmanuel Sanders, who picks up a big gain. A fat guy knocks down a pass.
FOURTH QUARTER
Jerricho Cotchery retakes the lead with yet another tough catch in traffic. Brilliant throw from Ben Roethlisberger. 28-24.
Cortez Allen defends a deep pass to Mike Wallace. Jason Worilds disrupts the offense with a sack and they punt it back.
Le'Veon Bell bobbles a pass and drops it. The officials take a week and a half to blow the whistle. Ben goes back to Bell on a deeper route and he's covered perfectly by Rashad Jones. Sanders comes back to a low football and manages to sneak his hands under it for a first down. The Dolphins are livid, but they will have to get over it.
Sanders gets pretty well interfered with, but the ball might have barely been tipped, so it goes uncalled. The Dolphins get the ball back.
LaMarr Woodley breaks through and drives Tannehill backwards. He gets the ball away and a flag for grounding is picked up.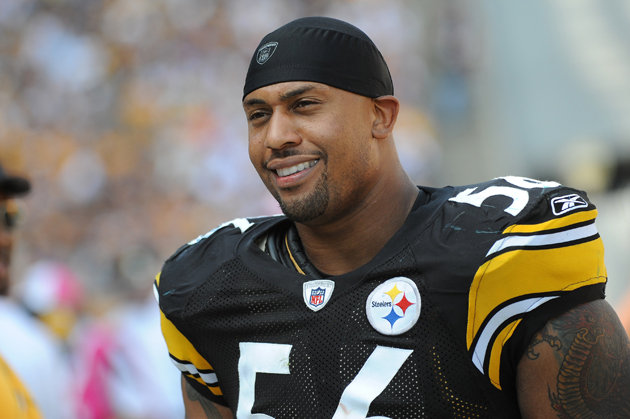 Honestly had no idea he was even in the game until now.
Cotchery continues his habit of taking hits and getting first downs. Ben can't believe Cody Wallace false starts. Another Cotchery catch gets wiped out by an illegal man downfield penalty by Ramon Foster. They can't overcome the penalties and Mat McBriar punts from midfield. It bounces into the end zone for a net gain of 28 yards.
Daniel Thomas breaks away down the left sideline and cuts back against the grain for like 50 yards before William Gay can chase him down. Cassius Clay scores again after a tremendous individual effort against Troy Polamalu. 31-28.
Emmanuel Sanders fields the kickoff and a penalty sets the ball up at the Steelers' 13 with 2:49 left.
Ben and Bell aren't on the same page regarding route-running. Cotchery can't lay out for a deep ball on the sideline. Sanders misses on third down.
The Steelers spend a time out to decide whether or not to go for it on 4th down. Possibly the worst burned time out of Tomlin's career. Joe Philbin answers with a time out of his own.
Dork.
Ben rolls out on 4th & 10 and gets dragged down two yards shy of a first down. Ian Eagle and Dan Fouts get super excited about a penalty flag, but it's on Cody Wallace for attacking some dude after Ben went down.
TWO MINUTE WARNING
The Steelers burn their last time out. The defense makes a few stops and the Dolphins kick a field goal with 1:08 left. 34-28.
Ben overthrows Bell. Then he gets sacked. Everyone takes their sweet time getting set to snap the next ball and Ben flips the ball to Bell who laterals to Sanders. He goes down in bounds and the Steelers have to snap the ball in a hurry. They do as time expires and Ben throws to Sanders. He throws back across the field to Marcus Gilbert, who relays it to Ben. Ben starts running and laterals to Antonio Brown. Brown gets a block and takes off down the sideline. He outruns two DBs on his way to the end zone, but his freaking shoelace touches the sideline and he's ruled out with no time on the clock.
-The season is over, until next week when it gets late in the game and the season is on the line for like the sixth week in a row.
-Cameron Heyward has taken strides. With almost nothing left to play for, the development of younger players is the most important thing that can happen now.
-Speaking of, if you believe the Steelers would be eliminated sooner or later, the best thing that can happen is to play well and lose. Give guys something to build on going into next year, bolstered by a higher draft class.