We thought everything might be okay. Sure, 0-4 is a horrific hole to try and climb out of, but one game at a time the Steelers started to get some things working, culminating in a win over Baltimore last week. But there's something about the Raiders the Steelers haven't been able to solve in recent years. Doesn't help that Mike Tomlin has won like 4 games outside of the Eastern time zone in his coaching career. Coincidence? Probably.
The Steelers head to New England next week. If you don't want to have to think about that, and who could blame you, why not revisit what went wrong on Sunday?
FIRST QUARTER
Terrelle Pryor scores. 7-0.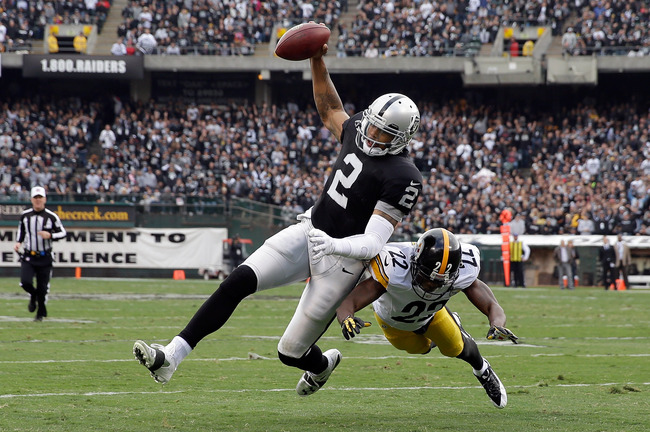 Well that was quick.
The Steelers asnwer with an out-of-sync passing game and a three-and-out.
Some dude drops a pass and the Raiders line up to go for it on 4th & 2. They don't draw anyone offside because that never works, and some non-Shane-Lechler person comes on to punt it away.
Le'Veon Bell goes back to work and gets a couple decent runs in. Emmanuel Sanders loses three yards on a screen pass for another three-and-out.
Zoltan Mesko's punt gets blocked. The well-oiled machine that is the Raiders offense methodically gets two first downs and Darren McFadden scores.
This is a disaster so far. 14-0.
Jonathan Dwyer makes his debut as a kick returner because why not. Le'Veon Bell gets a first down. Heath Miller makes a probable catch for a first down. There's a gruesome replay of the tackle on Miller's knee, but the review calls it a catch and Miller gets up fine and dandy.
Bell tries to bounce it out around the corner but he gets dropped for a loss. Antonio Brown makes his first appearance of the game to move into Raiders territory. On 3rd & 7, Ben and Sanders aren't on the same page. Mesko punts again for a touchback.
LaMarr Woodley generates some pressure and forces an off-target throw. They get to Pryor again after that and he rolls out backwards. He panics and throws a ball way over his receiver's head. Troy Polamalu is waiting for it and picks it off.
SECOND QUARTER
Guess where that drive goes? 14-3.
The defense finally makes Terrelle Pryor look like a mediocre QB for a few straight plays and the Raiders punt to the 25.
The wildcat makes another appearance and Le'Veon Bell follows a nice block for a 4-yard gain. Ben Roethlisberger throws a pass ahead of the line of scrimmage. Punt.
There's massive confusion after the ball might be muffed on the return. Shamarko Thomas ends up coming out of the pile with the football. Greg Warren thinks it's Steelers' ball. And Greg Warren rules.
The officials call it Raiders ball. Tomlin challenges and loses. It's super close, but [Steelers-41] definitely touches the football before it gets muffed. Right call.
If we were Boston fans, we could flood the Sahara with our tears over correct rulings that don't benefit our teams.
Terrelle Pryor finally fulfills Michael Vick's potential and puts together another lengthy drive deep into the red zone. Darren McFadden fakes out everyone from the wildcat and scores on his own. 21-3.
The running game gets stonewalled and Ben gets dropped in the pocket a few times. Antonio Brown makes an underrated catch behind his head in there somwhere. Mesko barely punts the ball to his own 40. With 1:08 left, the Raiders get ready to get a quick score again. Cortez Allen is trailing his receiver on a short crossing pattern, and Terrelle Pryor throws it behind his man. Picked off.
Antonio Brown makes a couple of tough catches. Some dude pulls Ben down way late after a play and a scrum ensues. John Parry is asleep at the wheel. The Steelers spend their last timeout. Shaun Suisham actually misses the field goal.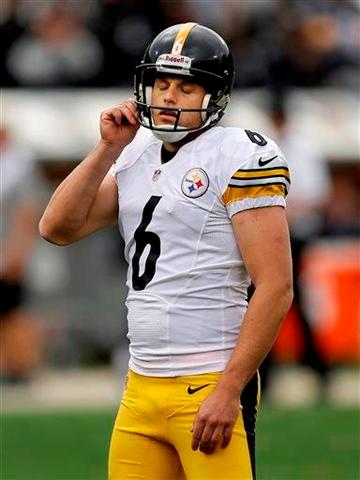 Bad times when your best offensive player hits a rough patch. Worse times when it's your kicker.
HALFTIME
Being "Built Ford Tough" apparently means "using imperial units to measure force like some kind of neanderthal." What the eff are pounds-feet? Grown-ups use Newtons.
Also, I went to high school with Raiders LG Lucas Nix. One time he pegged me in the face with a kickball during gym class because that is the most athlete-blogger interaction ever.
THIRD QUARTER
Ben gets sacked again. Emmanuel Sanders picks up a big first down to erase that deficit and Jonathan Dwyer swings out wide for another big gain. Guy Whimper gets killed. Antonio Brown catches a quick pass and gets facemasked for an extra 15 yards.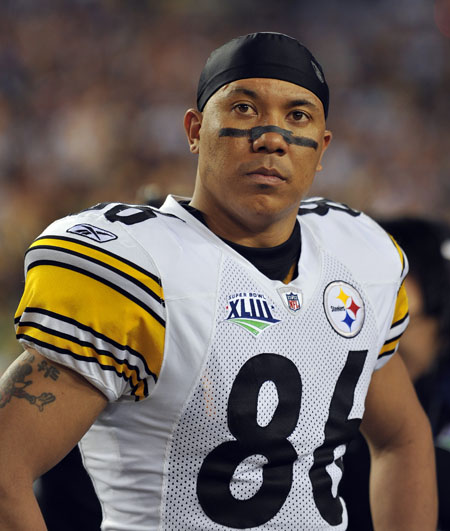 Vintage Hines Ward play.
Brown picks up the next first down on an end-around. Some DB mysteriously gets flagged for something and then everyone pretends it never happened. The drive slows down and Ben makes a valiant effort to avoid getting sacked. Shaun suisham comes out and… misses again.
I blame the Raiders for playing football on a baseball field.
Ike Taylor defends a pass like a boss. Ryan Clark is nowhere near an interception and gets all mad about it for some reason. The Steelers get the ball back and do a whole bunch of nothing.
Zoltan Mesko punts the best punt any of us may ever see. It rolls to within an inch of the goal line and veers away back to the half-yard line.
We go to commercial for like five minutes and by the time we come back to the game, the Raiders have challenged the play, sending us to another long commercial break.
That is just so NFL.
The Raiders lose the challenge. You know that somewhere an Oakland fan is flipping out about the league having it out for his team. Pryor gets his offense some space with a big completion to Denarius Moore.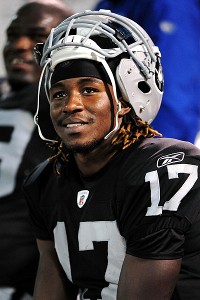 I have no idea who these receivers are.
FOURTH QUARTER
Cousin Skeeter catches a pass short of a first down.
No, I'm not going to learn their names, thanks for asking.
Ben throws an interception deep down the sideline. Massive credit to the DB on that catch. Lawrence Timmons kills Jacoby Ford and Brett Keisel picks up the loose football. John Parry upholds the call. Heath Miller can't hold onto a football at the goal line.
Ben goes full Ben-mode and dodges pass rushers for half an hour before finding Emmanuel Sanders in his own zip code. 21-10.
About freaking time.
Both teams trade punts for a while as the clock keeps ticking. Antonio Brown runs one back 45 yards to try and kick-start a comeback, but then he juggles a pass and Tracy Porter makes a shoestring catch for an interception.
The Raiders grind some more time off the clock and punt. Brown runs backwards on the return. The Raiders force every receiver to get open in the middle of the field so the clock keeps winding down. Tomlin refuses to call any timeouts before the two-minute warning and they run up the middle on 3rd & 1.
Inside of two minutes, the offense as a unit starts getting it together and players catch short passes and get out of bounds over and over. Then Ben gets pressured and throws an injured duck toward the goal line. A defensive holding penalty takes away an interception. First lucky break for the Steelers all day.
Le'Veon Bell cashes in. Emmanuel Sanders runs a fake-WR-reverse and takes the ball in himself for the two-point conversion. 21-18.
The Steelers start trading timeouts for snaps. When all's said and done, the Steelers get the ball back at their own 2 because Antonio Brown runs backwards on punts. Stop doing that.
Time runs out on the Steelers' comeback. Game over.
-Steelers have 23 or 24 points if Suisham makes those two field goals. Not blaming the loss on him, but the Steelers could have overcome their mistakes.
-Defense played lights-out in the 2nd half.
-This game was terrible.