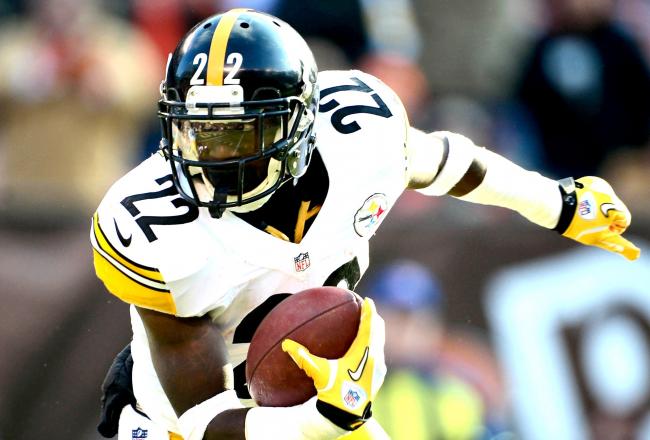 The Steelers have waived RB Chris Rainey after he was arrested and charged with battery.
The Steelers have a reputation of not tolerating off-the-field trouble from their players, as long as those players are marginal contributors the team won't really miss. You can lump Chris Rainey in with the likes of Cedrick Wilson and Santonio Holmes as players the team was probably going to get rid of anyway before they were given a convenient excuse to do so.
Rainey got in trouble for slapping his girlfriend. He'll get no sympathy for that (who hits girls? Seriously, F you.) but you may recall an incident with Alameda Ta'amu in which he got hammered in the South Side and decided to go for a joyride in his SUV through the pedestrian-heavy area. Kevin Colbert, the next day, issued the following statement:
''We are disappointed to hear about the situation regarding Alameda Ta'amu. We will gather more facts before providing any further comment.''
Colbert specifically said the team would wait for more details before passing judgment, ultimately suspending Ta'amu for a whopping two games. When faced with Chris Rainey's situation:
"Chris Rainey's actions this morning were extremely disappointing. Under the circumstances and due to this conduct, Chris will no longer be a member of the Pittsburgh Steelers."
Huh. Now why would Colbert change his mode of operation for Rainey's less-dangerous (though still totally not cool, dick) situation? It's simple. Alameda Ta'amu can still offer something to this football team in the future. Chris Rainey cannot. Sure, a reaction like this paints the franchise in a good light by dissociating from a troubled player, but how many DUIs was Hines Ward allowed to get away with? How come Ben Roethlisberger never felt any ramifications for his extracurriculars? And for the most stark contrast, how come Cedrick Wilson got cut for fighting with his girlfriend and James Harrison didn't like a week later? Granted, the Steelers aren't explicitly coming out and saying that anyone who gets in trouble doesn't have a place on the team, but it's the impression they've given. They know it and they aren't trying to change that perception. It's frustrating to see the team be sort of half-hypocritical in that sense, as a fan. We like to think the Steelers really ARE special and they DO do things differently. They don't; they just wear a facade of being the "good guys" in the NFL.
As for the actual football part of the team, there are a few outcomes we can expect here:
The first thing is that the Steelers are absolutely going to draft a running back this spring. Even if this latest incident makes Rashard Mendenhall a much more attractive option to re-sign (and I suspect it has), your depth can't be Isaac Redman and Jonathan Dwyer, the same two backs. Baron Batch was advertised as a great 3rd-down back, but if he didn't see any time in that role last season, there must have been a reason. The team is going to need a receiving back and hopefully they can get one later in the draft. Or just see what Verron Haynes is up to these days, I guess.
The other, more positive thing you can take away from this story is that Alameda Ta'amu is a future starter. The Steelers don't freely part ways with a player unless he's valuable or they have a plan to replace him. Ta'amu, after bringing literally nothing to the team in his rookie season, was given a second chance while Rainey, who actually played, did not. They must see something in Ta'amu they really like. He would be wise to work hard and take advantage of that, because if he doesn't show that he can help win championships, the men upstairs won't be so forgiving of his next incident.