Much like the
infamous Tony Corrente game in 2010
, the most notable story from this week's game centered on the officiating. That's never a good thing in sports. But, again like that game against the Raiders, the Steelers came out on top in spite of it. The win, coupled with the rest of the NFL's action on Sunday, keeps the Steelers alive for the season's final week.
And the recap in 3… 2… 1…
FIRST QUARTER
"Rott-liss-berger"
Green Bay takes the ball first on what looks like burlap turf at Lambeau Field. Lawrence Timmons busts in and sacks Matt Flynn. The Packers punt it away.
Le'Veon Bell starts off the game for the Steelers and picks up a first down. Heath Miller hears an audible cheer when he catches a short pass. Bell works hard again and picks up another first down. Ben finds himself with three acres of space in the pocket but his pass to Antonio Brown is batted away. Emmanuel Sanders falls short on 3rd down and Mat McBriar punts it away.
Jarrett Boykin is wide open in the flat and converts an easy first down. He drops the next pass thrown his way. James Starks picks up a huge gain and Ryan Clark rides him out of bounds. The Green Bay sideline is incensed about it because they're soft. Flynn throws too high for Boykin. Ike Taylor half-intercepts a pass and James Jones ends up wtih the catch somehow.
Maybe the most Ike Taylor play ever.
Cortez Allen defends a pass beautifully in the end zone. Eddie Lacy finds some space for a first down. Taylor gets hurt tackling him. Lacy gets strung out to the edge and held for only a yard. He runs hard again up the middle. The defensive backs have to make the stop on him again.
Boykin outworks Cortez Allen for the score. 7-0.
Felix Jones takes a reverse on the kickoff and gets a modest return. Clay Matthews trips up Bell. Bell fires back with a 22 yard gain
up the middle
. Antonio Brown gets separation down the right side and the Steelers are set up at the Packers' 14. Bell grinds ahead a few times to set up 1st & goal. Sanders gets away from the defense and Ben has all day to find him. 7-7.
The kickoff is short and gets bobbled by a Packer. They seem to retain possession and the fastest quarter in football history is already over.
SECOND QUARTER
The defense gives up a big gain to Boykin. Flynn gets bumped as Cam Heyward drives a lineman backward and the ref throws a flag for roughing the passer. Weak call. Flynn rolls out and slides for a short gain. Lawrence Timmons fires over his head like a missile. If he's an inch lower, Flynn is dead and Timmons is ejected, perhaps sentenced to death.
Jason Worilds draws a facemask penalty to set the Packers back at 3rd & 23. He stays back as a QB spy on the next play and comes in late to get the sack. The Packers punt it away and Antonio Brown answers with a 41-yard return.
Don't mind me, just being the Steelers' best player in 2013.
Le'Veon Bell is met at the line of scrimmage but falls ahead for 3. He follows with 5 up the middle. A third run is unsuccessful and the Steelers punt again.
Timmons meets Eddie Lacy on a short pass. James Jones slips in the snow. Ryan Clark drills him on the next play, but he hangs on for the catch. Worilds draws another penalty. Vince Williams misses a tackle, but Worilds cleans it up.
Getting it done. Does anyone miss LaMarr Woodley? Or did you already forget he was on IR?
Troy Polamalu borrows Ike Taylor's hands and drops an interception. John Kuhn drops a pass and Tim Masthay punts again. Shamarko Thomas runs over Brown on the return, but Brown recovers the muff.
heh heh heh
Bell drops a pass, but Brown erases the mistake with an 18-yard catch. Ben forgets that Mike Wallace is gone and he overthrows Brown by five yards in the end zone. Clay Matthews breaks in and brings down Ben. He immediately runs off the field with a right hand issue.
Greg Warren gets called for holding on the ensuing punt.
Any call against Greg Warren is a bad call.
Mr. Hyde returns the second punt to the 33.
Cortez Allen falls down and James Jones makes him pay. Lacy goes after him on the next play. Another quick throw and catch net another Packer first down. Chris Carter has to trip up Lacy as he gets a burst up the middle. He comes out of the two minute warning with a cutback to the left and a hurdle over Ike at the goal line for a touchdown.
Artist's rendition of Eddie Lacy. 14-7.
Sanders is on to return the kick, and he gets 46 yards behind some excellent blocking. The Steelers lead off their hurry-up offense with a halfback draw to Felix Jones. Heath Miller converts a quick first down. Ben gets a ball away when some dude rushes him up the middle. Jerricho Cotchery makes a tight catch on the ground. Le'Veon Bell gets ten yards on a surprise run. Ben slings one too high for Brown out of the end zone. With six seconds left, Tomlin plays it safe and sends Suisham on for the field goal. McCarthy ices him.
"I thought maybe this time it would work!" -every coach who does that, and is wrong
14-10
HALFTIME
Are we at the point where Aaron Rodgers and Clay Matthews have appeared in more commercial campaigns than they've played in games this season?
THIRD QUARTER
The Steelers get the ball to start the second half. Simon Wilscott isn't even trying to pronounce "Roethlisberger" anymore. Antonio Brown gets ten yards on a quick route. Ben winces in pain, but then again, Ben is almost always wincing in pain. The offense gets nothing on 3rd & short.
Mat McBriar takes the snap and rolls to his right, pump fakes, and hits David Paulson on a crossing route for 30 yards. The Packers dig themselves deeper with a roughing the passer call. On the punter.
Danny Smith pops some Tums in celebration.
Ben takes the next snap and the seas part. He chugs ahead and crosses the goal line untouched. 17-14.
Matt Flynn complains about something. Boykin gets another first down. Some questionable penalties are called on both teams. John freaking Kuhn picks up nine yards and a first down on 3rd & 6.
Step it up, guys.
Cam Heyward jumps up and tips a pass to the turf. Jason Worilds takes a holding penalty to give up another first down. Ziggy Hood causes some chaos for Flynn in the pocket and he throws it away.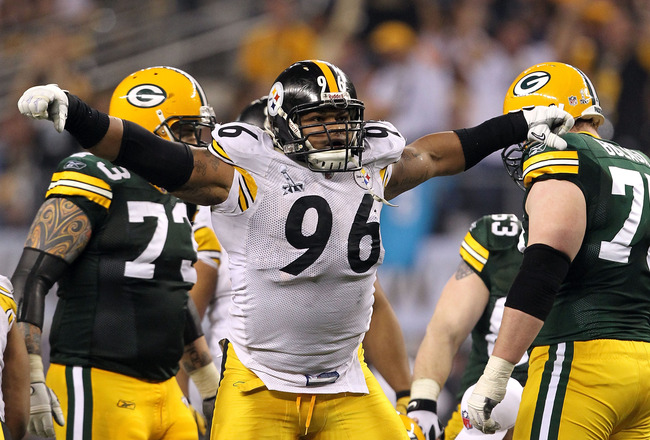 Nice of you to finally show up for a play.
Flynn and Boykin make 3rd & 7 look easy with another completion. The defense finally makes a stop and somehow the Packers aren't in field goal range. Masthay drops a perfect punt at the two yard line.
Bell plunges forward from the goal line. The Packers challenge whether he fumbled. They win.
Polamalu does his timing thing and ends up tackling an offensive lineman. Vince Williams goes underneath and takes out Lacy's legs for the stop. Flynn throws it away on 2nd down. He completely misfires on 3rd down and the Packers have to kick a field goal from the 5.
Cam Heyward has other ideas and blocks the try.
Carl Cheffers cancels that out by re-awarding possession and a first down to Green Bay because Hood batted the ball forwards and out of bounds after the block.
Hood is not impressed with the call.
Mike Tomlin throws his red flag and doesn't even care why, because everything Cheffers says is completely wrong. He kindly tells Tomlin to go f&%k himself and declares that you can't challenge possession in the field of play.
Remember his face, and punch it if you ever see it. It is okay to get him confused with Phil Simms in this context.
Eddie Lacy scores, because Carl Cheffers has him on his fantasy team. 21-17.
The Steelers go back to work. Le'Veon Bell gets a big gain on first down and gets a bunch of nothing on his next two runs. BJ Raji gets flagged for unnecessary roughness.
It's going to take more than that, Carl.
Bell keeps running. Jonathan Dwyer picks up a first down. Ben loads the gun and hits Matt Spaeth at the goal line. 24-21.
I'd say "do something about it" but I'm afraid he would.
The Packers run the kickoff back 40 yards. Matt Flynn pulls some spin move as he throws (???) and the wounded duck floats into Cortez Allen's hands.
31-21.
In the immortal words of Joey Porter: "Refs wanna cheat?! CHEAT THAT!"
(The clip is really hard to find because the NFL hates you. Yes, you, personally)
The Packers work themselves into a 1st & 17. Eddie Lacy takes a draw play for three yards and limps off the field. Matt Flynn finally plays like he's Matt Flynn and Tim Masthay punts it away, just across midfield.
Ben throws the ball right into AJ Hawk's hands. Cheffers throws an extra flag on Matt Spaeth.
"Ha ha, nothing you can do about it!" -Cheffers, presumably.
FOURTH QUARTER
That one guy Ndamukong Suh tried to kill a couple years ago takes a holding penalty to negate a first down for Green Bay. James Jones makes a 20 yard catch look easy (perhaps with the aid of a push-off) for a first down and goal to go. The front seven stuffs the run and Flynn airs a ball out of bounds. Mason Crosby kicks a field goal. 31-24.
Carl Cheffers is relieved he doesn't have to make up some more rules.
Bell gets stonewalled on first down but gets six on 2nd. Brown gets grabbed by the jersey en route to a football and he can't get to it. Looks like a pretty easy defensive holding call, but y'know, Carl Cheffers.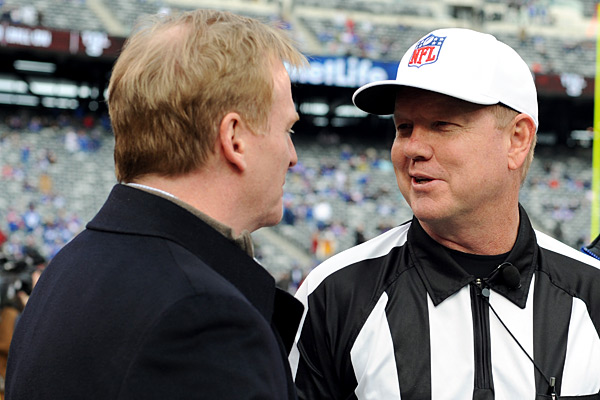 "You're right, Roger, it is fun to just ignore the actual rules! Let's go stomp on some baby bunnies later!" -Carl Cheffers, presumably.
Matt Flynn gets all day to throw and Jordy Nelson gets pretty wide open in front of William Gay. James Starks takes over from there and starts tearing apart the defense. John Kuhn finishes the drive off from the goal line. 31-31.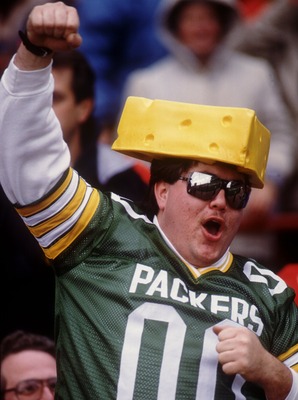 Carl Cheffers on an off day.
Felix Jones just about sums up his tenure as a Steeler by bobbling the kickoff, picking it up, and slipping at the 10. Ben airs it out on first down, but Brown can't get under it. Brown gets the call on the next play and picks up 28 yards on the right sideline with a nifty move. Heath Miller falls forward, but not enough for a first down. Mike Tomlin calls a time out to figure out what to do on 4th & 1.
Ben rolls out and hits Will Johnson in the flat for the first down. Huge play. A Green Bay penalty is declined.
Ben changes the play at the line. Bell sweeps left for four yards. Then he can't get back to a poorly thrown ball on 3rd down. McBriar downs the ball at the Green Bay 8 yard line.
Matt Flynn takes the reins with 3 minutes left and a chance to win the game.
"Come on, screw up." -You.
Brett Keisel brings him down for the sack. Ike makes a beautiful tackle to stop a screen pass. Flynn rolls out and runs left. Polamalu flies at him to stop him short of the sticks. The ball pops out and Brett Keisel falls on it. Inside of two minutes, it goes to an automatic review.
Cheffers is overruled by someone who doesn't have a huge bet on the game. The Steelers keep the ball.
It's time for some smash mouth, clock-grinding football.
Instead, Ben overthrows Antonio Brown in the end zone. If you want to throw here, okay. But make it an easy completion. Ben keeps throwing, but at least he hits Bell who goes down in bounds. The Packers burn their second time out as Shaun Suisham comes out to attempt a field goal.
The Packers jump early an take an encroachment penalty. The five yards gives the Steelers a first down. Le'Veon Bell plunges ahead and forces the Packers to call their last time out. Bell gets the call again and walks into the end zone for the touchdown. 38-31.
Dr. Jekyll runs the ensuing kickoff all the way to the Pittsburgh 30. Matt Flynn gets his shot at redemption with 1:14 left.
Jordy Nelson gets nine yards and a clock stoppage. Another pass gives the Packers 1st & goal. Some dude false starts to move them back and run another ten seconds off the clock, which starts again from 8 seconds. On the last play of the game, Jordy Nelson gets wide open in the middle of the end zone.
And Ike Taylor bats the pass away from Jarrett Boykin on the left. The Steelers hold on to win and live to fight another day.
Oh, and Carl Cheffers?
You're on my list.