So, this is a Steelers blog. Football blogs have probably the loneliest offseasons, lasting from February until September. September has come and gone and the Steelers are already past the quarter pole of their season.
And with the dynamic in Pittsburgh right now, nobody even cares. After an 0-4 start, we've all pretty much written this off as a lost season (except Ryan Clark, who is delusional). Coinciding with that, however, is the start of the Penguins' season and more importantly, Pirates postseason baseball.
Now, it's worth remembering that the Pirates and Penguins have had their hard times recently. The Steelers have seemingly never suffered for fans, attendance, and dominance of the Pittsburgh sports market, but the Penguins and Pirates have had to work to build young fans, laregly through social media. That kind of connection with the community tends to elude the Steelers, and things are spiraling out of control in a hurry.
How many people on Twitter are talking about the Steelers? How many Facebook updates do you see about them? Do people want to buy tickets to Heinz Field on Sundays, or are they lining up to fill PNC Park and Consol Energy Center? It's obvious that the Steelers are a clear third place if there's a competition between this city's sports teams.
But the way it shapes up, there isn't a competition between the three major sports teams in this city. Instead, the Penguins and Pirates have clearly allied and are actively supporting each other.

There's Penguins defenseman Paul Martin and Pirates' first baseman Justin Morneau, wearing each other's jerseys.
The Pirates got box seats for Saturday night's Penguin win against the Buffalo Sabres. They got a huge ovation on the jumbotron.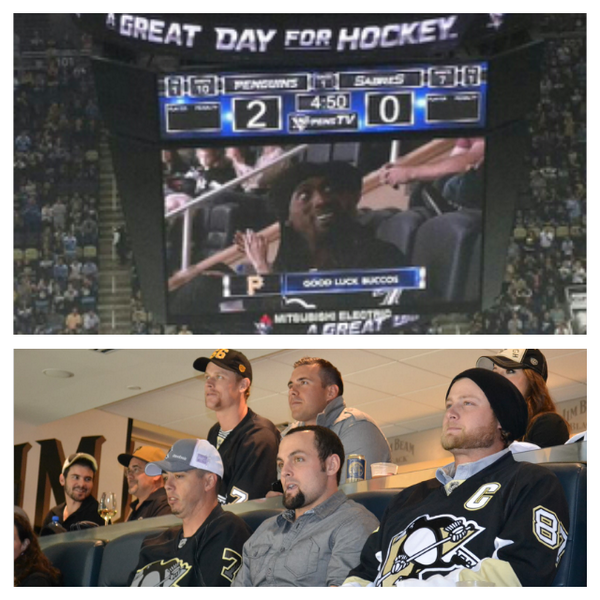 What happened the next day?
It's awesome to see these two teams supporting each other like this. Really, anything connected to the Pirates is awesome right now. Yesterday's game at PNC Park was a wild one, with the Pirates finally delivering the knockout blow in the 8th inning of a tense back-and-forth affair. Good thing the Steelers were on a bye week; everyone in Pittsburgh had a date with the Buccos.
What @nfl game are you watching today #SteelersNation?

— Pittsburgh Steelers (@steelers) October 6, 2013
Are you serious, official Steelers Twitter? Nobody wanted anything to do with football yesterday. Yeah, they sent out a couple of "yay the buccos" Tweets afterward, but made sure to follow it up with a RT of Le'Veon Bell talking about grinding.
I get that this probably comes off as petty nitpicking, and it kind of is. I've just always been impressed with teams that go out of their way to connect with fans and their city (some teams even give media credentials to bloggers, *COUGH*), like many have to in order to get anyone talking about them. I'm more impressed with teams that keep it up when they don't have to anymore. The Penguins still do student rush. They used to do that to get a younger audience to watch their terrible, terrible, 02-04 teams. They're going to sell out every game probably for as long as Sidney Crosby is in town, but they still have that promotion. That kind of thing generates a loyalty from their fans, specifically in that money-spending 18-24 crowd. It's smart, savvy marketing.
Have you ever felt that from the Steelers? Maybe it's a generational thing, but people in that age group (yours truly) have always seemed to look at the Steelers as… almost arrogant. They don't need to do any kind of promotions to give something to the fans, they'll always have fans. They're the dominant power in the city. No one can overtake them. The Steelers are the most important franchise in Pittsburgh and they know full well that everyone will keep coming back forever.
Funny how losing changes things, isn't it? Yeah, people are still following the Steelers, but their young fans have already switched over to watching the Penguins and learning about this funny old game called baseball. In the past few years, hockey season would always have this effect, but the Steelers have always been able to rely on people's dads to be their viewers. Well, now everyone's dad is re-living their days of yore as Pirate fans.
The Steelers are bad right now, and let's face it: Nobody even cares.
Go Bucs
Go Pens