The Steelers have not been mathematically eliminated from playoff contention. In fact, if the playoff machine is to be believed, the Steelers may still be alive when they play Sunday night, after most of the other games are wrapped up. This is not good.
Everyone is in agreement that the Steelers won't play in January, right? I mean, sure, they could win out, but they would still need help at the end of the season. Really, the worst case scenario for any team is to finish 8-8 and miss the playoffs. You get to draft in the late teens but you have nothing to show for the season. The best thing that could happen if for the Steelers to play well (particularly the young players) and lose every game in a close finish, not unlike they did against Miami.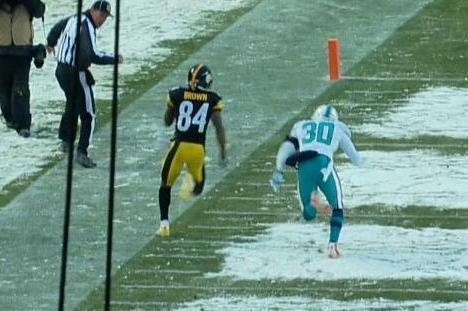 Antonio Brown may be smarter than we give him credit for.
The development of this team's future is the only thing that should matter. A phenomenal season from Antonio Brown, the maturation of Cam Heyward, and [hopefully] increased contributions from Shamarko Thomas and Markus Wheaton are the things to pull for now. Hopefully, every team that's ahead of the Steelers in the AFC wins on Sunday and by the time they kick off against the Bengals, they have nothing left to play for.
I understand that none of this sounds positive, and it shouldn't. Losing is bad. But losing in the long term is worse. The way to reverse that is to build a better team three years from now. That happens by adding younger, more talented players through the draft.
Knowing our luck, the Steelers will stay alive for another week and get into a late-game struggle with the Bengals so Cris Collinsworth and Al Michaels get to use that "with their season on the line" quip for the 5th week in a row. And then they'll stay alive next week, and the week after, all the way to a middling 8-8 finish.
Or maybe they'll just lose out and draft 8th overall. Or maybe they'll go on a miracle run to the playoffs and win another Super Bowl. Who knows? That is, as they say, why they play the games.