We really have no idea what to expect every week. The Steelers were a middling team before Ben Roethlisberger let loose on Indianapolis and Baltimore, then fell back to this mortal plane against the New York Jets. A few up-and-down games later, Big Ben still looks imperfect, but no problem: The Steelers still have Le'Veon Bell. It is not outlandish to say that Bell is the best running back in football, and he made another strong case Sunday against Cincinnati.
FIRST QUARTER
The Steelers get an early first down with the exact plays you would expect: Short pass to Antonio Brown, patient run by Le'Veon Bell. That's as far as they get on their opening drive, and Brad Wing gets in the game. The artist formerly known as Pacman Jones manages a nice little return and sets the Bengals up with good starting field position.
The Steeler defense plays just well enough to get a stop on 3rd down. The Bengals fake the punt and somehow screw it up and fumble the ball forward. A Bengal falls on it, but some rule we didn't know about moves the ball back to the spot of the fumble. The Steelers take over.
With the field position suddenly reversed, the Steelers… do a bunch of nothing. Ben's throws are a shade off target again, and they punt it back.
The Bengals run some weird formation on 3rd & short with only three offensive linemen. They get half a yard on the ground.

Get that Arena Football garbage out of here.
Bell gets back in the game and picks up a couple first downs. The Bengals start keying on him but Ben still can't settle into a rhythm and they punt again.
Some dudes push and shove after a play and it eventually costs Cincinnati a time out. The Bengals are forced to punt again.
Don't look now, but that's three straight 3rd down stops.
SECOND QUARTER
Ben goes play action and completes a pass to Markus Wheaton in the flat, who converts a 3rd & 6. Martavis Bryant distracts a few DBs and Lance Moore makes a big catch underneath him. The Steelers quickly work themselves into the red zone and Ben hits Bell on a quick slant from the slot. He's an eyelash short of the end zone, and takes a play fake up the middle on 1st & goal. Ben hits Heath Miller in the flat for an easy touchdown. 7-0.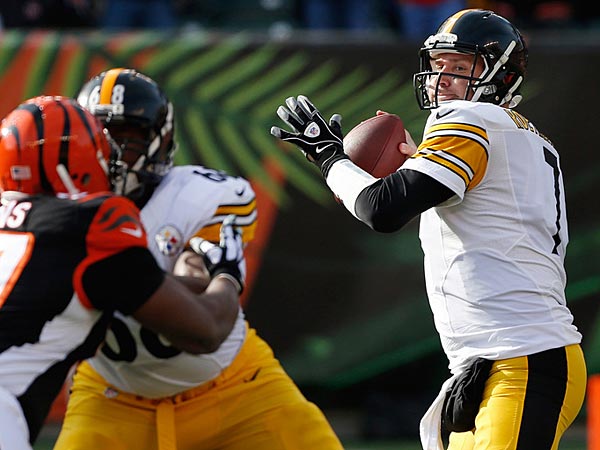 Look who finally showed up to the game!
Andy Dalton goes deep for AJ Green. Mike Mitchell was out to lunch. They score on the next play. 7-7.

We're now to the point where other defensive backs are yelling at him after every play, instead of just your dad.
The Steelers go three and out. Wing's punt bounces past Q*Bert Jones and Antwon Blake hesitates for some reason. The ball rolls into the end zone before Blake can recover and down it.
The Bengals start marching downfield, but William Gay battles for a contested football near the end zone and comes away with the football. Two flags are thrown, one on the Steelers for illegal contact, and one on the Bengals for a personal foul. Somehow the end result is that the Bengals keep the ball and it's 1st down.

OH HI THERE, TONY CORRENTE. STILL TERRIBLE AT EVERYTHING, EH?
The Bengals take advantage of the situation and keep moving the ball on the suddenly-overwhelmed Steeler defense. Ike Taylor stays down after a play. William Gay slides over to isolate on AJ Green and Taylor checks back in after one play.
Andy Dalton runs that read option that's so popular with the kids these days and sells the fake. He rolls to his right and takes off himself. There's no defender anywhere near him, and he makes it all the way to the end zone. 14-7.

In context, this might be the saddest image on the internet.
Markus Wheaton honors his inactive teammate Dri Archer with a kickoff return out to the 15 yard line. Bell and Brown team up to get a drive started.

They might as well be the only two players on the team.
The Bengals start the Steelers' two minute drive off with an illegal contact penalty. Some pass rusher plants a Mike Adams tree at center field. The Steelers spend a time out and Ben hits Brown and Wheaton for a pair of quick first downs. Bell drags the drive officially into the red zone. Antonio Brown shakes and bakes inside the 5 yard line. The Steelers spend their finaly time out with 30 second left.

I'm sorry, was that… actually pretty good clock management?
Ben throws a series of passes nowhere near where any of his receivers could get them. Suddenly Tomlin looks like a fool for not saving any time outs to give Bell a shot.
Sometimes you just can't win.
The Steelers settle for a field goal and go into halftime, down 14-10.
HALFTIME
derp
THIRD QUARTER
The Bengals come back with possession and pick up where they left off moving the ball. Lawrence Timmons makes a big stop and Mohammed Sanu gets buried in wildcat formation to set up a 3rd & long, and the Bengals call a time out. Some dude false starts because Bengals. AJ Green drops the pass and the Bengals
have to punt.
Le'Veon Bell hurdles some guys. Martavis Bryant holds onto a tough throw for a first down. Mike Adams commits a hold, and Antonio Brown helps make up the yardage. He catches a perfectly thrown quick slant for a first down. Terrence Newman grabs Brown's jersey, but Brown shakes him off for a big catch anyway.
Ben gets good protection, Bell drifts out of the backfield, and they hook up for a completion. Bell turns upfield and retakes the lead for Pittsburgh. 17-14.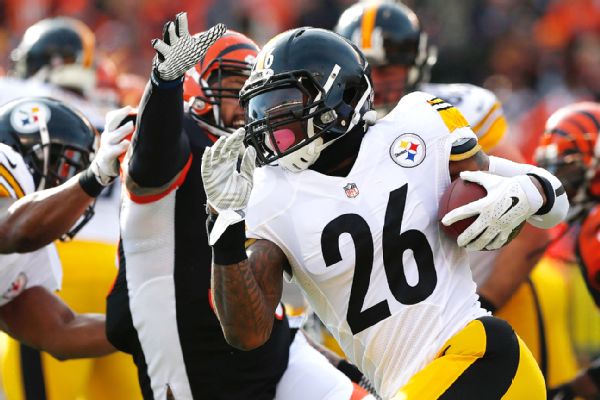 Lawrence Timmons has to cover Giovanni Bernard in the flat and drills him as he receives the ball. The Bengals end up with a three-and-out.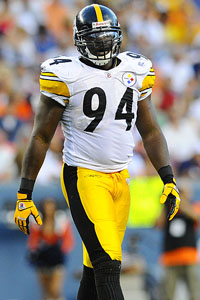 Strong game from arguably the defense's most important player.
Le'Veon Bell makes a case as the offense's most important player as he picks up another first down. The Bengals shut him down from there and the Steelers have to punt.
Dalton goes deep. AJ Green is all alone.

I can't even find an image of Green with Mike Mitchell anywhere in the frame. 21-17.
FOURTH QUARTER
Le'Veon Bell says F that and busts out a 53-yard run to immediately flip the field. The magic runs out though, and Shaun Suisham gets the Steelers just 3.
Can we have more of you? 21-20.
Dalton forgets how to hold a football and Arthur Moats jumps on it. Steelers take over.
Professional football, folks.
A few sloppy plays add some tension, but Ben and Brown hook up on third down for a big conversion. Le'Veon Bell finds some excellent blocking and takes advantage up the left seam. He dives over the goal line to re-take the lead. They go for 2, and Miller fakes like whiffs on a block. He turns around and finds a football at his chest. 28-21.

Chris Kirkpatrick takes a personal foul after the play because #Bengals.
Antwon Blake very nearly forces a fumble from AJ Green but he adjusts and holds on. Gio Bernard tries to hurdle Brice McCain, but he doesn't have Le'Veon Bell's hops. He gets absolutely drilled in midair. Dalton goes deep for Green again. Antwon Blake is running with him stride for stride and breaks up the pass. Mike Mitchell flies in late and yells out a war cry.

Blake made the play, but hey, for once you noticed Mitchell for something besides falling down.

"Hey, I should try that deep-throw-thing sometime."

All Martavis Bryant does…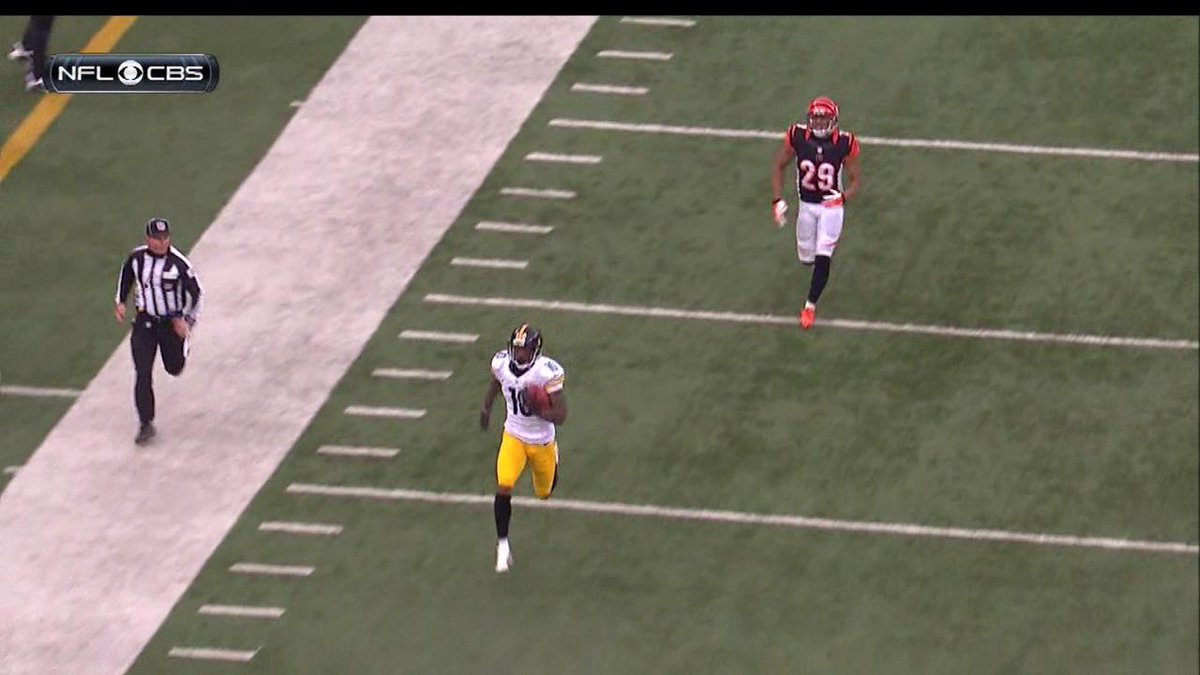 94 yards. 35-21.
Stephon Tuitt plants his helmet in Dalton's ribcage while Antwon Blake throws a clean shoulder into Mohammed Sanu on the sideline.

This looks familiar. Are they going to bring in Jon Kitna?
Dalton checks back in but Ben Huber punts. It's a booming 26-yard effort.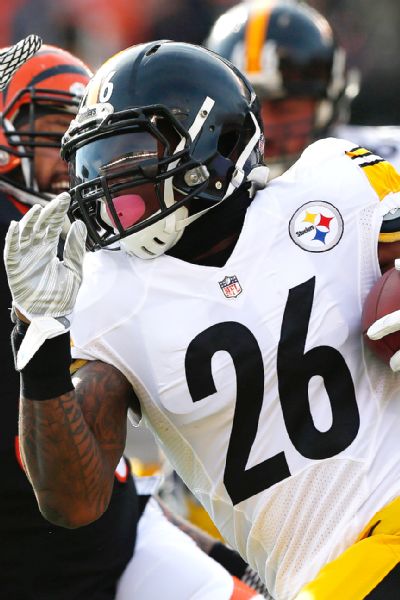 Lets run some clock.
There are two players in NFL history who have put together three straight games with 200 yards. One of them is Le'Veon Bell. The other is some guy named Walter Payton.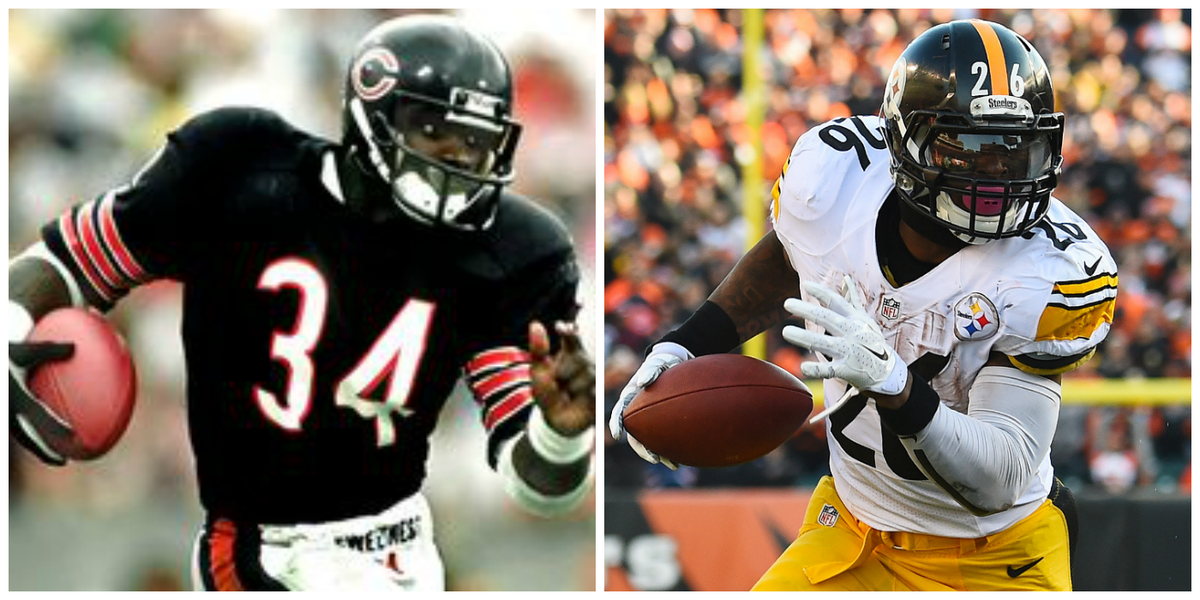 Yeah.
David DeCastro is an anthropomorphic bulldozer. Le'Veon Bell gets another big break and scores again. 42-21.
Andy Dalton doesn't even come back onto the field. They phone it in and the Steelers respond with handoffs to Josh Harrisson , which you may recognize as effectively a kneel-down. Game.