It took me some extra time, but I did get to sit down and watch this weekend's Steeler game on DVR. The recap is a day late, but it's still the recap, so enjoy.
FIRST QUARTER
Dri Archer makes him triumphant return as a kick returner, but Roger Goodell outlawed kickoffs back in like 2010 so the Steelers start from the 20. They open with a quick screen to Will Johnson because apparently they aren't even taking this seriously.
Ben takes back to back sacks and fumbles the ball. Tampa recovers and Mike Evans makes a spectacular catch on a fade route for a touchdown. Nothing Cortez Allen could do. 7-0.
The Steelers punt almost immediately. Some guy has a nice little return but Greg Warren wraps him up. What a player
Cam Thomas facemasks Doug Martin. It would be the first in a long series of lazy, undisciplined penalties. Mike Evans makes another great play on a deep ball but can't keep his feet in bounds. The Buccaneers misfire again but their rookie kicker sneaks in a 50 yard field goal. 10-0.
Antonio Brown drops a screen pass. Heath Miller joins in the fun and can't get a hold of a tipped ball. The offense finally does something right as Ben finds Markus Wheaton down the middle and he stretches out for a beautiful catch. He drops a ball on the sideline but the officials rule it a catch somehow. Lovie Smith challenges and loses, but no one is sure why.
Antonio Brown pulls the Steelers down into the red zone. Dri Archer gets the call on a jet sweep, but only gains a yard. A rocket of a pass goes through Justin Brown's arms in the end zone.

He is just not very good at this.
Shaun Suisham breaks the shutout. 10-3.
Cameron Heyward beats his blocker and destroys a slow-developing run. Mike Evans drops a pass and Cortez Allen celebrates like he did something. The Bucs punt it away. There's some penalty on the play and the Bucs re-kick for the same result.
The Steelers start at their own 40. Le'Veon Bell takes off up the middle for a big gain on a tough run, but he pops up and says something to a defender that crosses a line. He gets 15 yards for taunting, and Mike Tomlin is not impressed.
Heath Miller makes a couple of catches to move the chains. Bell gets the call again and gets another big gain up the middle. The Roethlisberger-Brown connection gets the offense into the red zone again. Justin Brown makes a tough catch and takes some punishment for it. David DeCastro gets called for a false start. Ben is incensed about it.
Some safety gets hurt trying to make a tackle on Le'Veon Bell. On 3rd & goal from the 11, Ben hits Brown over the middle for the touchdown. He takes an unsportsmanlike conduct penalty celebrating. Tomlin doesn't even say anything to him. He just stares.
In any case, the game is tied at 10.
SECOND QUARTER
Mike Glennon looks like Napoleon Dynamite.
Doug Martin gets a few carries to move the Tampa Bay offense. Arthur Moats gets a Clark-Haggans-esque jump on the snap and draws a holding call, but Cam Heyward collects a 15-yard sack anyway. The Bucs can't recover and punt again.
LeGarrette Blount nets a first down on a carry up the middle. Markus Wheaton gets the next one on the left sideline. Some dude gets all up in Heath Miller's facemask for a penalty and an automatic first down. Ben gets wrestled hard to the turf on the next play. Any other quarterback and that's probably a flag.
Lance Moore makes his first appearance of the season with a really tough catch on 3rd & 13. It leaves them with 4th & inches, and Ben goes hard count to try and draw the Bucs offside. They don't jump, but Ben actually runs a play and sneaks for the conversion.
Ben whacks his hand on Marcus Gilbert's helmet and looks to be in pain, but he stays in the game and hands off to Bell, who shows his patience and gets a few nice runs in. Ben takes a sack but reloads and fires to Antonio Brown in the end zone. Alderaan Verner takes a penalty but Brown makes a beautiful catch over his back anyway.

You try making that joke work. 17-10.
Mike Glennon winds and fires and overthrows Vincent Jackson.

Owner of the least creative nickname outside of the NHL
The Buccaneers take back-to-back delay of game penalties because they are just not even coached, apparently. Bobby Rainey goes nowhere on 2nd & 30. This drive ends predictably and the Steelers get the ball back. Ben hooks up with Bell to get the offense moving with a minute and a half remaining. He sustains some bump or bruise and Blount checks into the backfield.
Heath Miller takes over the short passing game to keep marching down the field. The Steelers spike the ball and some dude horse-collars Ben on the next play for a sack (which is legal, for some reason). Suisham tries a 50-yard field goal as time expires. He misses wide right.
HALFTIME

I helped like, six rabbits get adopted on Sunday. This is why I'm so not in a bad mood about the Steeler game.
THIRD QUARTER
Suisham squibs the second half kickoff for some reason, then charges down and makes the tackle himself. Probably working off that missed field goal. Vincent Jackson converts a huge 3rd & 10. Troy Polamalu times a snap count and the Buccaneers get all mad about it.
Mike Evans makes a sick catch down the left sideline over William Gay. Tomlin challenges the play and loses. Sean Spence gets headlocked out of making a tackle and Doug Martin scores. Cam Heyward can't believe it's allowed, and he gets an unsportsmanlike conduct penalty for it.

This game is infuriating.
Antonio Brown makes a nice catch down the left sideline. Tomlin has to challenge the play for it to count, but it does. That's the Steelers' final challenge for the game.

That's 20 consecutive games with at least five catches, breaking Lavernius Coles' record. Yeah, Lavernius Coles, I know.
Brown takes a backward pass on the next play, starts out on a slow reverse, and throws left-handed down the sideline to Le'Veon Bell for a first down. Ben hits Heath Miller in the end zone and he takes a vicious shot to the head but hangs onto the ball. It's an awesome effort but it gets undone by some offsetting penalties on the play.
Ben isn't going to let his tight end go without a score. He throws to him again and he squeezes the ball in a tight window. Heath secures the ball and withstands another hit as he falls into the end zone. What a player. 24-17.

MAYBE I WILL MARRY HEATH MILLER, OKAY?
Troy Polamalu comes in unblocked on a blitz, but Glennon gets the ball away to avoid a sack. Brice McCain can't stop Mike Evans.

It's okay, I had to Google him too.
Louis Murphy makes a tough catch over the middle. A Steeler penalty is declined. Glennon fires downfield for Evans again, but while the ball is in the air, Evans pulls up with an apparent injury and Cortez Allen runs under the football for an interception.

Tough luck for Glennon, but Allen needs that play.
Dri Archer motions out of the backfield and Ben fakes the quick throw to him. Everyone bites on it and Wheaton gets wide open down the sideline, but Ben just barely overthrows him.
The Steelers try that cool fake play where Ben Roethlisberger acts like he's changing the play and then punts, but Marcus Gilbert false starts. Brad Wing comes on to punt normally.
FOURTH QUARTER
Doug Martin converts a 3rd & inches. Solomon Grundy gets a big gain on a reverse.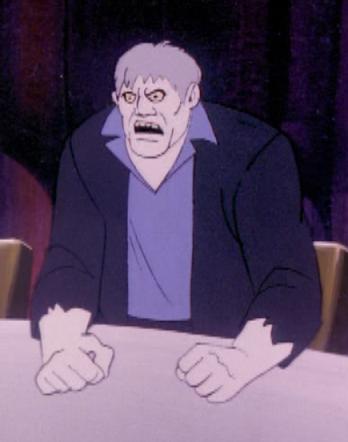 Polamalu takes a facemask penalty on Doug Martin because he just isn't a good tackler anymore. Louis Murphy makes another long catch and another defensive penalty is declined. Murphy gets wide open in the end zone but drops the ball behind him. Polamalu jumps a route and bats a pass away at the goal line.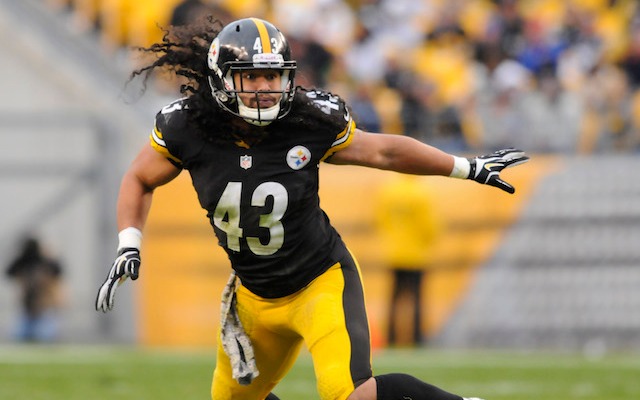 The old Troy would have run that back for a touchdown.
The Bucs kick another field goal. 24-20.
Markus Wheaton gets buried for a loss on a reverse. Heath Miller gets the yardage back and then some on a quick slant. Todd Haley dials up the flea flicker and Antonio Brown beats his coverage. But he takes his eye off the ball and it bounces off his hands for an incompletion and a wasted opportunity.
Le'Veon Bell catches a swing pass and bounces off defenders all the way for a first down on 3rd & 13. Ben improvises, jukes a defender and throws across his body to Antonio Brown, who jukes a defender and falls for a first down.

These two just get each other, man.
They're still human though, and Ben overthrows Brown en route to the end zone and the drive finally stalls. They punt, and Robert Golden takes the Steelers' sixth (!) 15-yard penalty of the game.

You can imagine how much Mike Tomlin is enjoying this.
The Bucs hit a 23-yard gain after a slant and Troy Polamalu puts a big hit on the receiver at midfield. He then comes up to play the run and sneaks into the backfield to shut the play down. The Bucs' center is asleep and doesn't snap the ball to draw their third delay of game penalty.

Amateur hour.
Glennon gets all the yardage back with a throw to some guy with a name that's too long to set up 3rd & 2. Arthur Moats jumps early to give up an automatic first down. Louis Murphy pulls them even closer. The clock ticks down to three minutes as the Bucs cross into the red zone.
Bobby Rainey takes a pitch and throws for the end zone. The Steelers get caught napping, but the ball is overthrown. Lawrence Timmons gets as close to pass interference as you can but the pass hits him in the back. Glennon goes for Vincent Jackson on 4th & 10, but the defense holds and the pass is incomplete.

There's the big stop we haven't been able to count on. Now you let the offense win the game.
The Steelers take over and plunge Bell up the middle to start the clock with 1:44 left. They throw it on second down, but it's a nice, safe throw to Wheaton in bounds. The Buccaneers burn their last time out. Le'Veon Bell gets swallowed in the backfield on 3rd & 5 and the Steelers have to punt it away with 50 seconds on the clock.
Brad Wing booms a whopping 36-yard punt and the Buccaneers get the ball in Steeler territory with 40 seconds left.
Jason Worilds forces an incompletion on first down. Glennon gets time on 2nd down and finds Louis Murphy, who takes the ball down to the 5 yard line. They spike the ball with 15 seconds left.
Mike Glennon steps up and hits Vincent Jackson on an out route in the end zone. Jackson hangs on for the catch and the winning score. 27-24.

Ouch.
-It's easy to blame the defense here. But they made four stops with goal-to-go and the offense needed a single first down to seal the win.
-The Steelers are 2-2 and that's just about right.
-I really like Mike Tomlin, but I'm not sure how good of a coach he is. Do the players listen to his cliches more than any of us do?
-Big opportunity to rebound in Jacksonville next week. If the Steelers lose that game, look out.