Yikes. When people use the phrase "a tale of two halves," this is the game they are talking about. The Steelers were invincible in the first half, and then the Browns turned the difficulty all the way down at halftime. They did basically whatever they wanted in the second half, but the Steelers got back into shape in time to kick a game-winning field goal. Getting the win is important, but oh man do the Steelers have things to work on. Jump.
FIRST QUARTER
Steelers open the game with five wideouts.
Antonio Brown gets like 50 yards on the game's second play. Le'Veon Bell turns a screen pass into a big gain, then asserts himself down to the 4. He goes left side into the end zone, but a holding call on Kelvin Beachum brings it back. Freddie Kruger sacks Big Ben, and Shaun Suisham draws first blood. 3-0.
Some fullback gets a first down for Cleveland. Lawrence Timmons loses Jordan Cameron and he hauls in a long ball. Brett Keisel drills Brian Hoyer in the stomach to force an incompletion, and Billy Cundiff ties the game at 3.
Dri Archer takes a funky handoff for a short gain through a loose crowd. Antonio Brown has an explosive little run after a perfect short throw from Ben. Heath Miller injures some safety by being tackled.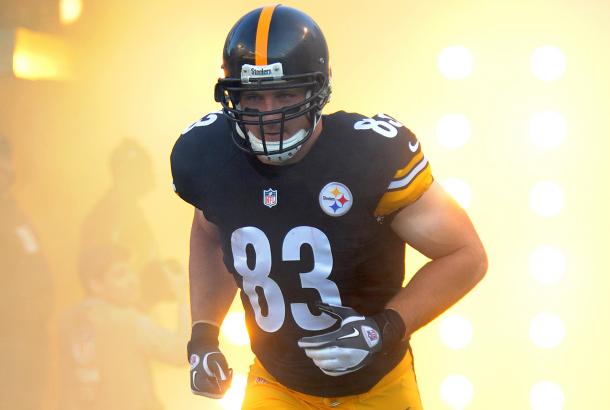 Do not cross him.
Ben identifies a blitz perfectly, gets enough time, and finds Wheaton down the right sideline. He makes a beautiful move to stretch out for the pass and keep his feet in bounds. He shows off his tip-toes again after beating Justin Gilbert on the left side.
LeGarrette Blount takes a handoff up the middle and almost kills Justin Brown at the goal line. No fancy moves, no shake-and-bake. He just puts his head down and runs through some bodies. 10-3.

That's what we pay you for.
Troy Polamalu storms in to break up a reverse but bizarrely misses the tackle entirely.
SECOND QUARTER
Hoyer overthrows Cameron on 3rd & 1. The Browns punt. Ben gives the ball right back with a poorly-advised throw right at Karlos Dansby. Jarvis Jones finally shows up, terrifies Jordan Cameron for some reason, and hauls down Hoyer. The Browns do nothing and punt.
Bell puts together a couple of carries for a first down and the Browns take a defensive timeout. He fakes a carry on play action and gets loose for a bunch of receiving yards in the secondary. Wheaton gets featured on a quick slant. Three Cleveland pass rushers totally whiff on Ben Roethlisberger, who rolls out and throws on the run for Antonio Brown, who beats his defender to the end zone. 17-3.

They never fail.
The Browns punt straight away. Antonio Brown takes off on a slick return, and caps it off by straight-up kicking their punter in the face.
There's no chance that was done with any malice, but there's also no way that's not a fifteen yard penalty. Totally worth it.
Le'Veon Bell takes the next carry and jukes and cuts and picks up some blocks all the way to the end zone from midfield. 24-3.
Ben Tate runs away from Jarvis Jones. Ryan Shazier jumps a pass route and bats the ball down. Ike Taylor pats him on the head, having made a career out of doing exactly that. The Browns punt. The Steelers finally get stopped on 3rd down and Brad Wing punts it away.
Jason Worilds beats a tight end on a speed rush and drags down Hoyer by his right bicep, in an unimpressive moment for everyone involved. The Browns, predictably, punt.
Justins Brown and Gilbert take offsetting penalties when Brown gets mysteriously called for pass interference and Gilbert rides him out of bounds and then grabs him and throws him down. Not sure why those just offset, but that's not for me to decide.

Our Dear Leader does that.
Antonio Brown stretches out for a nice catch in front of Joe Haden. A ball deflects off Heath Miller and bounces short of Markus Wheaton. Ben goes hurry-up and spikes the ball after a Wheaton first down.
Ben yells at Antonio Brown to just run to the end zone. He does. Ben throws the football to him. Joe Haden has to take a penalty on Brown anyway because I guess the call caught him off guard. Ben ends up taking the ball himself with the clock winding down, and with three seconds left, he slides to a stop and immediately calls time out. Shaun Suisham extends the lead. 27-3. Excellent awareness on the part of the franchise QB.
HALFTIME
Don't even get me started on this Ray Rice stuff.
THIRD QUARTER
Andrew Hawkins catches a pass and Ike Taylor facemasks him. Terrance West takes off through the defense for 22 yards before Jarvis tracks him down. Miles Austin gets wide open underneath Ike Taylor. Some dude takes a handoff and scores up the middle.

This was only the beginning.
Dri Archer tries to make some magic happen on the ensuing kickoff but Terrence Garvin takes a penalty to negate it. Rather than a long, sustained drive to take the momentum back, the Steelers get about four yards on three plays and punt.
Ryan Shazier cuts in and torpedos West for no gain. The defense takes a pair of penalties on 3rd & 3 to give the Browns some new life, and Hoyer finds Hawkins for 20 yards or so. Isaiah Crowell scores again. 27-17. Ike can't play anymore.
Ben fakes a handoff to Archer coming across the formation and hits Justin Brown for a first down. Either K'waun Williams or Aaron Berry comes in for Buster Skrine when he gets hurt.

Do they not have scouts anywhere else?
Antonio Brown beats Haden like the redheaded stepchild of a rented mule.

Yeah, I don't care if you get that one or not.
Ben finally gets sacked as protection breaks down around him. He drops the snap on the next play. Brad Wing punts again.
Steve McLendon busts in and makes a tackle for a loss. Hoyer hits Hawkins again for a first down. Polamalu puts a hit on him, but the Browns continue to march, unfazed, by land and by air.

STOP SUDDENLY BEING GOOD.
Cam Heyward finally slams Brian Hoyer for a short loss to stop the drive.
FOURTH QUARTER

Chip shot. 27-20.
The Steelers vomit all over themselves and punt again.
The defense doesn't fare better. Ike drops a ball at the goal line (of course he does) and the Browns keep running the ball to the right for huge gains. Hoyer spins out of the pocket, has all day to throw, and hits Travis Benjamin for a touchdown to tie. 27-27.

Pictured: Ike Taylor, not covering a receiver
Boo birds come out at Heinz Field, rightfully so. 4th & 10 and Ben sulks off the field. The punting unit comes on, and the Browns don't cover the gunners.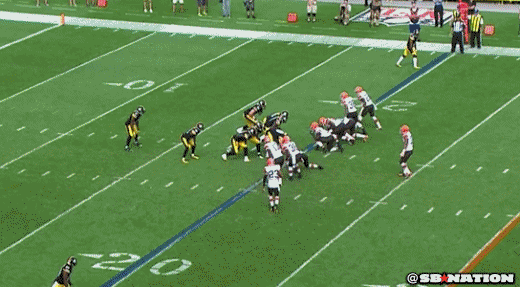 (I don't have .gif-making capabilities, so I'm just going to repost the ones from BTSC, whatever)
Robert Golden hits a wide-open Antwon Blake on the left sideline for a completion and a first down. If your gunners aren't covered, the up-back should make that read and throw it every single time. Great call. The Steelers don't capitalize though, and end up punting for real from midfield.
The defense makes a stop but takes a penalty to screw that up. Cortez Allen thinks he has an interception but the official sees it bounce into his hands. Hoyer is miraculously stopped on 3rd down and the Browns punt it away. It barely reaches the end zone for a touchback.
Bell picks up some yards on the ground and through the air, finally. The offense gets in motion until LeGarrette Blount gets swallowed in the backfield on 3rd & 1 because every single player missed his block.
The two minute warning comes and goes and the Steelers punt. The Browns take over in a tie game at their own 20.
Cam Heyward starts the drive with a sack. William Gay bats down a pass. For some reason, the Browns try a deep screen pass behind the line, but Big Play Willie Gay sniffs it out and drops it for a loss. The Browns punt on 4th & 21 and the Steelers take over at their own 43.
The Steelers start with a 2-yard slant to Le'Veon Bell, maybe just to get the clock running? Really weird decision. They burn up most of the clock on that, but Ben hits Wheaton over the middle to get into field goal range. They hurry to the line and spike the ball with five seconds left.
Shaun Suisham takes the field. The Browns ice him.

Doesn't matter.
Steelers win, 30-27.
The biggest change from the first to the second half was that the play-calling got incredibly conservative. A lot of runs up the middle to try and sit on the lead, when the dynamic short-passing game was so successful in the first. They got away from that (Ben subtly complained about it in his postgame field interview) and they had a lot of trouble getting back into it. Still, they put up 27 points in one half of football, which tells you this offense is capable.
On the flip side, I still have the same major concern about the defense I did last month. They have to learn how to tackle and stop the run. If you can't stop the run, you lose. If you can't tackle, you can't stop the run. The defense has a lot to work on, including finding a way to get Ike Taylor out of trouble.
Ravens game in like ten minutes. Ray Rice is scum.