Does anyone else feel weird about liking this team? They had us primed early in the season for a phenomenally bad year, but a couple months later they control their own destiny en route to the playoffs. I'm still starting to come to terms with the idea that the 2014 Steelers can be competitive, and they're 9-5. 9-5 is a good pace in the AFC this year. As for the Atlanta Falcons, they came into this game without their top offensive player in Julio Jones, and the NFC South is so putrid that we might see a 6-10 division champion. Naturally, we had no idea what to expect from the Steelers against such a downtrodden opponent.
FIRST QUARTER
Ike Taylor is so dedicated to shadowing Julio Jones that he even followed him to the inactive list.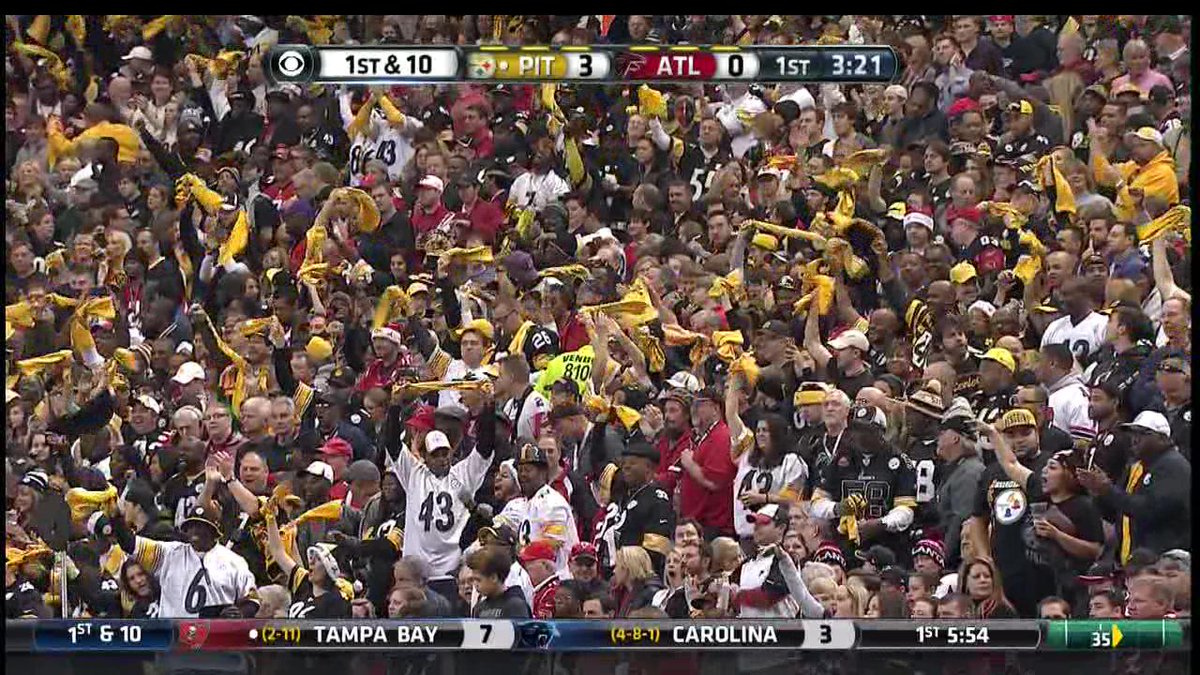 Atlanta is apparently another safe haven for Steeler fans. Ben Roethlisberger comes out slinging and hits Antonio Brown for a couple of early catches. Martavis Bryant picks up a first down on a catch and run. Big Ben dodges an unblocked defender but isn't on the same page with Heath Miller and the drive stalls. Shaun Suisham opens the scoring. 3-0.

Kroy Biermann is such an amazing name.
Devin Hester gets dropped inside the 20 on the ensuing kickoff by Shamarko Thomas, finally making an appearance. There's some pushing and shoving among various special teamers after the whistle.
Jarvis Jones and Arthur Moats start at outside linebacker if you're keeping score at home. Steven Jackson bowls over Troy Polamalu, who just does not have the magic anymore. Matt Ryan scrambles to the left and misses Roddy White on third down. The Falcons have to punt.
Le'Veon Bell drifts through a pile for a two yard gain. I wouldn't have ever thought I'd phrase a run that way before Bell arrived in Pittsburgh. Ben finds him on 3rd & short and he takes off for 44 yards. A flag is thrown on the play, but after a conference of officials, Clete Blakeman determines the play was legal. The anti-Corrente
"HEATH" chants sound a lot better in a domed stadium. Markus Wheaton gets into the game with a really nice sideline catch. Ben suffers a sack at the Falcons' 30. Bryant almost jumps up for a one-handed catch in the end zone, but he can't keep the ball. Shaun Suisham doubles the lead. 6-0. Martavis Bryant gets a little bit better at something every week. The sky's the limit with this kid.
Devin Hester sets the Falcons up at their own 40.
SECOND QUARTER Suddenly, a touchdown!
Not only has William Gay been the Steelers' most reliable defensive back on the year, he's been their only playmaker. He picks off Matt Ryan and zigs and zags on a slick return all the way to the end zone. 13-0.
Suisham pops the next kick short to a guy wearing #98. He falls down and the Falcons start from the 20. Harry Douglas takes a penalty.
I don't know if that name is a euphemisn, but I am uncomfortable saying it.
Ryan's next pass gets tipped into the ground and the Falcons punt it back. Antonio Brown returns it to near midfield. Nothing happens, and the Steelers try to draw the Falcons offside on 4th & short. That unsurprisingly doesn't work. Brad Wing punts it away and the Falcons start again from inside their own 20.
Ryan finds Roddy White for the Falcons' first big gain of the day as the Falcons cross midfield. Lawrence Timmons gets banged up and is attended to on the sidelines as the Falcons march on.
Jason Worilds comes in unblocked and sacks Matt Ryan. Tackling quarterbacks is a penalty, and Clete Blakeman calls perhaps the worst roughing the passer penalty in the past 25 years.

Okay so maybe you aren't so great at your job after all.
They score, because of course they do. 13-7.
The Steelers take over again and quickly reach the two minute warning. Bell picks up a first down and Ben misfires for Lance Moore. Bell converts a short 3rd down and the Steelers spend a time out. Ben goes down the sideline for Antonio Brown. He toe-taps at the 1 and a booth review awards him the catch. Le'Veon Bell plunges in for the touchdown. 20-7.
Suisham bounces the kickoff into the end zone and Matt Ryan & the Falcons set up with 27 seconds and three time outs.
Ryan Shazier makes an appearance and drags down a receiver by the leg to keep im in bounds and force the Falcons to spend a time out.
Remember him?
HALFTIME
Let's see what Ray Lewis is up to on Twitter these days.
What's up, Ray RT @raylewis: pic.twitter.com/gcPCuwVGGW

— Merry Blitzmas (@blitzburghblog1) December 14, 2014
All right then. Moving on.
THIRD QUARTER
Devin Hester catches a pass and flips the field, setting up the Falcons at the Steelers' 34. Troy Polamalu gets dinged up somewhere. Roddy White fumbles a ball but some fullback recovers it. Matt Bryant puts up a field goal and Atlanta trails 20-10.
With a relatively successful defensive stand in the books, the Steelers' offense comes out to take control of the game. Bell gets ten yards for a first down and then gets held to a gain of 1 on the next play.
Clete Blakeman and friends take a month to sort out a pair of flags, both going against Antonio Brown. Neither of them make any sense, and Ben throws a duck to nobody on 3rd down, so Wing punts it away.
Whatever, Brown rules
Ryan hits Douglas again to move into Steeler territory. Ryan scrambles and slides in front of Lawrence Timmons, who still goes for a hit. That goes uncalled because for better or worse, football referees have no idea what to do.
Ryan drastically overthrows a fade to Hester on 3rd down in the red zone. Matt Bryant cuts it to a one-score lead. 20-13.
Someone on the offensive line blows an assignment and Le'Veon Bell gets dropped for a six yard loss. Brown makes up the lost yardage and Bell converts third down. Kroy Biermann gets mismatched on Heath Miller, who gets loose and catches a ball for a big first down.
FOURTH QUARTER
Markus Wheaton takes a crossing pattern for a big gain. Ben is busy tying his shoe, so Le'Veon Bell caps off the drive with a sweep to the left for a touchdown. 27-13.

He's as good as anyone in the world at what he does.
Shamarknado brings down Devin Hester inside the 20 again. Ryan scrambles around and chugs ahead to pick a first down on his own. The Falcons muddle around for a few plays before Harry Douglas takes a screen pass for a big gain down to the 5. Mike Mitchell drags him out of bounds and stays down, hurt.
William Gay times a big hit on Roddy White to break up a pass. Antwon Blake chops down Steven Jackson on the outside. Ryan gets the ball to White over the middle to finish off the drive. 27-20.
Ben hits Antonio Brown on a quick screen and he turns upfield for a first down. Bell gets stacked up and the Steelers shortly find themselves facing a 3rd & 7. Ben calls a time out.
Think of something good, Todd.
The Falcons show a Cover-0. Markus Wheaton gets open on a crossing route and Ben hits his for a first down. Bell gets stuffed, Ben forces a bad shovel pass, and Lance Moore lays out for a deep throw but can't hold onto the football, and the Steelers punt it back.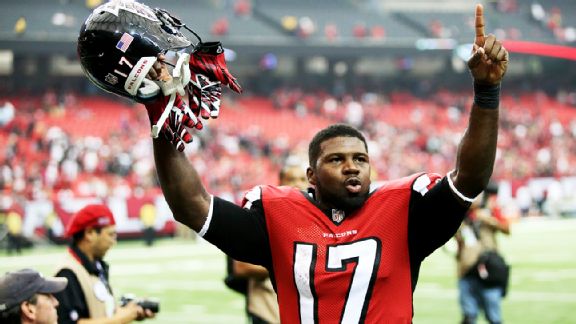 Fortunately, Devin Hester calls for a fair catch.
The Falcons go three and out when Vince Williams makes a stand and makes a solid tackle on Douglas over the middle. The Falcons punt it back with five minutes left.
You know what time it is.
Or so the Falcons think. Ben pumps twice and sidearms the ball to Brown, who battles to stay in bounds. Some DB takes a penalty on him on 3rd down just for good measure, and so Bell gets the clock rolling again.

The time outs begin with three minutes left.
By the time we reach the two minute warning, the Steelers face 3rd & 1 while the Falcons have no time outs. A first down wins the game.
Antonio Brown motions across the formation, stutter steps, the ball is snapped, Ben play fakes to Bell, then to Brown, and keeps the ball only to roll out and find Heath Miller wide open down the field.
Top 3 play calls ever.
Game.
-Tons of pistol offense in this game. Not sure why.
-It worked, so Todd Haley continues to get a pass on this blog.
-Let Cincinnati lead the division. The Steelers play them in Pittsburgh in Week 17.