Don't look now, but the Steelers are one of the better teams in football. When they lost to Cleveland and won unconvincingly in Jacksonville, we all looked at that Houston-Indianapolis-Baltimore homestand and figured we should start checking out who's lighting it up in the NCAA. And over those three games, the Steelers scored 124 points. Todd Haley and his offense are bulletproof right now, and while the defense isn't perfect, who cares because Ben Roethlisberger is in complete control of everything.
It feels good to hate the Ravens. It feels even better to beat them. Jump.
FIRST QUARTER
The Steelers win the coin toss and defer to the Ravens because both of these teams would love for it to still be 2010. The Ravens' returner calls for a fair catch on the kickoff. Who does that?
Jon Harbaugh calls a timeout on the first set of downs. Owen Daniels converts a 3rd & 5. Steve McLendon makes a retrun to action and makes a stop. Joe Flacco lazily throws to nowhere and the Ravens punt.
Ben throws too high for Martavis Bryant on their first play. Nothing else happens and the Steelers punt it right back. The Ravens set up in Steeler territory. Flacco airs it out to Torrey Smith, who beats Brice McCain to the end zone. 7-0.

Joe_Flacco_In_Heinz_Field.exe
Ben buys time but can't find an open receiver on first down. Again, he can't get into a rhythm and the Steelers go three and out. The Ravens punt it right back.

what a game so far
Le'Veon Bell finally starts a drive and gets a handful of yards, but gets driven back for a big loss on second down. Ben goes deep for Antonio Brown on third & long. It's overthrown, but the Ravens jump offside for a free play. Bell gets the next reception but he's half a yard short of a first down. Going for it isn't worth the risk, so Brad Wing punts it away again.
Some fullback with an unreal Polish name picks up a first down.

Already one of my favorite players.
Ryan Shazier goes down and limps off the field during a TV timeout. Stephon Tuitt puts pressure on Flacco and forces a bad throw. James Harrison joins him on the next play and they combine for a sack. The Ravens punt again, but it rolls out of bounds at the 3.
Antonio Brown finally gets the Steelers a first down. LeGarrette Blount powers ahead for almost a full ten yards, then he plunges again for the conversion.
SECOND QUARTER
Blount keeps getting carries, but a penalty from Maurkice Pouncey and a pair of sacks set the Steelers back at 3rd & 33. Just for good measure, Elvis Dumervil makes it three in a row. Wing punts from his own goal line on 4th & 39.
Justin Forsett fumbles the ball. Brice McCain takes off with it. Flacco eventually trips him up.

A TURNOVER!
The Ravens take three freaking penalties at once on the next drive. Courtney Upshaw roughs Ben Roethlisberger, some dude horse-collars Antonio Brown, and one of their running backs beats a defenseless woman unconscious in a casino. Ben makes unlimited faces afterward.
Bell makes the kind of catch running backs don't make. The game is tied at 7.

The face of a champion.
Suisham does some weird squib kick to that Polish dude. Flacco gets pressured again and has to get rid of the football. Steve McLendon gets flagged for hitting a quarterback. Flacco throws a stupid interception to Jason Worilds on the next play.

Our doofy-looking quarterback responds with touchdowns. BUT IS HE #ELITE?
Martavis Bryant gets the call on a screen pass and Dri Archer runs between the tackles for a first down, somehow. Determined to get a rookie on the score sheet, Ben goes for the end zone and finds Bryant well ahead of his defender. He goes down and holds onto the ball. 14-7.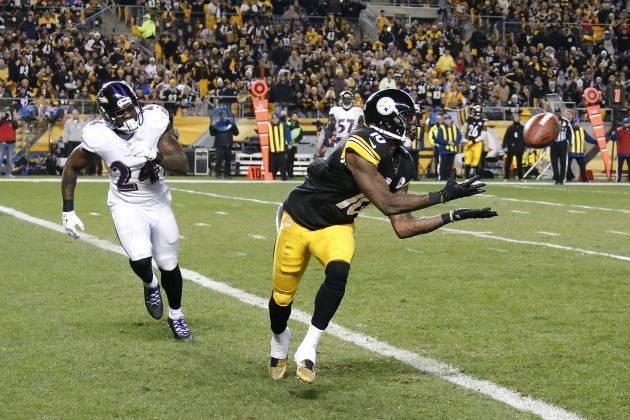 All Martavis Bryant does is catch touchdown passes.
The Ravens get stuffed on 3rd & 1, but James Harrison stays down. He eventually heads off the field under his own power. The Ravens line up on 4th & inches and Flacco takes it himself to convert. Troy Polamalu goes for a big hit on Justin Forsett. He bounces off, and Stephon Tuitt has to make the tackle. Forsett ends up rolling into Polamalu's leg from behind, and he hops off the field in pain.

Wrap him up, Troy.
Harrison and Polamalu both come back onto the field on the next play. Harrison makes a play when he plants Flacco to force an incompletion. A gun-shy Flacco lofts it deep on 3rd down and it lands on the wrong side of Torrey Smith. Antwon Blake doesn't take a penalty on the play. They settle for three. 14-10.
The Steelers give it another try with about 1:45 left in the half. Receptions by Brown, Bell, and Lance Moore get the Steelers into Raven territory, and Tomlin calls time out with about a minute left.
Ben gets a clean pocket and unloads down the right sideline. Markus Wheaton beats his man.
Brad Wing struggles with the snap on the extra point and Suisham stutters. Wing picks up the ball, rolls out, and lofts a pass to Matt Spaeth. It's an easy two points. 22-10.
The Steelers are in Joe Flacco's head. Arthur Moats gets a sack for good measure.
HALFTIME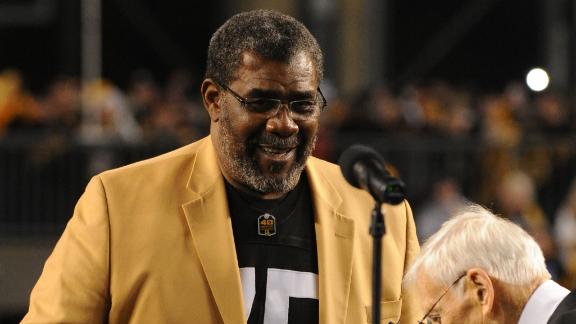 Joe Greene's jersey was retired at halftime. NBC didn't show the ceremony because NBC is terrible, apparently.
THIRD QUARTER
This is why you defer the kick on the opening coin toss. It gives you a chance at back-to-back scoring possessions.
Ben rolls out and makes a desperation throw towards Bell, who draws a pass interference call against CJ Mosley. Really smart throw by Ben to put the ball where Mosley was already impeding Bell.
Ben gets off a vicious pump fake but misfires at Bryant. Meanwhile, Polamalu and Shazier are ruled out for the remainder of the game. The Steelers spend a time out, but Ben misses again and Brad Wing comes back out to punt.

"Come on, let me throw it again."
Will Allen replaces Polamalu (I know, right?) and immediately blitzes. He disrupts the Ravens offense and they take a loss of a couple yards. They bounce back and start moving again, chipping away down the field. James Harrison strings together a couple of plays and forces the Ravens into a 4th & 3.
Mike Tomlin challenges one of the plays to award Harrison a sack. Everyone on Twitter is confused, but Tomlin wins the challenge and the Ravens punt.

Okay, you win this round.
Blount gets stacked up after a short gain and Terrell Suggs goes full thug mode and dives at his hip from behind. He gets rung up for 15 yards.

Someone explain to me how a deliberate attempt to grievously injure an opponent doesn't get you ejected.
Elvis Dumervil follows up with another personal foul, because the Ravens.

This idiot has no idea what the rules are or why they are enforced.
The Steelers burn a time out and Ben goes deep for Brown. It's underthrown, but at least a fight doesn't break out afterward.
Eventually the Ravens get the ball back. Cam Heyward gets in Flacco's kitchen and Steve Smith falls short of a first down. James Harrison is on the scene, just in case.

FYI Steve Smith is a douche
The Steelers start trying to milk some clock. A short pass to Brown turnds a 2nd & 14 into a 3rd & 5. Le'Veon Bell makes a move to extend the drive.
FOURTH QUARTER
A ball goes in and out of Wheaton's hands. Dumervil jumps early and the Steelers set up with 3rd & 8. Ben hits Brown, who shrugs off a defender and darts through the defense across the field to the end zone.

That should be the dagger. 29-10.
Jacoby Jones runs back the next kickoff for a touchdown.

Should have tripped him. 29-17.
One of the Ravens' nameless throwaway DBs takes an interference penalty on Antonio Brown. Martavis Bryant charges into the Ravens' bench after a catch because he has some stones. Ben sneaks for a first down. Harbaugh challenges it and loses a time out because people who tacitly endorse violence toward women should never achieve success in anything.
Heath Miller finally makes an appearance and catches a ball over the middle for a first down. Antonio Brown tosses a DB aside as a Disney villain would a 17th century orphan. It results in a first down.
Ben has had enough of these shenanigans and throws it to the goal line. Martavis Bryant is 120% hands. 36-17.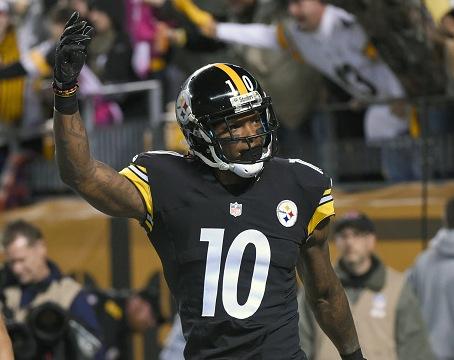 Ten career catches. Five touchdowns.
Jacoby Jones doesn't get a second break in the kicking game. Lawrence Timmons gets a sack around Flacco's ankles. Punt.
The Steelers go into clock-running mode. Ben fumbles somewhere and the Ravens win the coin-toss that is a dog pile on a loose football.
Antwon Blake gets amazing coverage on Steve Smith and Flacco can't even fall back on his "chuck it deep and draw interference" strategy. Eventually the Ravens have to go for it on 4th & 2. Some guy makes a quick catch to keep the Ravens alive.

Somewhere along the line, Antwon Blake became a viable cornerback.
Torrey Smith drops a touchdown pass. One of the Gilmore Girls gets open and catches the next one. He spikes the ball like an idiot. Another Raven takes another personal foul penalty. Vince Williams returns the favor after the Ravens' two-point try is stuffed.
When all is said and done, the Steelers are up 36-23 with three minutes left. Baltimore fails the onside kick and the Steelers take over.
The Steelers come out of the two-minute warning with a play-action fade to Matt Spaeth. Ben Roethlisberger is video games. Touchdown. 43-23.

Ben is hotter than the Penguins' power play right now.
A fight breaks out after the extra point, because of course it does. Brad Wing and Shaun Suisham gang up on some dude in the most hilarious thing you'll see in an actual football game. Cody Wallace gets the only penalty out of the fracas and the Steelers' linemen come off the field charging up the crowd. Joe Flacco sucks. Game.
-Flacco was invisible after a while.
-Not even words for how this offense is playing. I voted for Todd Haley for governor.
-James Harrison might be a robot.
-Terrell Suggs is garbage and couldn't even beat Matt Spaeth all night.