You want to complain about Todd Haley this week? You can't. Bruce Arians never put up 51 points. Okay, take away that pick-6 by William Gay. Arians never put up 42, either. His offenses maxed out at 41 points, and Ken Whisenhunt put up 45 in 2006. I'm not going to bother going back to look at how many of those points came on defense or special teams, but the point remains the same: This is the best offensive performance we have seen by a Steeler team in a decade. The end of the game was a little bit strange and dampened some of the excitement, but after we thought the season was spiraling out of control with the big loss to Cleveland and a haphazard win against Houston, the Steelers made a huge statement Sunday evening, beating one of the best teams in the NFL on the strength of a dominant offense. You can nitpick and find things to complain about if you want to, but if that's the route you choose to take, you're probably the kind of person who won't watch MST3k because Mike Nelson doesn't eat or breathe.
You should really just relax.
FIRST QUARTER
Bzzzzz
Ahmad Bradshaw gets ten yards on the first snap. T.Y. Hilton makes a few nice moves for a deep reception and a reasonably large run after that. The Colts run
it twice and a pass is off-target on third down. They settle for a field goal. 3-0.

Fine, whatever.
Blount is out to return the kickoff instead of Archer.

why
It's a touchback anyway. Martavis Bryant gets an early screen pass and he's just short of a first down. Bell gets the yard for the conversion and Ben finds Bryant again over the middle. Heath Miller makes a catch and takes a hit. Markus Wheaton gets the next gain as Ben spreads the ball around. Blount gets a carry and Ben hits Wheaton again for a quick touchdown. 7-3.

Oh we're just getting started.
Ryan Shazier enters the game and sniffs out a play at the line of scrimmage. Suddenly the Steeler defense gets in Luck's face and forces some bad throws. The Colts go three and out.
Le'Veon Bell grinds away and Vontae Davis gets hurt for the Colts. Bell takes a shovel pass on 3rd & 7 to move the chains. Heath takes a penalty, but Ben hits Lance Moore deep to get a first down and then some.
SECOND QUARTER

All Martavis Bryant does is catch touchdowns. 14-3.
Dan McCullers checks in at nose tackle. Andrew Luck winds and fires and William Gay reads him like a map, jumps the route, and takes the ball in for six.

That cop. 21-3.
The Steelers throw a couple of big hits. Some dude you've never heard of catches a pass over the middle and finds a seam down the left sideline for a big game. Luck's protection holds up and he throws a rainbow of a pass to Dwayne Allen for a touchdown. 21-10.
Blount returns the ensuing kickoff for reasons none of us will understand. He goes nowhere with it, but Antonio Brown picks up a first down to get the offense moving. Jim Nantz calls him Antonio Bryant.

Here's someone you haven't thought about in a while.
Ben goes deep for the actual Bryant on the team, and Martavis hauls in a back shoulder throw. Bell gets dragged down from behind after a short reception and
he stays on the field in pain. Injury timeout.
He jogs to the sideline on his own power but goes straight to the trainers' table. Blount gets the call on 3rd & 3 but he gets stacked up short of the first
down. Shaun Suisham comes on for a short field goal. Some Colt jumps offside and gives the Steelers 1st & goal. Antonio Brown makes them pay.
SHOULD HAVE SENT A POET

— halloween psamp (@psamp) October 26, 2014
Jason Worilds breaks through the line and smacks down a screen pass. Brett Keisel stunts and gets into the backfield. Luck throws the ball away to avoid taking a sack. The Colts are forced to punt again.
Le'Veon Bell checks back into the game on the next series. The Colts come with the blitz and get in Ben's face, but Will Johnson sneaks across the formation to become the safety valve and Ben finds him in a hurry. He takes off for an improbable first down. He gets surprised by another short pass but adjusts to make the catch.

Sometimes it's just your day.
Ben stands in the pockets, avoids a few defenders, rolls right, and floats a ball into the middle of the field for Antonio Brown. He shifts gears and takes
it to the house.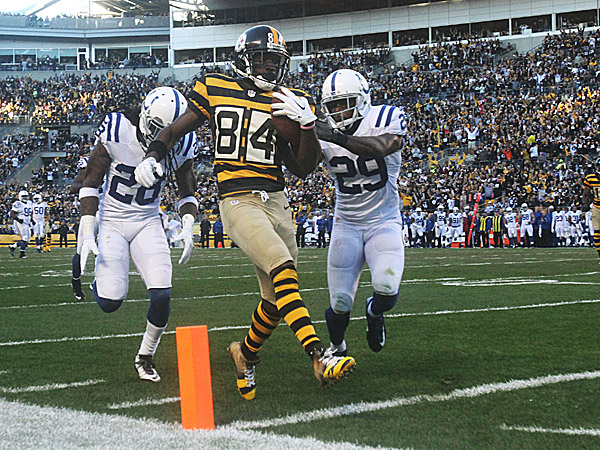 35-10.
James Harrison catches Luck from behind and Polamalu forces a fumble. A Colt falls on it. He bounces back and makes a nice throw over Cortez Allen for a first down. Allen bats away the next home run pass. Lawrence Timmons gets a shot on Luck to force a bad throw. The defensive momentum shudders to a halt when Robert Golden gets called for defensive holding. Luck finds T.Y. Hilton in the end zone at the two-minute warning. 35-17.

Yeah this dude is alright at football.
The Steelers finally stop trying to return kicks. Ben comes out to try and direct the offense on an 80-yard drive with all three timeouts. Brown and Heath team up to start the drive with a pair of quick catches. Bell takes a short pass and gets out of bounds, and Antonio Brown moves the Steelers across midfield before they spend their first timeout.
The offense loses its mojo and gets stopped on 3rd down. Ben stays on the field and lazily tries to punt the ball. It gets blocked. Would have been a 52-yard field goal into the open end of the stadium, so they probably turn it over on downs anyway.
Andrew Luck drives right down the field and the Colts kick a field goal as time expires. 35-20.
HALFTIME

I'm not sure why it's taken me this long to tap into my insane collection of reaction images for a recap.
THIRD QUARTER
Ben takes a shot deep for Antonio Brown but overthrows him. He goes to him again on a short out route for a first down. Wheaton makes a really tight catch right front of a defender to keep the chains moving.
The teams trade timeouts and Heath Miller finds himself the openest he has ever been or ever will be. Ben finds him easily, and he chugs down to the five yard line. Ben throws a fade to the left.

All Martavis Bryant does is catch touchdown passes. 42-20.
Ahmad Bradshaw makes some Steelers fall over each other en route to a first down. Luck hurries a throw with Worilds in his face and it gets batted away. Luck finally takes a sack when Jason Worilds abuses a blocker. Luck is buried on the turf on every play. The Colts have to punt.
Martavis Bryant takes his eye off the ball on a quick slant. Rookie mistake.
Andrew Luck gets a mixed bag of open receivers and linebackers in his face. He slowly advances his team down the field until Ahmad Bradshaw caps off the drive with a touchdown run. 42-27.
Ben fakes the handoff and throws downfield for Darrius Heyward-Bey. He fumbles the ball and the Colts take over. Some French guy scores to pull the Colts
within a touchdown. 42-34. That's French, right?
Bell gets shut down and Heath Miller drops a pass, but Heath doesn't make the same mistake twice. Brown picks up a few yards on an end-around. Ben lofts a ball to Brown on 3rd & 2 and it sails away from him. A late flag yield a questionable pass interference penalty. Phil Simms compliments the officials on their consistency.
FOURTH QUARTER
Markus Wheaton picks up another first down on the left sideline. LeGarrette Blount gets held up and eventually the ball pops free. Sometimes the officials blow the play dead on forward progress, this time they just didn't. But don't tell Phil Simms that.

This might as well be Phil Simms at this point.
Andrew Luck trips and falls backwards into the end zone, panics, and throws the ball about four feet into the turf from the goal line. You know what that
means.

44-34.
Ben goes empty set and hits Brown on a crossing route. He gets some extra yardage and gets close to a first down. Bell picks up the difference and the Steelers get a fresh set of downs as the clock runs with 11:00 left.
There is an audbile "Here We Go, Steelers" chant in Heinz Field. Soak that in.
Brown takes a quick inside pass for a few extra yards. Ben finds him for about 20 yards on 3rd down.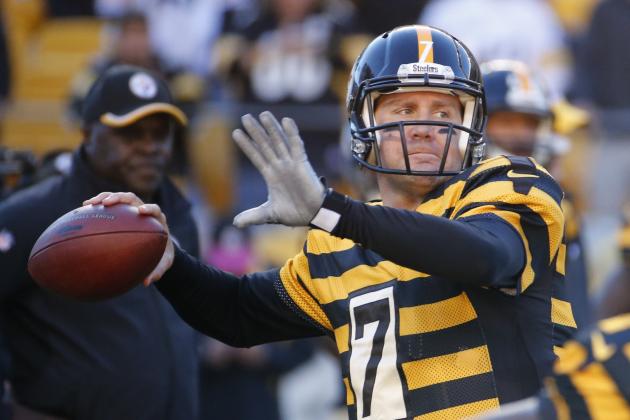 Ben Roethlisberger is now the first quarterback in NFL History to have two 500 yard passing games in his career. Seriously.
The crowd comes to life again. Heath Miller pulls the Steelers into the red zone. Blount catches a back-shoulder throw on 3rd down but he's about six inches short.

You don't take this guy off the field right now.
Everyone lines up for the QB sneak. It's a play action fake to Heath Miller. He's all alone in the end zone.

522 yards. 6 touchdowns. 51-34.
Oh yeah, the Colts are still in the stadium. They take a touchback with 5:16 left to play. Down three scores, it's blitzing time. Andrew Luck keeps spiking the ball and frantically pointing at Bradshaw to avoid getting penalized, because he apparently has a tenuous grasp on how to win a football game.
He finally remembers what a forward pass looks like and works his way efficiently down the field. He goes for Hilton in the end zone and Antwon Blake wins the battle. Touchback.

34 yards short of the single-game passing record.
And they just send Bell up the middle. Ben rolls out on a QB keeper and gets hit on 3rd & 2. What a mind-numbingly stupid thing to call. The Steelers end up punting and Andrew Luck takes a knee to get out of Heinz Field alive.
What an insane game. Now it's Ravens week!