We talked about this being an important game for the Steelers going forward. I hold that it was. Yes, Carolina came in a little bit banged up and that played to the Steelers' advantage, but that's hardly reason to discount the win. The Steelers completely dominated the Panthers, and there's not much more you can ask of them. I wanted them to build on their successes, learn from their mistakes, and play a competitive game against a good football team. They far outdid that, showing they still have the ability to be a great football team. Time will tell if they maintain that through the season, but for now, we can just enjoy this win.
FIRST QUARTER

Probably the best uniform in sports.
Antonio Brown gets things rolling on a quick outside pass. The Steelers immediately take it back with an illegal substitution penalty. Le'Veon Bell follows some incredible blocking for a first down. He gives an encore performance on the next play and Ben spends a time out on 3rd & 2. Bell lowers his head and takes on Luke Kuechly. First down.

You'll want to get used to that.
That's as far as the offense goes. A few incompletions lead to a punt.
Kelvin Benjamin busts the defense open on the first snap. Some dude makes a great catch off play action in the slot. Jonathan Stewart picks up a huge gain on a screen pass against a blitz. Cam Newton is dinged up and takes a time out. He missed the season opener with a rib injury. Unsurprisingly, the Panthers play it safe and run up the middle when he checks back in. Kelvin Benjamin tips a pass but Cortez Allen can't get under it in time. Graham Gano opens the scoring. 3-0.
Bell reverses his field nicely for a respectable gain, but Antonio Brown negates it with a holding penalty. Both teams trade punts. Ben unloads a deep ball for Darrius Heyward-Bey and the Panthers get called for pass interference. The ball goes back to Bell and he makes some nice cut moves to keep the offense moving. Ben eventually takes a sack and Shaun Suisham ties the game at 3.
SECOND QUARTER
Cameron Heyward one-hands Cam Newton into a sack that gets taken away by offsetting holding penalties. The Panthers end up punting. LeGarrette Blount
murders his way forward for a long first down. Ben shoots a rainbow down the sideline for Brown and he hauls it in over his head in stride. Heath Miller
wakes up the substantial amount of Steeler fans in the crowd.

David DeCastro was a superstar in this game.
Antonio Brown gets the ball just short of the sticks to get into a 4th & 1 in the red zone. Ben sneaks behind DeCastro to convert. Bell gets swallowed in the backfield. Ben throws an outside pass to Markus Wheaton and he shows off his fancy footwork to make an excellent catch. Some joke of a ref comes in and decides it's an illegal touch because whatever.

6-3, whatever, that ref sucks.
Steve McLendon takes out my aggression with a sack on Newton. Greg Olsen picks up a first down anyway. Mike Mitchell makes maybe his first play as a Steeler when he and Brett Keisel team up for a stop. The Panthers recover and Kelvin Benjamin picks up a first down to midfield. Jarvis Jones draws a facemask penalty, which is unusual from his position.
Ryan Shazier trips over Cam Newton on the sideline. He takes a hit on the next play and gets up slowly. The Panthers punt it back to the Steelers with less than two minutes left in the half.
Inside of a minute, Antonio Brown draws pass interference. Wheaton makes a catch for a fresh set of downs after that, and Ben spikes the ball with 33 seconds
left. Luke Kuechly takes a cheap shot at Justin Brown and DeCastro gets in his face about it. Kuechly flops like a fish out of water and draws a 15-yard
penalty on DeCastro.

Not convinced Kuechly isn't a Vancouver Canuck.
Suisham kicks another field goal, whatever. 9-3
HALFTIME

Ron Rivera has that "neighbor with a sketchy past" kind of crazy look to him.
THIRD QUARTER
Ryan Shazier gets hurt for real this time. Terrence Garvin replaces him. Then Sean Spence replaces Garvin, because Dick LeBeau remembers he's available. Spence sniffs out a scrambling Newton and brings him down for no gain. Brett Keisel bull-rushes on 2nd & 15 and gets in Newton's face to disrupt the play.
Cam Newton winds up and Jarvis Jones nails him in the back of the arm to cause a fumble. Someone in black and gold digs it out of the pile. That's the first turnover of the season for both the Steelers and Panthers. A review upholds the call.
The Steelers take over and Le'Veon Bell starts grinding. Ben drastically overthrows Miller on 3rd down and the Steelers line up for a field goal. Some joke jumps early and gets an encroachment penalty which results in a first down.
Ben ruins the defense with a pump fake at Markus Wheaton, then resets and finds Santonio Holmes Brown in the corner of the end zone for a gorgeous tip-
toe touchdown. 16-3.

Basically this.
Ryan Shazier is ruled out with a blown-up knee and Jarvis Jones exits the game with a wrist injury. If you're keeping score at home, Arthur Moats is in at linebacker at this point. The bad news doesn't stop there, as Lawrence Timmons comes in to assist Ike Taylor with a tackle and Taylor's right arm shatters.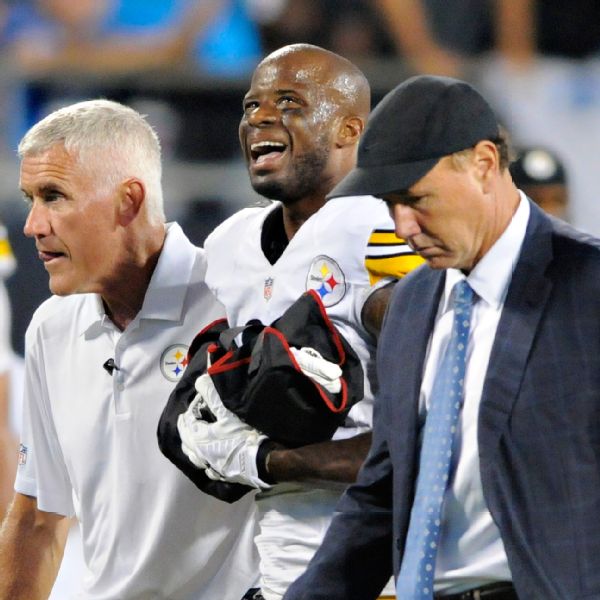 I'm sorry I said mean things about you, Ike.
Antwon Blake checks into the games and miraculously defends a pass in the end zone to Benjamin. Newton somehow misses two receivers on the same play and Graham Gano kicks a field goal. 16-6.
Matt Spaeth somehow takes an interference penalty on a pass to Will Johnson in the flat. Le'Veon Bell thinks that's stupid and rips off an 81 yard run up the middle.
Antonio Brown sets up 1st & goal from there. Michael Palmer takes an interference penalty because what even is happening. On 1st & goal, now from the 11,
Bell gets the call again. Ben gets all day to throw and hits Antonio Brown coming across the field for a touchdown. 23-6.

Maybe he actually has a clue how to build an offense? Just spitballin' here.
Arthur Moats gets a sack because ANYTHING IS POSSIBLE.
FOURTH QUARTER
Kelvin Benjamin converts a 4th & 2. Newton hits Olsen and he takes off past Cortez Allen for a touchdown. 23-13.
The Steelers promptly go three and out. Brad Wing punts it away. Some dude bobbles the punt, and Shamarko Thomas smells blood in the water. He blasts the
football loose, and the Panthers scramble to try and get back on top of it. It rolls into the end zone and Robert Golden dives into the fray to finally
snatch the football.

That's a touchdown. 30-13.
Jason Worilds runs KimovonOelhoffen.exe. He apologizes to Cam Newton immediately but that doesn't undo the roughing-the-passer call. Cam Heyward comes around the end and puts a hit on Newton on 3rd down. Joey Porter chest-bumps Heyward and faceplants. The Panthers punt it away as our old friend Derek Anderson loosens up on the sidelines.

The plot thickens.
The ball gets downed at the 2, so it's hardcore run-up-the-middle-time. That goes as well as you'd expect, but Markus Wheaton converts a 3rd & 6 and stays in bounds on the sideline. Heath Miller finds some open space and makes a nice catch-and-run. LeGarrette Blount doesn't want Bell to take all the spotlight, so he drives up the middle and takes off for 51 yards. He's knocked out of bounds at the Carolina 9.
LeGarrette Blount goes full Bettis-mode on Thomas DeCoud and drives him straight back into the end zone. 37-13.
Derek Anderson checks in because it's not even worth it for Cam Newton anymore. Anderson lofts it up for Kelvin Benjamin, and he makes a gorgeous catch behind Antwon Blake for a touchdown. They go for two but Big Play Willie Gay breaks it up. 37-19.
Bruce Gradkowski checks in for Pittsburgh. He hands off the ball to Blount and he hurdles some dude up the middle for a big gain. You know the story from here. A steady diet of Blount up the middle leads us to the two-minute warning.
Blount hurdles a dude again and even manages to kick him in the face.
Carolina doesn't bother with time outs. Victory Formation. Game.
-Two 100-yard rushers. Hasn't happened in like 30 years.
-264 rushing yards total. When you run like that, you win the game.
-The offense averaged 7 yards per play. Seven. Todd Haley is critic-proof this week as far as I'm concerned.
-Amazing how good a team looks when they control the line of scrimmage.
-Don't sleep on the defensive performance. They gave up less than 20 points, and six of those were when the game was out of reach.
-The injury bug hit hard, but the next guys stepped up. Good teams do that. We'll see what happens next for this roster.
This game was what we all needed, I think. Let's enjoy the moment for now before jumping into the issues.