This game wasn't pretty, but in the end all that matters is that the Steelers got the W. I know, I know, Jacksonville is a terrible football team, they give up 30 points a game, it's always an extra home game because every NFL fan in Jacksonville is a Steeler fan. The Steelers could have won by more. They could have dominated this game the way they dominated the Carolina Panthers. But they didn't. They just won a football game. And you know what? That's good enough for me. Recap inside.
FIRST QUARTER
Kickoffs are illegal. The Steelers start at the 20 and go three and out. Blake Bortles steps onto the field amid an avalanche of comparisons to Ben Roethlisberger. The rookie signal caller throws deep off his back foot and misses his receiver by five yards. Willie Gay almost gets under it. The Jaguars get the game's first third down conversion on a tough-guy run by Tody Gerhart. Cortez Allen makes a nice arm tackle, if that's a thing.
Bortles rolls out of the pocket and takes the ball himself but Troy Polamalu comes up to meet him and puts a solid "welcome-to-the-NFL" hit on the rookie. Somehow, some way, flags do not rain down from the sky. To Bortles' credit, he pops up and goes back to the huddle with nary a glance to the officials. I kind of like this guy.
The Jags convert on 4th & inches anyway. A few passes misfire, but Bortles escapes the pocket and scrambles for a first down. He sees Polamalu coming again and wisely slides for the stop.

He's learning.
Jason Worilds and James Harrison collapse the pocket and pile on Bortles for the first sack of the day. Stefon Tuitt gets in there too and gets credit for the sack. Josh Scobee draws first blood. 3-0.
The Steelers start out with a screen pass to Dri Archer from a spread formation. Le'Veon Bell patiently waits for blocking to develop and chugs ahead for a first down. Heath Miller and Antonio Brown line up wide to the left to set up a screen, but Brown drops the pass. The punt team comes on and does some weird shift maneuver before punting away. Terrence Garvin is an ankle-seeking missile on the coverage.
Jacksonville can't get their next drive off the ground and they give the ball back to the Steelers. Antonio Brown gets a first down and Bell runs through a hole the size of Casey Hampton for 28 yards.
SECOND QUARTER
Ben gets a gorgeous pocket and plenty of time, drifts left, and hits Antonio Brown at around the 5. Ben tries to force the ball to Brown any way he can for a touchdown, but the Jaguars blanket him. Ben takes a sack and Shaun Suisham ties the game. 3-3.
The ensuing kickoff gets stupid and the Steelers have to re-kick. Jacksonville gets good field position out of it, but give it back with a holding calls on their next two plays. Bortles goes deep from his own end zone, but Cortez Allen has perfect position in coverage and gets between the receiver and the ball for a clean interception.

There you go, buddy. Do more of that.
LeGarrette Blount picks up a first down with a shifty catch-and-run. Paul Posluszny makes a bunch of great plays to shut down the Steelers' drive. They trade punts.
Ben gets the offense moving again with a big throw downfield to a wide open Heath Miller. The Jacksonburgh faithful show their appreciation. Ben rolls out and hits Will Johnson of all people for a first down reception. Ben somehow throws a block to help spring Blount for nine yards. A penalty and another Blount carry set up 3rd & 2. Blount powers ahead for the conversion.
Le'Veon Bell spells his backup and catches a pass in the flat. He makes a man miss and converts a first down. A pass gets batted down in front of Antonio Brown, then Heath Miller gets the call and gets down to the goal line. Michael Palmer does his best Heath Miller impression and makes a solid catch for a gain of a couple inches and six points. 10-3.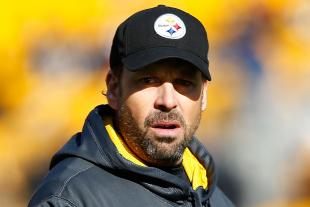 Todd Haley hates fantasy football.
Blake Bortles wakes up from a nap and goes hurry-up inside of two minutes. He quickly directs the Jags into Steeler territory. Cortez Allen makes a few nice plays on the ball in the red zone. Troy Polamalu takes a dumb penalty trying to jump over the center on a spike. Bortles finally overthrows everyone on third down and the Jaguars settle for another field goal. 10-6.
HALFTIME

Happy NFL-Pretending-It-Doesn't-Hate-Women Month!
THIRD QUARTER
Vince Williams kills a dude on the second half kickoff. The Jags get some generous forward progress, but Bortles fumbles a snap afterward. The Jaguars retain possession, but ultimately punt.
Ben spikes a ball at Bell's feet when a play doesn't develop as planned. Lance Moore makes an appearance and hauls in a deep ball for a big first down. He spikes the ball and takes a penalty for it.

Tomlin already doesn't like you, bro.
Markus Wheaton makes a catch in traffic. Bell takes over and takes advantage of some holes opened by his linemen. Blount picks up a down in the passing game, and Kelvin Beachum undoes a completion to Brown with a holding penalty. The once-promising drive grinds to a halt and Brad Wing punts again.
The Jaguars randomly start reeling off big gains on the ground Cortez Allen takes a holding penalty to further the Jaguars' cause. Bortles throws too far behind a receiver, so Josh Scobee cuts the lead to 1. 10-9.

They're bending, but they aren't breaking. That's what a successful defense can do.
The offense needs to take some of the pressure off the defense, and Antonio Brown jumps up and makes a catch behind a defender's head. Ben gets plenty of time, pump fakes three times, and hits Justin Brown for a first down. Brown takes a big hit but secures the catch.
FOURTH QUARTER
The pocket collapses around Ben. He takes a sack and fumbles the football. The Jaguars recover.
James Harrison makes a strong tackle to stop a screen. Bortles tries the other side of the field, but Brice McCain jumps the route, picks off the pass, and trots into the end zone.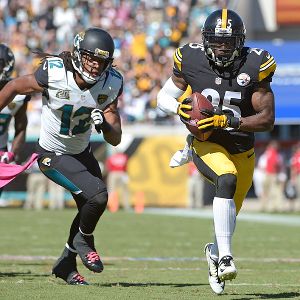 Kthxbye. 17-9.
Jacksonville allegedly has a possession after that. The Steelers are quickly back on offense. Le'Veon Bell gets the call and starts grinding away. Will Johnson dives ahead on 3rd & 1 but he's ruled short. Tomlin challenges and loses. Punt.
Down one score (technically) with five minutes to go, the Jaguars do nothing and punt.
Le'Veon Bell takes the ball and starts the clock at 4:05. He gets stacked up for no gain, but gets 8 on a draw. The Jaguars sell out for Bell on 3rd & 2, and Ben fakes the handoff and hits Heath Miller for the quick gain and a first down. Jacksonville has to spend their last time out with three minutes left.

What a good situational play call.
Le'Veon Bell catches a quick short pass and gets about nine yards, taking a hit to stay in bounds and run the clock.
Antonio Brown gets a quick screen just to get his 5th catch of the game and keep that streak going at 21 games. He runs out of bounds like a dingus.
Victory formation. Game over.
-The offense has to do better than only putting up ten points, but the offense has still played well under Haley in 2014.
-Sorry if you hate Todd Haley. But you're wrong.
-The defense bounced back pretty nicely and only gave up nine points. Good defenses give up field goals instead of touchdowns.
-The Steelers feel like they're just missing a piece on offense. Maybe they need that deep threat WR in the lineup to loosen up those screens and slants.
-Do the Steelers always play down to their opponent? Or is the margin of difference between winning teams and losing teams smaller than we want to believe?