Okay, it's not like the Steelers are being crippled by free agency losses or anything, but there are still now-former Steelers signing deals with new teams, and it's still fitting to remember those men who gave their blood, sweat, and tears to the Black and Gold.
Ziggy Hood
Evander "Ziggy" Hood was the Steelers' first-round draft pick in 2009, 32nd overall after the victory in Super Bowl XLIII. Expected to ultimately replace Aaron Smith as a blocker-eating difference-maker on the defensive line, Hood never lived up to his pedigree and the Steelers allowed him to leave as a 27-year-old free agent. The Jacksonville Jaguars have signed Hood to a four year, $16 million contract for some reason. While he was a bust in Pittsburgh, he now has the advantage of playing where no one will see him anymore.
LaMarr Woodley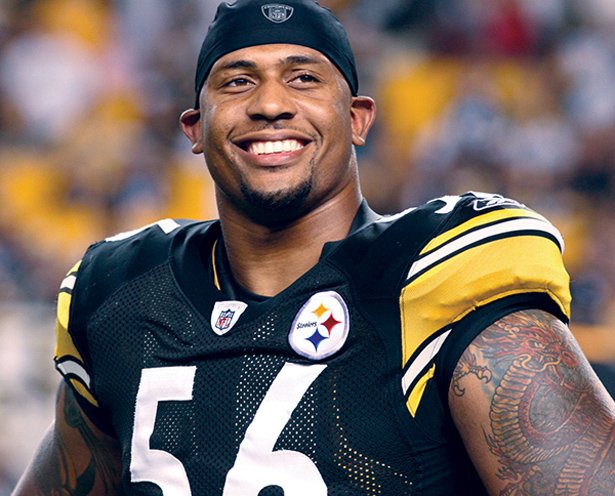 What a fall from grace. After being half of the best pass-rushing tandem in the NFL in 2008, LaMarr Woodley faded away into nothing. Persistent hamstring injuries (coaches just love those) contributed to a steady decline in production until Woodley was completely invisible on the rare occasions he was able to play. That, coupled with his enormous salary, spelled the end of Woodley in Pittsburgh. He signed a two-year deal with the Oakland Raiders this week.
Emmanuel Sanders
Emmanuel Sanders hasn't officially signed anywhere else yet, but he's been taking his free agency tour around the NFL before he makes a decision on where he'll play in 2014. Sanders was a capable #2-3 receiver in Pittsburgh, but a few dropped passes and a few injuries here and there ultimately made him expendable in the eyes of Steelers management. Ideally, Markus Wheaton will step up to replace Sanders next year, but that's assuming a lot. Losing Sanders is hardly a death kell, but it certainly hurts the depth at the receiver position.
Larry Foote Larry Foote was a good guy and long time Steeler linebacker. Time makes fool of us all, though, and Foote's time is up in the Steel City. He was one of the players who got the Steeler defense so consistently labeled as "old" so a youth movement was inevitable.
Ryan Clark
We've sort of already covered Ryan Clark's situation, but rather than retiring to his cushy future at ESPN, it looks like he's most recently visited the Redskins, the same team he played for before coming to Pittsburgh. Who says you can't go home?
Not mentioned here are Jerricho Cotchery and Levi Brown. I'm still holding onto the chance that Cotchery reprises his role as veteran depth/possession receiver next year, and Levi Brown's tenure as a Steeler is LOL city.