Enough metaphorical ink has been spilled about the Patriots overtly cheating to win football games. That's the way it's going to be, and the NFL has shown they are very comfortable with it. I'll never give the Patriots credit for a legitimate win again, however I can still assign the Steelers blame for a loss. They didn't play well enough, and they lost a football game because of it. Let's talk about that football game.
FIRST QUARTER
DeAngelo Williams opens the season with a long run through the Patriots defense. Heath Miller picks up a first down over the middle and Williams churns out a few more efficient runs.
Antonio Brown takes a backward pass and looks for a target downfield, but he runs out of options and takes what is effectively a sack. Will Johnson gets a few yards on a draw play, and Josh Scobee comes on for his first kick that matters. He shanks it right from 44 yards out.
Nate Solder throws a punch at Jarvis Jones for a personal foul on the Pats' first offensive snap. The Steelers ignore the left sideline, and Dion Lewis (of all people!) pulls in a few catches for first downs. Brady overthrows a few receivers after that, and Bud Dupree makes his first play as a Steeler when he softly stops Brady from behind on a scramble.

If Bud Dupree found a legal way to tackle Tom Brady, he's already the best player on the defense.
Antonio Brown fields a punt at the 7 yard line and the Steelers start again. Brown makes a stupid catch over and around that DB that picked off Russel Wilson on the dumbest playcall of the last ten years.
Dont'a Hightower and his stupid name horse-collars Ben Roethlisberger and gets away with a sack. Cris Collinsworth starts raving about what a great non-call it was, because Cris Collinsworth is an airhead.

Carl Cheffers is our referee tonight by the way.
Cortez Allen manages to tackle Julian Edelman for an extra four yards after contact, somehow.
SECOND QUARTER
Allen's tackling could best be described as "woof." Ryan Shazier's is better, as he spins a runner down in the backfield. Rob Gronkowski goes completely uncovered on the right sideline, catches a few passes, and roids himself into the end zone.

I dare you to convince me the New England Patriots do not encourage the use of performance-enhancing drugs.
Ben uncharacteristically overthrows a wide open Heath Miller in the flat. He makes up for it when he lofts a rainbow pass deep for Darrius Heyward-Bey down the right sideline. DeAngelo Williams keeps the ball moving, but the Steelers ultimately settle for another field goal attempt.
Josh Scobee misses it again to the right.

I wonder who our fourth kicker of the season will be.
Jarvis Jones breaks through a block to shut down a quick run, but Brady finds some white guy down the left sideline. William Gay finally notices that the Patriots are targeting Julian Edelman right in front of him and he puts a hit on him. Rob Gronkowski scores again. 14-0.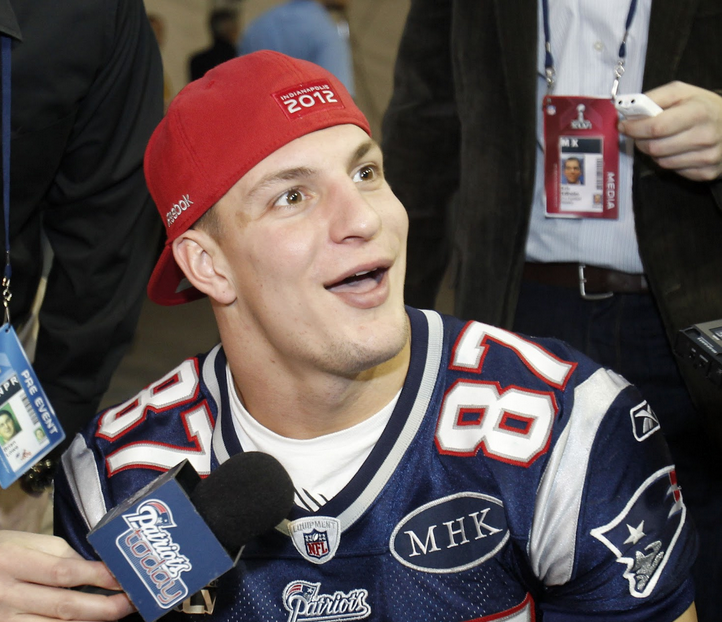 I briefly wondered if there was a more hateable picture on the internet, but I didn't want to put Mark Madden's face in my search history.
Markus Wheaton struggles to set a pick for Antonio Brown, but makes up for it with some nice downfield blocking for Williams. With the clock winding down toward two minutes, Ben goes deep for Brown to get a chance for some points on the board before halftime.
Darrius Heyward-Bey converts a 4th & 3 inside the 30. He gets open in the corner of the end zone and kneels to make a catch, but lets his foot drift out of bounds for an incompletion.

It's that kind of night.
Some bro totally gets away with interference on DHB, but whatever. Scobee finally kicks a field goal. 14-3.
HALFTIME

Oh wow, maybe this year's dark, surreal NBC drama will be the one that people care about
THIRD QUARTER
Julian Edelman doesn't miss a beat and keeps picking up first downs. He draws a pass interference call in the end zone, and some other tight end scores. 21-3.
Antonio Brown keeps the train rolling with another reception down the field, and the Steelers quickly set up on the goal line. Will Johnson finally rolls over a pile and into the end zone. The two-point conversion is a quick slant from Ben to Wheaton. 21-11.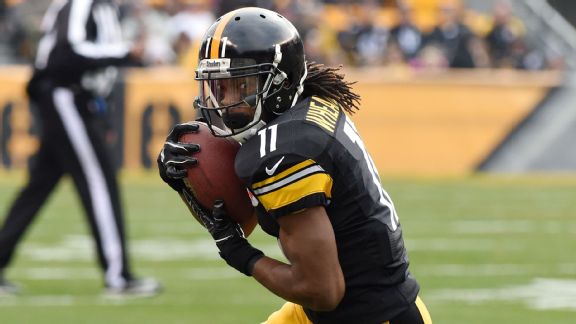 "My football!"
Dion Lewis breaks off the kind of run he hasn't had since he was at Pitt, as several Steelers defensive backs appear to be allergic to tackling. Will Allen comes in on a safety blitz and takes down Brady. If you held your breath waiting for a flag, you are not alone. The Patriots punt it anyway.
Antonio Brown catches his thousandth ball of the game. Markus Wheaton catches a jump ball on the sideline and shows some fancy footwork to complete the catch.
This kid is going places.
FOURTH QUARTER
Williams takes a handoff out of the pistol formation. A weird designed shovel pass to Miller nets little, but some dingus faceguards Miller in the end zone for an easy interference call. Ben pulls off an excellent play fake to Johnson, but throws the ball away when no one can get open. Kelvin Beachum false starts and Ben, for some reason, can't believe the call. Williams gets eaten alive at the line of scrimmage.
Josh Scobee cuts the lead to 21-14. He squibs the kickoff to some tight end.
Nobody covers Gronkowski again, he jukes a DB out of his cleats, and suddenly the Pats are knocking on the door. Lewis takes off toward the end zone, but Mike Mitchell forces a fumble.
Who else but Rob Gronkowski scoops it up at the edge of the goal line. The Pats set up shop and Gronk scores over Terrence Garvin. 28-14.
The Steelers answer with a prompt three-and-out. Patriots fans start chanting "Where is Roger?"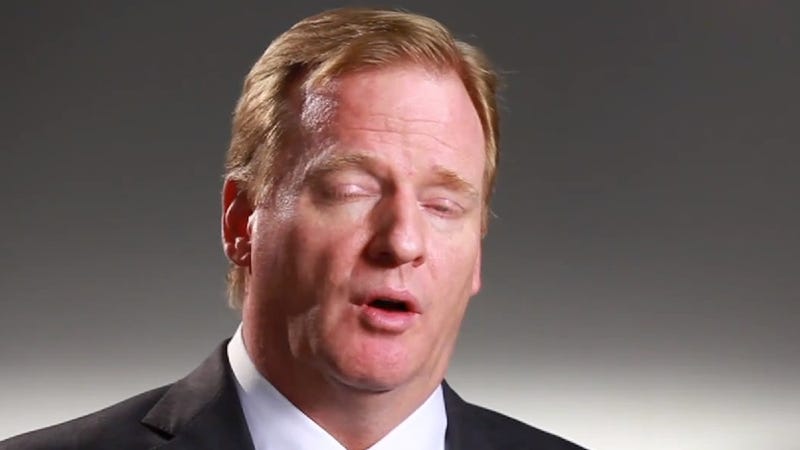 We can agree on some things, Pats fans.
The rain picks up and the Patriots punt the ball back with a two score lead and half of the fourth quarter to play. Wheaton beats some nickel DB for a catch into New England territory. Ben goes for the big play and some guy undercuts the route and picks off the ball at the 6.
That was not a good throw.
Father time is in the building. Julian Edelman wrestles for a first down and stays in bounds near the sideline. The clock keeps running as the Patriots take their full 40 seconds between snaps. Brady manages to overthrow Dion Lewis on 3rd down and the Patriots have to punt the ball back with three minutes left.
Ben rolls out and chucks a ball at Miller's feet to fight another day. The offense manages a first down, but wastes a play on the two-minute warning.
The offense shows little interest in saving seconds, down two scores with 77 seconds to play, but they finally call a timeout, ostensibly to script more than one play.
Kelvin Beachum promptly knocks off Jabaal Sheard's helmet to undo a long completion. Sheard gets better revenge when he hauls Ben down for a loss. Heath Miller passes John Stallworth on the all time Steelers receptions list, so that's a thing.

Just doing what he can.
Antonio Brown snags a touchdown pass with two seconds on the clock. The Steelers do a favor for all the sports books and kick an extra point instead of failing a two-point conversion. The game ends, 28-21.
Notes:
-The Steelers linebackers looked pretty okay. That's promising, considering that one way or another, they are the future of the defense.
-The Steelers defensive backs might struggle to defend West Allegheny.
-If Scobee makes those two field goals, maybe the Steelers go for 2 for a chance to tie on that last play.
-Or maybe win, if Heyward-Bey keeps his foot in bounds.
I am absolutely sure the Patriots cheated and that it impacted the game. But I just illustrated how some better execution could have totally changed the tide anyway. The Steelers have to own that.