Finally, football! The Steelers and Giants played last night, and it was your standard preseason affair: Little cohesion on offense, a few big mistakes on defense, and an altogether sloppy affair. The starting offense looked a little bit more creative, although they weren't in long enough to build on anything, and the starting defense stayed in the game a lot longer than expected. In any case, hit the jump for the full recap.
FIRST QUARTER
The Steelers lose the coin toss.
The Steelers' defense comes out first, minus injured #1 pick Ryan Shazier. Rookie Stephon Tuitt and training camp's story of the year, Sean Spence, start on the defensive line and middle linebacker, respectively. Tuitt takes a penalty but the Giants effectively go three-and-out and punt the ball away. Enter, Dri Archer.
He calls for a fair catch. Oh well.
Le'Veon Bell cares about the preseason. He grinds up the middle a few times, and then Ben hits Archer in the flat on a well-designed play. Archer hits another gear and racks up 46 yards. LeGarrette Blount checks in and his touches are not nearly as flashy, as he plunges into piles like a pit bull into a steak. That juxtaposition could work wonders for the Steelers' offense.
Ben can't connect with Lance Moore on a fade route, because fade routes are terrible. Shaun Suisham kicks an easy field goal. 3-0.
Rashad Jennings immediately runs for a touchdown. 7-3.

Start Batch.
Ben Roethlisberger disconnects from the EA servers and Bruce Gradkowski takes over. He hits Antonio Brown for a couple of yards. Markus Wheaton gets the ball on an end-around. Someone pokes Ramon Foster in the eye and he exits the game. Bruce hits Brown for a big gain.

For some reason he is still in the game.
One of the DBs in the NFL named Rolle cuts down Heath Miller at the hip. Le'Veon Bell makes a catch, but Brad Wing has to make his first appearance to punt. That punt is still in the air.
Jarvis Jones trips Eli Manning, but it counts as a sack. The Giants do nothing. Dri Archer decides to return the ensuing punt, but doesn't make anything of
it.
Some dude named Tauren Poole comes it at running back for the Steelers. Training Camp Superstar Justin Brown checks into the game and isn't asked to do
anything. Wing punts again.

He's Australian.
Sean Spence has three years of football pent up and he's all over the field on defense.
SECOND QUARTER
Tomlin leaves the starting defense in. Mike Mitchell explodes somewhere in there. The Giants punt and Dri Archer can't get past the second wave of tacklers.
I'm not sure I've ever seen a Steelers team that knew how to block on special teams.

— Chris Dokish (@ChrisDokish) August 10, 2014
Gradkowski just kind of crumbles for no reason. The anti-offensive line in the game at this point doesn't help matters. Brad Wing booms a 21-yard punt.
Still no pictures of him as a Steeler.
On the bright side, Dri Archer shows some good hands. No amazing catches, but no drops.
Shamarko Thomas makes a tackle, something he should probably be doing more of this year. The Giants kick a field goal, like it matters. 10-3.
Justin Brown catches a bad pass from Gradkowski. That's an awesome way to get noticed as a wide receiver in the preseason. Jordan Hall is also in the game,
and Bob Pompeani thinks we should know who he is, I guess.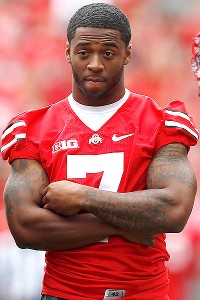 (I don't)
Markus Wheaton makes a play on third down. Gradkowski puts a nice throw right where he needs it, and Wheaton catches it in full stride. That's the kind of
play Wheaton just needs to make this year. He did. Gradkowski follows that up by overthrowing Spaeth at the goal line. Suisham misses a field goal.

Bruce Gradkowski is a good backup quarterback, but he is definitely a backup quarterback.

Nobody does anything for like ten minutes.
Shamarko Thomas and Chris Carter make a couple of solid plays late in the half. The half ends 13-3 Giants.
HALFTIME

Cleveland's latest franchise savior played a game last night, too. Can't wait for him to be a bottom-tier college football analyst in four years.
THIRD QUARTER

It's Landry Time.
Martavis Bryant draws a penalty. That's as good as a catch when the result is what matters, but it's preseason, and Bryant would be better served making catches. That's as far as the drive goes. Landry Jones isn't very good.
Shamarko Thomas reads a play and blows up some running back in his hip. Ideally, that becomes his signature play.
Landry Jones does exactly nothing, but some dude muffs the punt for New York. The Steelers take over at the Giants' 21. Jones remains in at quarterback, so Shaun Suisham makes it 13-6.
Josh Mauro shapeshifts into a dump truck and murders some guard. Ryan Nassib understandably panics and throws the ball away. Martavis Bryant muffs the punt but recovers it himself.

Solid play from an undrafted rookie.
Jeff Verzsyla has an awkward interview with Lance Moore. Ryan Nassib improvises for a little while, but coverage holds and Jordan Zumwalt takes out the safety valve.

With a name like Jordan Zumwalt, you had better be able to tackle.
The Steelers actually get a first down under Landry Jones when Miguel Maysonet makes a catch in the flat and puts in a nice effort to get through a tackler.
FOURTH QUARTER
Jones airs it out deep for Martavis Bryant, who is just about as interfered-with as a player can be. The penalty gets the Steelers into field goal range, so Suisham makes it 13-9.

Should probably start kicking on 2nd down.
Isaiah Green breaks up a pass.  Zumwalt lays a decent hit on a guy in space. Ryan Nassib and the island of misfit receivers end up botching a lateral pass and then forgetting about it. The referee just stares at the football until Howard Jones (???) picks it up and scores. The review upholds it and the Steelers take a 16-13 lead.

Google says this is Howard Jones.
Isaiah Green makes a few really solid tackles, which he gets to do because he can't cover anyone. For a guy whose ceiling is probably special teams, that could be worse.
Curtis Painter drives the Giants down the field and scores like it ain't no thing. 20-16.

The Nickelback guy, remember?
The Steelers go hurry-up and the Giants go Prevent. Jones actually completes a pass downfield to Derek Moye. He overthrows Bryant down the right sideline. At some point he fumbles the ball forward and Justin Brown comes up with it, although the rules only care about that inside of two minutes. And with that, the Giants take a defensive holding penalty and the two-minute warning shows up.
Landry Jones finally gets into the game, but everyone keeps dropping his passes just to make sure he never finds any success. He finally gets a ball to
Martavis Bryant, but he loses the football after falling down. The Giants take over and Mike Tomlin starts calling timeouts to drag out the end of the game.

Dude, come on.