Coming off a Super Bowl victory, the Steelers had some problems in 2006. Ben forgot how to drive a motorcycle and got an emergency appendectomy. People accused Cowher of not caring after getting his championship. The Steelers sucked basically. They went 8-8 after starting 2-6 and missed the playoffs after making it the previous two seasons. But we think the people they picked up in the draft that year helped them out a little. Check it out…
2006
1st Round, 25th pick: Santonio Holmes, WR, Ohio State
3rd Round, 83rd pick: Anthony Smith, DB, Syracuse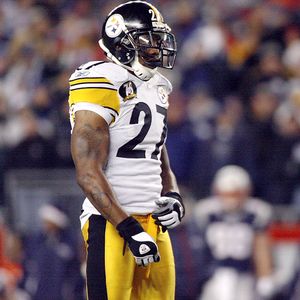 3rd Round, 95th pick: Willie Reid, WR, Florida State
4th Round, 131st pick: Willie Colon, T, Hofstra
4th Round, 133rd pick: Orien Harris, DT, Miami (Fla.)
5th Round, 164th pick: Omar Jacobs, QB, Bowling Green State
5th Round, 167th pick: Charles Davis, TE, Purdue
6th Round, 201st pick: Marvin Phillip, C, California
7th Round, 240th pick: Cedric Humes, RB, Virginia Tech
Notable Busts: 18th pick Bobby Carpenter, 15th pick Tye Hill
Notable Late Round Gems: Round 4, pick 119, Brandon Marshall; Round 7, pick 215, Cortland Finnegan; Round 7, pick 252, Marques Colston
Best Names of the Draft: Frostee Rucker, Montavious Stanley, Baba Oshinowo
When Santonio was first picked a few years ago, we were afraid that he was going to be another Troy Edwards: small, good hands, quick, but a bust in a few years. Boy, were we glad we were wrong. Santonio has never reached 1000 yards in his short career yet but we've never really needed him to. He's been the reliable second receiver we've been looking for that's going to take pressure off of Hines. He's been one of those players that catches what looks like a short pass for a moderate gain and just breaks free instantly. Oh, and he also made one of the greatest plays in recent Steeler history…
http://youtube.com/watch?v=
BOfouSAAkZY[/youtube]
We still get chills watching that.
The rest of the draft started off well but ended weak. Anthony Smith wasn't bad until he ran his mouth. A lot of people gave him crap for trying to talk trash on Tom Brady but we never really had a problem with it. The time we got sick of Anthony Smith was when we went down to training camp and saw him sucker hit Hines. He just does a lot of stupid stuff, but we don't have to deal with him anymore, the Packers do. Willie Reid was another one that surprised us in training camp last year, but for good reasons. He worked really hard and stayed after practice catching balls and he actually looked pretty good. He had a swagger to him and honestly, we thought he was going to get a chance last season. But he didn't and now he's with the Eagles. Willie Colon has been a good value pick for us. He grabbed the starting job from Max Starks in '07 and has stayed there since. He's been decent but nothing too great, just like everyone else in the Steeler offensive line. Between the rest of the 5 players drafted, only Orien has actually played in a game, and it wasn't with the Steelers. Not an amazing draft, but really, the Steelers have added very key players in the first pick of the draft each year and we think we take that for granted sometimes. We just know that the Steelers are going to get a good player with their first pick, and you just kind of have to guess how the rest of them will pan out. We'll give this one a…
Grade: B-
You think we got it right? Let us know in the comments.