It's getting to the point where it's almost too early to give the drafts proper grades mostly due to the fact that we can't make a proper assessment from two years of playing. But we'll try anyway. This was the year Tomlin was the new guy in town and everyone was scared he was going to turn our defense into a Tampa-Two. This was also his first time in the war room, and well, it looked like he knew what he was doing.
2007
1st Round, 15th pick: Lawrence Timmons, LB, Florida State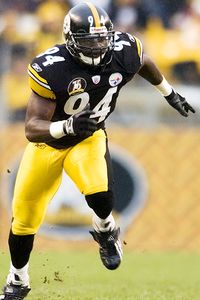 Check out what the picks for the rest of the draft after the jump.
2nd Round, 46th pick: LaMarr Woodley, LB, Michigan
3rd Round, 77th pick: Matt Spaeth, TE, Minnesota
4th Round, 112th pick: Daniel Sepulveda, P, Baylor
4th Round, 132nd pick: Ryan McBean, DE, Oklahoma State
5th Round, 156th pick: Cameron Stephenson, G, Rutgers
5th Round, 170th pick: William Gay, CB, Louisville
7th Round, 227th pick: Dallas Baker, WR, Florida
Notable Busts: 1st pick JaMarcus Russell, 9th pick Ted Ginn Jr., 22nd pick Brady Quinn
Notable Late Round Gems: Round 5, pick 137, Le'Ron McClain(?); Round 5, pick 142, Steve Breaston; Round 7, pick 217, Tyler Thigpen
Best Names of the Draft: Chinedum Ndukwe, C.J. Ah You, Legedu Naanee, Mansfield Wrotto
Some were afraid at first that Lawrence Timmons was going to be a disappointment because the only time he showed up in his rookie season was making tackles on the special teams. Meanwhile, Patrick Willis (only 4 pick earlier) was leading the league in tackles, getting defensive rookie of the year, and getting Pro-Bowl and All-Pro honors. But his NFL career is looking almost like his college career at Florida State: not starting the first year, getting more playing time the second, and now starting the 3rd. This kid has so much potential and will be so fun to watch this year. With Larry Foote out of the picture, he's going to need to show everyone he's a reliable starter. (Also, here's a fun fact: his middle name is Olajuwon because his mom is crazy about the NBA, or just crazy.)
I think Tomlin did a pretty good job with the rest of the group, too. LaMarr Woodley's time on the field speaks for itself. He led last year's postseason in sacks and was 9th in the regular season with 11.5. He's already proven he can run with the big boys. Matt Spaeth has been a good backup for Heath. He had 3 touchdowns his rookie season and he also stepped up in weeks 10 and 11 of last year with over a 100 combined receiving yards when Heath was out of commission. Unfortunately Daniel's golden leg couldn't be put to use last year but he'll make a strong comeback this year, especially after how crappy our punting was last year. William Gay has been a decent pick for grabbing him in the 5th round. He started 4 games last year and is getting better each year. However, we can't account for his douchebaggery off the field…
http://youtube.com/watch?v=
rpJ5HKU3uRA[/youtube]
The other guys really haven't done anything at all. But for being Tomlin's first draft, we'd say he did a hell of a job.
Grade: A-
Don't agree? Let us know what you think in the comments.