It is going to be a long season. Jump.
FIRST QUARTER
The Steelers don't do much at first, but Courtney Upshaw headbutts Ben Roelithsberger. You aren't allowed to hit quarterbacks. Automatic first downs.

Career roughing count: 9
A screen pass to Wheaton nets a first down. Le'Veon Bell shows some impressive patience on a run that actually works for a first down. That guy who tried to kill Bell last year puts a big hit on Antonio Brown.
Ben improvises and finds Heath Miller on 3rd & 9, but David DeCastro gets too far downfield and it brings the play back. Brown makes a Hineswardian catch and takes a big hit, but he's slow getting up and he heads to the locker room for a mandatory concussion evaluation. Justin Brown steps into the game and fumbles his first touch. The Ravens take over.
Steve Smith catches a ball and Cortez Allen facemasks him. Their march continues, much like the Steelers' first drive, with a series of third-down conversions. Joe Flacco sneaks for it on 4th down because Cam Thomas sucks. Cortez Allen takes an obvious interference penalty on Torrey Smith.

Way to live up to that contract.
Owen Daniels wanders off into the distance and none of the Steelers go with him. 7-0.
Crazy goalline defense for Steelers. Had 6 LBS on the field — Worilds, Jones, Timmons, Shazier, Williams, Garvin — and 4 DL. .

— Mark Kaboly (@MarkKaboly_Trib) September 12, 2014
And they completed a pass? Well, I never.
With Antonio Brown still absent, Markus Wheaton is the #1 receiver on the field, ahead of Justin Brown and Darrius Heyward-Bey.
SECOND QUARTER
DHB takes a holding penalty downfield, but LeGarrette Blount works the Steelers up to a 3rd & 1. Justin Brown gets wide open but Ben throws behind him and the pass falls incomplete.

That should have been six. He knows it.
The Steelers miss a few tackles. Steve Smith makes Ike Taylor and Troy Polamalu look like they're both… Ike Taylor, I guess. Antonio Brown passes his concussion test and returns to the sideline.

Awesome. Can he play defense?
Flacco throws his first incompletion toward Steve Smith in the end zone. Chris Tucker eventually kicks a field goal. 10-0.

I am lazy and I re-use jokes. Sue me.
Timmons just went into locker room after vomiting on sideline.

— Ross Tucker (@RossTuckerNFL) September 12, 2014
I feel you, man.
Ben rolls out and throws the football away; Bruce Gradkowski snags it on the sideline like a boss. Faced with a 3rd & 9, Ben finds Miller. Twice. Heath falls forward. Bell takes off up the middle, stutter-steps around some blocking, and reels off a big gain. Nice effort by Ben to try a cut block in there somewhere.
Bell takes a shovel pass for 18 yards on the next play. The Ravens overwhelm Antonio Brown on an end-around. Shaun Suisham breaks the shutout. 10-3.
Polamalu makes a solid tackle on Justin Forsett, who forgets that means the play is over. Flacco underthrows some dude and the Ravens punt it away.
The Steelers go no-huddle inside of two minutes. Wheaton shows off his fancy footwork around the sidelines again. Antonio Brown shakes off a tackle and gets a first down and gets out of bounds. Ben hold the ball for a long time and Elvis Dumervil abuses Marcus Gilbert for a sack. Gilbert false starts to turn 3rd & 4 into 3rd & 9. Ben drastically overthrows Miller and Brad Wing has to punt the ball. He downs it inside the ten. Flacco takes a knee and we go to the half.
HALFTIME

Reminder that the Baltimore Ravens scheduled a press conference intended to shame a woman for having the audacity to be beaten by her significant other.
THIRD QUARTER
The Ravens take the ball to start the half, march backward, and punt. It's as good a showing as the defense would give us. The Steelers take the ball back around midfield. Bell puts together some really solid runs. Dumervil destroys Gilbert again. Phil Simms is adamant that the crowd noise is getting the sack. Suisham kicks a 43 yard field goal. 10-6.
Dennis Pitta challenges Ryan Shazier's vaunted speed and gets a big gain on 3rd & 4. Torrey Smith pulls the Ravens closer with a first down catch. Mike Mitchell puts a big hit on Owen Daniels, but he holds the ball. The hit is reminiscent of something Ryan Clark would be unjustly flagged for. The back judge gets confused and calls Polamalu for hitting a defenseless receiver, meaning he hit a receiver before making sure the pass was completed.

The "defenseless receiver" thing is like, the third worst thing to happen to the NFL under Roger Goodell.
Mike Mitchell gets called for the same thing because you just aren't allowed to hit people in the NFL.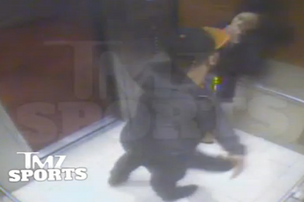 Unless you do it away from the cameras.
The Ravens score, because no way they weren't going to. 17-6.
CBS calls in Mike Carey and he says the officials are great and never do any wrong. Suddenly the Ravens have the ball back at midfield. Their offense stutters for a few plays, but Steve Smith gets open down the middle, catches a pass, and draws a facemask penalty for good measure. Mike Mitchell, ladies and gentlemen.
FOURTH QUARTER
Steve Smith keeps doing everything until Ike Taylor breaks up a pass for once. Baltimore gets an easy chip shot field goal. 20-6.
CJ Mosley lays a hit on Heath Miller and he drops a ball, because I guess tight ends can't be "defenseless." Mosley recovers the football and the Ravens are already at the 20.
Cortez Allen drops a pick for the second game in a row. The Ravens kick another short field goal. 23-6.
Despite some flashes from Le'Veon Bell, Ben is out of sync and the offense stalls out. With less than ten minutes left, the Steelers punt it back to the Ravens. Jacoby Jones gets a big return out of down the Steelers' sideline and Mike Tomlin, sadly, does not step onto the field and clothesline him.

Come on, you know you wanted to.
Justin Forsett rumbles and bumbles down to the goal line because no one can tackle. Jon Harbaugh challenges that it was touchdown because he hasn't been a prick yet up to this point.

Reminder that this man tacitly endorses violence toward women as long as no one sees it.
Nothing comes of that. Lawrence Timmons goes down on the next play. Then he comes back. The Ravens false start somewhere. They come away with another field goal. 26-6.
Wheaton runs the ensuing kickoff all the way out to the 14. Bell continues to be the bright spot for the Steelers, but down three scores with four minutes left is not a good time for dump-offs to the safety valve.
Haloti Ngata tips a ball to himself and gets under it for the INT.

When this dude picks off a pass, it is just not your night.
The Steelers don't even bother stopping the clock while the Ravens run the ball. Game over.
Bright sides:
-Le'Veon Bell was good in this game. He has shown the ability to be a playmaker both running and catching the football. You can build around a guy like that.
-Markus Wheaton has been solid when called upon. He's no superstar, but if he can continue to grow and develop and establish himself as a reliable target, the Steelers can have two good, young wide receivers to build around.
Not so bright sides:
-No matter what your offensive weapons look like, you won't win if your field general isn't getting it done. Roethlisberger looked off last night, and the offense suffered for it.
-Marcus Gilbert and Cortez Allen played like they think contracts are guaranteed in the NFL.
-Heath Miller is visibly losing his ability.
-No one on the defense can make a tackle, which is really bad news for the rest of the season.